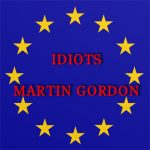 Proudly Taking Back Control of Our Bananas!
Martin Gordon rush-releases a hymn to Brexit, a manly and not-at-all-foreign celebration of the glorious and imminent restoration of British control over the curvature of our proudly-British bananas.
Idiots is an ode of praise to those brave men (and woman) who have selflessly abandoned all vestiges of common sense in order to carry out the express wishes of proudly-British idiots who courageously determined that Belgians were attempting to impose phlegm-quotas by the back door. Take that, Walloons!
Idiots celebrates the legendary act of self-immolation of March 29th 2017. Idiots proudly acknowledges the continuation of a staunch history of British idiocy! Two cheers for British idiots! They are the best idiots in the whole world!
Can you read? Oh, good! Here are the idiotic lyrics, and you are just the kind of person we will need when we invade Spain. But don't bring that embarrassing pink passport, whatever you do.
Download

from all regular (but foreign) outlets. Anyway my dad's a policeman. And I bet he's bigger than your dad. Yes but no I bet he is.
Soon to come: remixes featuring Nigel Farrago, Marine La Penis-Envie, Wild-Eyed Gertie, Frankly Petrified, Mother Teresa, Donaldskovitch Wigovski and other idiots.
Idiots is already attracting abuse and physically-impossible exhortations from the simple-minded and geriatric; add your own idiotic contribution below!
More deep background to Idiots from China Global Television Network:
Further musing on the subject from China Global TV: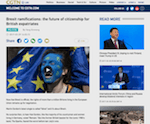 and the Irish Times: