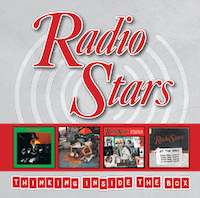 Was it really 40 years ago today that Radio Stars first unleashed their smut and wit on the world? Yes, it was. In 1977, EMI dropped the Sex Pistols, Fleetwood Mac released Rumours, the Clash released White Riot. Jimmy Carter was in charge of the USA and Leonid Brezhnev was named Chairman of the Presidium of the Supreme Soviet of the Soviet Union. And Radio Stars released their first single. In addition, the rings of Uranus were discovered, but let us not be sidetracked by cheap lavatory humour. (Go straight to reviews).
Radio Stars were literally snatched off the heaving streets of London by Chiswick Records, who quickly released their first single, the definitive ode to the selfless providers of sanctuary to beavers, Dirty Pictures. The pic sleeve featured a semi-clad glamour model and was smeared with grubby fingerprints. Things could only get worse, but not for a while. The band released the 4-track 'Stop It' EP later in the year, followed by their first album Songs for Swinging Lovers. The album was prefaced by Nervous Wreck, which clawed its way into the UK Top 40, and then the band spent the entire year on the road with Eddie & the Hotrods and Squeeze. The critics loved them, as did live audiences.
The following year saw the release of a couple of singles and then their second collection Holiday Album. As usual the band spent most of their time on the road in the UK and Europe. In a masterful combination of ingenuity and career-defining foolishness, they capped their sold-out headlining gig at the London Lyceum by breaking up for dental reasons.
But now, on the band's 40th birthday, the entire collected works of Radio Stars are released in a 4CD box set under the Cherry Red imprint – Thinking Inside the Box. The first two albums are there, of course, with the Holiday Album has been restored to its original running order with the restoration of the mysteriously-removed-at-the-last-minute Accountancy Blues. The 3rd CD (Singles and Rarities) contains all the band's non-album output, including the bizarrely-lengthened Radio Stars single. In a time when most bands were cutting down their tunes make a radio-friendly length, Radio Stars found themselves in the odd position of having to record extra bits to make their tunes longer. A highlight is the band's final recording from 2016, a revisited Beast of Barnsley brought up to date with a timely Turkish flavour and rendered as The Beast of Ankara. CD4 At the BBC contains all the band's BBC John Peel sessions and one of their In Concert sessions.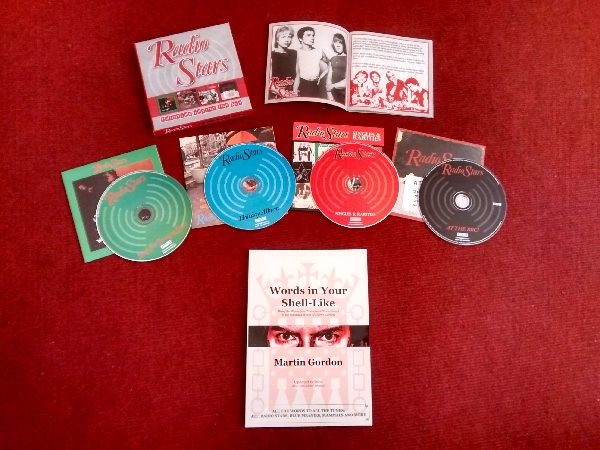 24 pages of copious sleeve notes are written by Dave Thompson, and the lavish booklet is fully illustrated with contemporaneous ads and cartoons from the pen of Phil Smee. What's not to like? It is already bouncing around the Amazon Box Sets chart – there are  clearly some discerning music lovers out there.