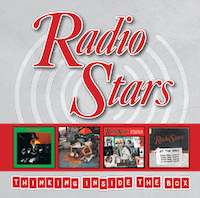 Goldmine: March 2017

Yes, I know it's generally frowned upon to review a box set for which you wrote the liner notes, but seriously.  It's not the few thousand words that buffer the (fabulous!) illustrations in the accompanying booklet that you should be caring about here.  It's the fact that, for the first time ever, the complete and utter history of Radio Stars has been told.  And it only required four CDs to do it.
The bare bones.  Radio Stars grew out of Jet, a latter-day glam band featuring vocalist Andy Ellison (ex-John's Children) and bassist Martin Gordon (ex-Sparks) plus, in their even latter days, guitarist Ian Macleod.  And they remained the core of the band, buffeted by a constantly shifting string of drummers, but resolute, too, in their quest for…
What did Radio Stars want?  Even at the height of punk, songs about obscene photographs, Gerald Ford's misquotes and muddled Greek menus were scarcely the height of topicality; and, in a world framed by such unforgettable chants as "gabba gabba hey," "we're so pretty" and "glad to be gay," a complicated piece of medical imaging equipment was unlikely ever to compete.
Except they were, and it was.  "Dirty Pictures," the band's first single; "No Russians in Russia," their second, and "Macaroni and Mice" (from the first album) remain immortal memories, while "electro-encephalograph" (from "Nervous Wreck") has to be one of the longest words ever to feature in a UK Top Thirty hit single.  And then there was dead Elvis, who became dead Arthur to avoid upsetting the recently-bereaved Presleyphiles, and "The Beast of Barnsley" who remained a beast, even after the real thing's family issued a complaint.  And "From a Rabbit," which was all about body building.  And "Sex in Chains," which was all about Mormon missionaries.   And.. and… and…
…and a live show which was one of the most exciting of the age, particularly when Ellison clambered to the top of the PA and left you wondering… will he jump back down to the stage and land on his knees?  Or will he swing from the lighting rig first?   It's a shame there's no video to go with the live tracks (from a BBC broadcast) that dominates disc four.  But, if you listen carefully, you can hear the crowd wince.
Four discs.  The first two are dedicated to the band's two albums; the third rounds up singles and rarities, not only from the group's original lifespan, but also their brief re-emergence in the early 1980s.  When "The Ghost of Desperate Dan" proved they were as weird (in a good way) as ever.   And the fourth, as you know, is the BBC tapes, three sessions and a live show from summer '77, that wraps up with "Johnny Mekon" – quite possibly the greatest heavy metal punk ode to terminally declining rock stars ever written.
Dave Thompson
---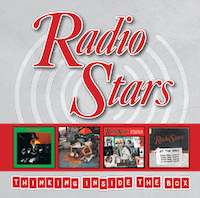 Louder Than War: March 2017
4CD box set comprising the Radio Stars two officially released albums Songs For Swinging Lovers and The Holiday Album along with two discs covering their singles/rarities and BBC session recordings. LTW's Ian Canty looks at the recording career of New Wave's nearly (old) men.
On the face of it, the Radio Stars were possibly the most risible fare dodgers on the New Wave bandwagon. Andy Ellison had been plugging away since the early 1960s in a variety of combos, most famously in Psychedelic destruction unit John's Children (guided by Simon Napier-Bell, who described them as the worst band he had ever seen) and also managed to run his music interests concurrently with acting as a TV stuntman (which would come in handy as we shall see later on). Of the other key members Martin Gordon had a stint with Sparks in their highly successful "Kimono In My House" period, but had been unceremoniously booted out by the Mael brothers soon afterwards. These two had come together in the Glam era to produce also-rans Jet, along with guitarist Ian MacLeod and drummer Chris Townson (also ex-John's Children and had drummed in boot-boy hopefuls the Jook).
Just as Jet were drawing to a close at the start of 1977, a chance encounter whilst armed with a demo tape at Chiswick Records yielded results when Roger Armstrong loved the track Dirty Pictures. Seeing immediately that the subject matter chimed in with the "low-rent" end of the coming New Wave, they rush released it as a single, coming up with the Radio Stars name seemingly on the spot as the Jet moniker seemed passé.
The response to the single was encouraging and the Stars were up and running, playing alongside such other nearly Punk bands as Squeeze and Eddie and the Hot Rods as well as more standard rockers like UFO. By this time Townson was out of the picture and a Spinal Tap revolving door-style drummer policy was in place. The band developed a great reputation as a live act with Ellison's dare-devil antics, including climbing up lighting rigs and jumping off to land on his knees, bringing the house down (sometimes almost literally!).
The two officially released studio albums are presented here in the form they were meant to be released (The Holiday Album has a short edit of Accountancy Blues added as it was meant to be included on the original LP but wasn't), which for my money is the best way. Though both records were a little on the uneven side, they had their fair share of good moments. Songs For Swinging Lovers (the first title for this one apparently being Bowels Stuffed With Spleen according to Martin Gordon in the accompanying booklet) gathers a fair head of steam with Good Personality right up to and including the Radio Stars one hit single Nervous Wreck.
From there on however they did tend to fall back on the kind of flashy but competent rock Jet had laboured away at for last four years to little or no avail. That is until they reach their Elvis Is Dead pre-emptor Arthur Is Dead Boring (Let's Rot) and the curious throwback to John's Children's psychedelic days Eric, which are much more interesting efforts. Finishing with some of their trademark Monty Python new wave in Buy Chiswick Records the album somehow, perhaps through the band's large streak of self-deprecation, managed to worm its way into many a hardened punk's collection.
Though arguably the better of the two records, The Holiday Album probably didn't repeat the trick. The sleeve concept, while an engagingly daft picture of the band freezing in their beach gear at Oxford Circus, may have put the Kings Road bondage trousers crew off a little. But there's some great stuff on this LP, particular what I regard as their best recording No Russians In Russia. Previously gaining release on the Stop It! EP the year before (and being featured on the Marc TV show, with Ellison catching up with his old bandmate Bolan), this is the best example of the Radio Stars maxim of treating a serious subject matter flippantly, being a response to a comment US president Gerald Ford made about communism. It's a nonsense loopy Pseudo-Punk classic, particularly in it's trashier, more exciting single version (which can be found on Disc three here).
The Real Me is huge, Who-like rock, exactly what John's Children always looked like they were capable of but seldom put down on vinyl and the decidedly non-PC Sex In Chain Blues reaching the logical conclusion of their comic rock efforts, Python Graham Chapman chipping in briefly mid-song.
The LP ends strangely with the brief electronica of Goodbye and that was about it for the Radio Stars as they split in 1979 after The Real Me flopped as a single, though the band reconvened in 1982 and still plays the odd gig to this day (they were meant to have played earlier this year but for some reason it didn't happen).
Just to digress a moment here, in the booklet a gig in Southampton in 2010 is mentioned and it says "the less said about that the better". But I was at the said performance and the only thing actually wrong with it was the lack of decent sized audience – though perhaps Ellison shouldn't have trusted a dopey audience member with his set-list which meant the running order got screwed up a little (I had only had a couple of hours sleep the night before – oops what I meant to say was that person probably only had a couple of nights sleep the night before….) and being a small venue he could only climb up a step ladder to amuse himself during their set, but otherwise the band played extremely well.
Because of their refusal to take anything remotely seriously and adeptness with choruses, the Singles and Rarities selection here is perhaps my favourite disc present. They were probably better heard over the course of a 7″ inch single where their snappy dynamics, musician smarts and cheekiness fused magically together. Though missing any different takes of Nervous Wreck (presumably because the single version was on the first LP anyway), there's a wealth of good material like the remainder of the Stop It! extended play which yielded a couple of their most Punk moments in Johnny Mekon and the Knock On Wood quoting Horrible Breath (actually both Jet leftovers). The single versions tend to sound just a little more vital than their long player counterparts.
When the Radio Stars re-emerged in 1982 with the As My Mother Said/Two Minutes Mr Smith single, they had taken on an oddly prog pop sound that was totally at odds with the times, but makes for interesting listening today.
We also get a couple of Holiday Album outtakes in Throwaway and an edit of It's All Over, plus the shuffling electronic new wave of Somewhere There's A Place For Us amongst other diverting entertainments. This selection ends with The Beast Of Ankara, a 2016 re-cut of the 1977 Beast Of Barnsley album track, on which the Radio Stars sound eerily little changed from 40 years previously.
Finally the fourth disc here is made up of BBC recordings – DJ John Peel was an early supporter and got them in for three sessions between 1977 and '78. I'm not sure if their Marc Bolan link played a part in this, surely JP must have run into Ellison at some stage in the '60s, but nevertheless I'm glad it happened and these tracks were recorded for posterity. Apart from the Beatles cover Dear Prudence (beating the Banshees to it by five years), the first session has three of the Stars best tunes presented in the usual BBC well produced, clear and fresh way.
Good Personality from the second session sounds colossal and the band were clearly on hot form on this date, turning out some noisy boogie Punk classics. The third batch finds the Radio Stars edging towards a more pop direction, but still contain some thrills, with Boy Meets Girl being best heard here, throwing in a little of the Kinks All Day And All Of The Night along the way. The final piece is the In Concert recording from August 1977, a spirited run through of the pick of the first LP and singles in the live environment where they clearly were most comfortable.
Complete with a booklet featuring highly droll observations from Martin Gordon (you're never entirely sure whether he's taking the proverbial Michael, but we will give him the benefit of the doubt), this thorough compilation is a boon for hard-core fans and '70s pop punk fiends alike.
The Radio Stars – the most unlikely new wavers – somehow managed to capture the essence of the late '70s with an always functioning naughty sense of humour and a keen eye trained on the changing times. Seemingly contrary to the punk ethos to kick out all the boring old farts, the Radio Stars were oldsters who saw the sense in adapting to the fresh attitude of new wave and went with it, not against it. Their full-on approach gained them a measure of respect and from there they went on in their own dotty, lovable way. Somewhere there was a place for them.
Ian Canty
---