Berlin October 2017:
Sonic wizard Richard Digby Smith (those paying attention will know him from Kimono My House) completed the mastering of the new album, set for release in March 2018.
Berlin August 2017:
Some of the new tunes were trotted out at the aptly-named Rickenbackers, Berlin on 19.08.17, and the work continues.
Berlin July 2017:
He came, he saw. Adrian Stout visits prior to the Tiger Lillies date in Berlin and adds some grim wobbling to a tear-jerking ballad about the end of days. The concert at the Admiralspalast, Berlin (July 16th) featured a slew of spectacularly miserable new tunes, which were droolingly received by the audience, including me.
Not many people know that the vibrato on the saw can be controlled by leg movement – left leg for deep vibrato, right leg for shallow. Or maybe it's the other way round. Anyway I was one of them, but now am not.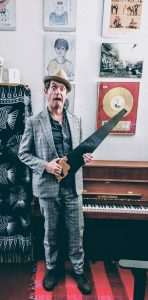 ---
Hmm, decisions, decisions. Which takes the most physical effort? The contrabass – all those erect elbows. Which requires the most mental effort? The Ibanez five-string – after years of knowing that if I wanted a low E, I could just take aim at the lowest string, it's a hard habit to break. Which takes the least effort and the least intellectual preparation? The Ric, it's almost instinctive after 43 years.
So, a no-brainer, then. But alas no. Sometimes a particular tune demands a particular treatment. A clank, for example, might sound rather weird underneath an impassioned ballad about the end of the world as we know it. The anonymous round tones of the contrabass might sit uneasily underneath a Who-impersonation dealing with whether God is in reality an old geezer on a cloud stroking his beard as he watches the chaos beneath. He's responsible, of course, if he really is watching. And those tunes which might just happen to be in C# or D just insist upon having that low B string. Oh dear, oh dear. There will be tears before bed time.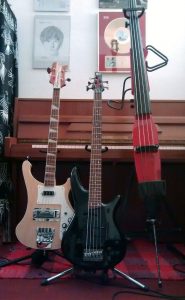 ---
The story continues. Drummer Romain Vicente occupies the Townson-stool aboard the boat and valiantly completes 15 songs in 2 days. Stunned and shocked (and stunned) by the whole experience, he has now run away to join the circus (to be specific, the Circus Roncalli).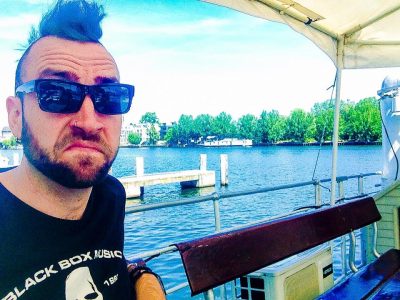 Familiar face Ralf Leeman completes his guitar bits while looking pensive and is now available  at a reduced budget in black and white: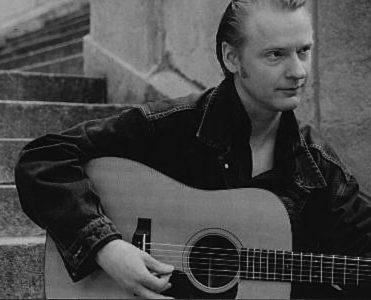 And new addition Mario Ferraro takes time out from the Polkaholix to strum along. The Polkaholix enlisted the Martin's linguistic support for various tunes on their recent albums. Here Mario returns the favour by performing on the Gordon versions of the same tunes, as well as widdling along to a few other songs and making you an offer you cannot refuse: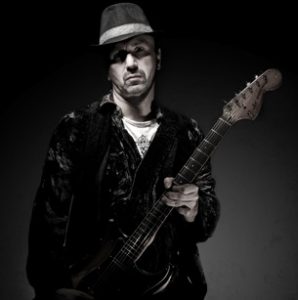 More stars of stage and screen are due arrive shortly, jetting (for celebrities always 'jet' but never just 'fly') in from such exotic locations as Hornsey and upstairs.
Berlin June 2017:
Just like in the old days – first rehearse, then record. Do not make it up as you go along. We kick off preparations for a new album in the traditional rat-infested, dank, dark cellar. Of course, in the old days it was London's Furniture Cave in Kings Road, Chelsea, or the Tunnel. Today it's a basement in Berlin's Prenzlauerberg. All that is missing is the single-bar electric fire, and moles. But the rats are a welcome substitute and this is, after all, the music business. Kind of.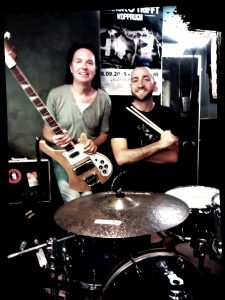 Just like the Jet album, the latest installment begins life with bass and drums. In the case of Jet, it was unavoidable, as nobody else could play in time. Here, it's more down to expedience.
Romain Vicente races through 15 songs in record time. The great thing is that, as well as being a thoroughly amazing drummer, he can also read music. Give him a chord chart and he's off, writing updated parts exactly where they are meant to be. The contrast with earlier ant-eater-oriented collaborations could scarcely be greater.
Next stop – life on the ocean wave. We will shortly reconvene on a boat and pursue duck-shockingly percussive activities.