FOOTNOTE ARCHIVES Goldmine magazine October 2006
By Dave Thompson
Among the most entertaining of new albums released these past few years have been three by Martin Gordon. Once of Sparks, Jet and Radio Stars, themselves rightly ranked among the finest bands of the British mid-1970s, Gordon has devoted the past half decade to crafting some of the most original, artful and melodic pop music of the age, spread across the immortally-titled The Baboon In The Basement , The Joy of More Hogwash and God's On His Lunchbreak (Please Call Back) . More recently still, the trio have been packed into a box set, The Mammal Trilogy , and condensed for a "best of," How Am I Doing So Far?
But Gordon has also taken the time to unearth some of the lesser-recalled jewels from his catalog, beginning with a first-ever release for an album's worth of material cut in the very early 1980s, with a band whose name should have endeared them to every Beatles fan out there. Because who doesn't love the Blue Meanies?
The roots of the Blue Meanies lay in Martin Gordon's tenure with Radio Stars; uncertain whether he was entirely happy with vocalist Ellison, Gordon hatched a plan to replace him with another singer, the Autographs' frontman Chris Gent. Neither was it an idle plot – the pair had even started rerecording the vocals on Radio Stars' then still-unreleased debut album. But then disaster struck. The Ellison-fronted band's latest single became a Top 30 hit (their first); the label insisted on releasing the album as-was, a nationwide tour would consume much of the rest of the year (and beyond). Sadly, Gordon bade his dream goodbye. The would-be new vocalist was instead drafted into the Radio Stars' live show as saxophonist and backing singer; he would gravitate into the studio set-up when the time came to cut their second LP.
But it would be four years after those ill-fated secret sessions before Gent and Gordon again got the chance to place their dream into action. They called it the Blue Meanies and, if you happen to pass by I-Tunes anytime soon, you can actually hear what the fuss was all about, for a quarter century after the band squeaked out a single, and recorded so much more, the Blue Meanies' archive has finally been opened. And it still sounds great.
Gordon departed Radio Stars in 1980 and headed for Paris, where he landed a gig as house producer for Barclay Records. Inevitably, he invited Gent over to work on a few sessions and soon the pair was again wondering what a full-blooded collaboration might sound like. In early 1981, back in the UK, they decided to find out.
"I booked a rehearsal room, and stood in it alone." Gordon decided to conduct the auditions solo, apparently for no better reason than the knowledge that it would completely confound the line of applicants he'd lined up. Certainly drummer Ray Weston was absolutely nonplussed. "When I saw that one guy, and a bass player at that, was auditioning for an entire band, I thought this guy is either bonkers or has clearly got something."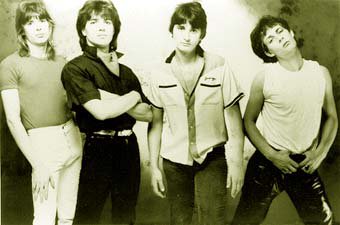 He decided it was the latter, and Gordon snapped him up, "as he was (and still is) a great, powerful drummer with an acute sense of dynamics." Ian Macleod, who had clung onto a Gordon-less Radio Stars for another year, came along, but dropped out after one rehearsal; he was replaced by another former Radio Star, drummer Jamie Crompton – moonlighting for the occasion on guitar and, in this form, the band recorded a clutch of songs for use as the band's first demo, including two, "Greenfinger" and "Hit Him On The Head With A Hammer," that he would return to on Baboon In The Basement . (The Meanies' demo of "Hit Him" was finally released on How Am I Doing So Far ).
Gordon recalled, "we were also helped, if that's the right word, by my pal Gary Holton, at that time with the Heavy Metal Kids and later to be come a TV star in Auf Wiedersehen Pet . His party trick came during mike setups.
"While talking to engineer John Rollo, he would randomly mouth silent words. The engineer would spend much energy and effort trying to find the cause of these unpredictable dropouts. After about half an hour, I went into the studio to discover that there was no dropping-out at all, of course. My, how we all laughed."
Jamie Crompton remained with the band only long enough to complete the demo – he then departed to join Suzi Quatro's touring band, at which point Ray Weston recommended one of his friends, the singularly-named Angie.
The Blue Meanies' next recording session saw them cut what would become the b-side to the Blue Meanies' one and only single, a round-the-clubs-in-80-minutes tale of drunken debauchery titled "I'm Not In Love With You." But Angie wasn't working out; in fact, Gordon lamented, he steadily became more and more unreliable. Onstage, he insisted on starting the next song before his bandmates had finished the preceding one, but the final straw came at London's prestigious Camden Palace, as Angie disappeared from the stage, only to be spotted standing at the bar, still strumming his guitar while ordering a beer and chatting to a friend.
Patently it was time for him to go, at which point the Meanies finally found the player they'd been looking for, "the redoubtable Tommy Willis."
In this form, the Blue Meanies signed with the Mercury label and set to work on their debut 45, "Pop Sensibility." It was (as you'll agree, once you've downloaded it) an absolutely smashing song, which oozed with the titular substance and should, were there any justice whatsoever on the miserable Planet Pop, have become the biggest hit of the year.
Even before it was released, however, Gordon had a horrible feeling that the release was going pear-shaped, a premonition based around his first glimpse of the label's proffered picture sleeve, and advertising campaign – pictures of sundry political despots, captioned "but they never had pop sensibility."
"The picture sleeve was completely nonsensical," Gordon shuddered. "I endeared myself to the art department by pointing out that it was completely unreadable and thus an almost complete waste of effort. It was too late to change it, however." But he did exact his revenge when the newspaper ads for the single appeared. "I insisted that the copy included the words '…. complete with unintelligible picture sleeve'. But it wasn't an auspicious beginning to a relationship with the record company."
There were two primary routes to stardom in the UK at that time. The first was via radio play (which "Pop Sensibility" managed to avoid altogether); the second, strange as it may sound today, was via childrens' television. The country's three television channels were bursting at the scene with brightly colored, non-stop zaniness-styled kids' shows, of which Get It Together was perhaps the most brightly colored and zany of them all. And the Blue Meanies were going to appear on it. Even better, they would be introduced onto camera by a talking duck! (Actually, it was a puppet, but don't tell the kids that.)
The Blue Meanies came, they saw… and then they went home, somewhat shocked to discover that the exposure really hadn't advanced their career in the slightest; had, in fact, put it into reverse. Gordon laughed, "I once saw an accounting for the single which appeared to show that we had sold a negative number of records. There was one more record returned than bought, a possibly unique state of affairs."
The band played a number of gigs around London, and seemed to be drumming up some kind of support. Mercury, however, were no longer interested. The Blue Meanies were dropped… only to land firmly on their feet and attract the ears of Mickie Most; Gent's Autographs had been signed to Most's RAK label and, when the great man heard some Blue Meanies demos, he appeared to sense great things. The band was booked into RAK Studios to record a single, "Habibya." The session, however, came to naught, and the Meanies disintegrated.
Gordon never forgot them, though, and the I-Tunes release – anchored around the single, but bristling with demos and more besides – proves that he was right not to. They never made it big… in fact, they never even made it little. But they're a legend in Pepperland and they have Pop Sensibility. What more could you want?