The AfriCourage festival took place in the Independence Stadium, Banjul, The Gambia on December 28th 2019. Included in the line-up was a performance from the Liberation Orchestra of Inverted Traditions. This saw members of Germany's leading art-music collective Ensemble Modern teaming up with kora king Tatadindin (RIP) and the Sami duo Wimme & Rinne to deliver a collective celebration of indigenous culture from near and far. Martin Gordon was musical director, played bass and conducted the Ensemble where appropriate.
Augmented by members of Baaba Maal's band on percussion and keyboards, Gambian legend Sambou Suso guested on vocals and Sengalese stars Journal Rappé compered the event and introduced the Orchestra's various sets. With the Ensemble Modern, the collective performed four tunes including a section of Frank Zappa's 'Music for Low Budget Orchestra'.
Felwine Sarr, fresh from writing the report on restitution of African cultural heritage for French president Emmanuel Macron, stepped up to the mike in his role as singer-songwriter, and the grand Orchestral finale saw all participants joined by rapper Killa Ace.
Liberation Orchestra
Keyboard player Ibou Mbaye played his first concerts at the age of 14 with Mbalax superstar Alioune Mbaye Nder, with whom he played for many years. Today he performs with Mapenda Seck, Ouza, Adiouza, Wally Seck, Viviane, Omar Pene, Yoro Ndiaye and others, often as arranger.
Modou Mbaye is perhaps the most prominent tama (talking drum) master of his generation – a virtuoso with great stage presence. He has played for many including Sidy Samb, Aida Samb, Birahim and others.
Bada Seck is one of the senior drummers of the great Jeri-Jeri Griot clan from Kaolack, and lives in Dakar. Bada has been with Baaba Maal since the 80s, and has also worked with artists such as Carlos Santana, Luciano, Ernest Ranglin, Taj Mahal and Jimmy Cliff. He plays all sabar drums, including thiol, nder, tungune and mbeung-mbeung bal.
Serigne Mamoune Seck is Bada's nephew, also from the Jeri-Jeri clan and lives in Dakar. He also plays all sabar drums, specialising in khine Baye Fall, thiol and mbeung-mbeung. As a live and studio percussionist he has worked with Senegalese greats such as his brother Babacar Seck, Viviane, Abou Thioubalo and Aida Samb.
Mangone Ndiaye Dieng is a drummer/percussionist who has played for Youssou Ndour's chief percussionist Mbaye Dieye Faye, and most recently for Wally Seck.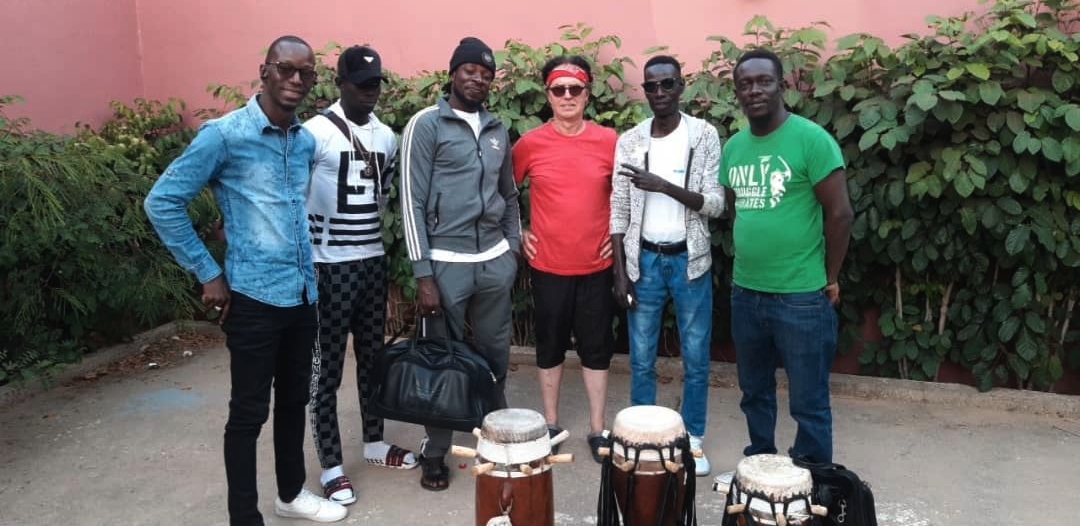 And finally bassist Martin Gordon played in various bands over a long career, including sessions with the Rolling Stones. He's worked with a variety of British superstars including George Michael, Boy George, Primal Scream, Blur and more. Since moving to Germany 20 years ago, he has not looked back, although he refuses to say why.
The concert was livestreamed by the EBU on December 28th 2019. Check out the AfriCourage YouTube playlist below, with Wimme & Rinne, the Ensemble Modern, Sambou Suso, Killa Ace and Felwine Sarr. And here are some behind-the-scenes stories and rehearsal footage.

Web: AfriCourage.org