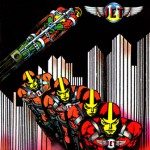 Following the abrupt demise of gainful employment with Sparks and Jook, bassist Gordon and drummer Townson teamed up with vocalist Andy Ellison. Deciding to expand the trio format, they added an accident-prone guitarist and a tiny green keyboardist. Mike Leander and Jamie Turner managed, Roy Thomas Baker produced, their accountants and bank managers rejoiced, as did their tailors and hairdressers. But not for long.
They went on tour with Ian Hunter and Mick Ronson, changed guitarist and were banished to the country to come up with a new album. Following a series of inexplicable table-lamp incidents, the band were dropped by the record company. Shaking off their keyboard player, the band began an intensive period of rehearsals at Island Studios in London's Hammersmith, followed by a period of intensive drinking in the Cross Keys pub, conveniently also located in Hammersmith. Then they donned new trousers to become Radio Stars.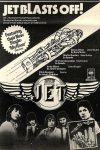 Later in the century Jet was hailed as the 'first supergroup of glam', but the band members were regrettably unaware of this fact at the time, otherwise they would have been more careful.
 INFO:
Jet biog from All Music
Long-forgotten documents reveal the intimate secrets of the 1975 Jet tour with Hunter-Ronson
Rickenbacker tales
Mr Amoeba speaks: "That Jet were so tuneful is a bit surprising given the fact that Ellison and Townson had previously played in John's Children, a one-album wonder for whom songwriting seemed to be among the least of the band's concerns." Oooh, nasty! But accurate.
Jet video (from 1999):
[embedyt] http://www.youtube.com/watch?v=tlGv8TXBDq4[/embedyt]