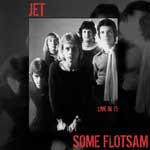 Who on earth were Jet? you might ask. Do we refer to that bunch of Aussie pre-teens who plundered their parents' vinyl collections and produced a fruit-blender melange of everything that happened before they were born?
Strewth, no. We mean the UK lot, we mean the 'glam-rock super-group who climbed aboard the sparkly bandwagon just before it's wheels fell off, depositing the occupants in the cosmic ditch' and we quote the NME's Chris Salewicz, who ran out of wagon-references at the crucial moment. No matter – formed from the remnants of Sparks (bassist/writer Martin Gordon), John's Children (singer Andy Ellison and drummer Chris Townson) and every British band you have ever heard of during the late 60's (guitarist Davey O'List), Jet emerged in 1975 to great expectations. Roy Thomas Baker had just produced their debut album, they were managed by Gary Glitter's management team – where could they go but up?
And now to the year 2010. The Jet album of 1975 is still not available on CD, thanks to the wishes of the tea-ladies at BMG, who inherited it from CBS. 'Some Flotsam' included many of the tunes from the album, along with a few oddities like 'Horrible Breath', a Marc Bolan tune that would later end up as the b-side to the Radio Stars single 'Nervous Wreck'. Recorded over two nights at the Hammersmith Odeon and the Bristol Colston Hall, you can compare alternative version of the same tunes. What drugs had various band members consumed between the London and Bristol performances of 'Horrible Breath'? And where can I get some?
The release was interrupted before it came to fruition, and was placed on the back burner. Just underneath the back burner, actually. It's sourced from a soundboard recording, but was never made commercially available.
Personnel:
Andy Ellison: vocals
Davey O'List: guitar
Sir  'Peter' Oxendale: keyboards
Martin Gordon: bass
Jim Toomey: drums
Track listing:
Bristol Colston Hall April 1 1975:
1 Intro
2 Tittle-Tattle
3 Cover Girl
4 Song For Hymn
5 Diamonds Are A Girl's Best Friend
6 My Rivers
7 Horrible Breath
8 Brian Damage
9 Nothing To Do With Us
Hammersmith Odeon, London March 31st 1975:
10 Song For Hymn
11 Diamonds Are A Girl's Best Friend
12 My River
13 Horrible Breath
14 Brian Damage
15 Nothing To Do With Us
PS Did you know? For the Herd of Herring tour of 2000, John's Children performed a number of tunes including Cover Girl, Nothing To Do With Us and the now-infamous 'Jet-medley', whereby It Would Be Good, Diamonds Are A Girl's Best Friend and Whangdepootenawah were seamlessly cut up and stuck together again in a radical revisiting of these wobbly 'glam classics'. Check it out here.