The Post-Mammal Era: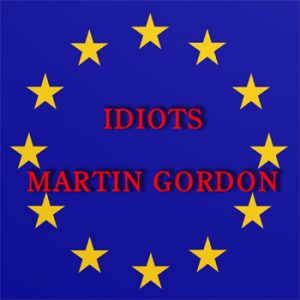 IDIOTS Celebrating the Trump-like victory of idiocy over banana curvature, a rush-released single documented Brexit on March 29th 2017. Into baked beans we will now tuck! No more wogs, Walloons or Westphalians! Bring on the Idiots!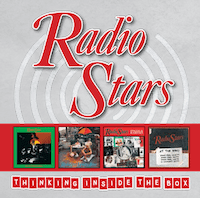 THINKING INSIDE THE BOX The collected works of Radio Stars, squeezed onto 4 CDs and stuffed into a box. More details here.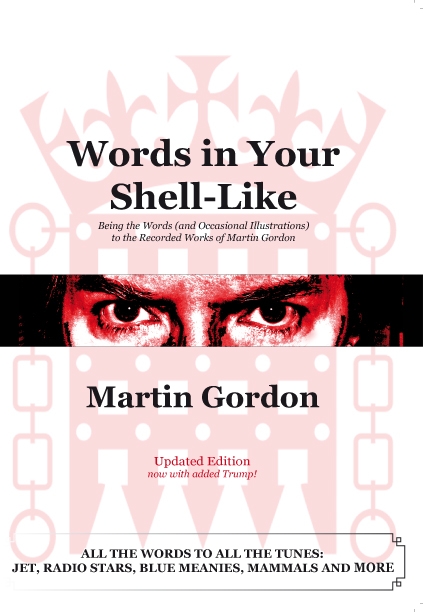 WORDS IN YOUR SHELL-LIKE The updated edition of 'Words In Your Shell-Like' contains all the words to 160 published Gordon tunes, ranging from Jet via Radio Stars and the entire Mammal series, to more recent Trumpery and Gilbert Gordon & Sullivan-ness. Literally balancing the words are Gordon's anecdotes and musings about the origins and significance of each song. The illustrated book has 174 pages, and copies can be signed on request. (Shop)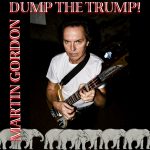 DUMP THE TRUMP! Appalled by the Orange Nightmare, the single 'Dump the Trump' was released just in time to have no effect whatsoever. The nightmare continues as Trump creates a Terrible Trump-Mess. More…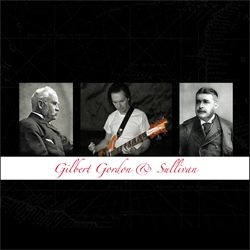 GILBERT GORDON & SULLIVAN In 2014, the legendary Sparks album 'Kimono My House' celebrated its 40th birthday. Some critics noted at the time that it was inspired by Gilbert and Sullivan, incorrectly as it turned out, but a nice try nonetheless, plus it's a hard life being a journalist. Martin Gordon, the creator of the stentorian barracuda Rickenbacker bass lines prominently featured on the by-now million-plus selling album, has often included one or two G&S tunes on his solo releases, but now he goes the whole hog with an entire album devoted to the pair's eccentric output. More details here.
---
The Mammal Era: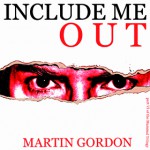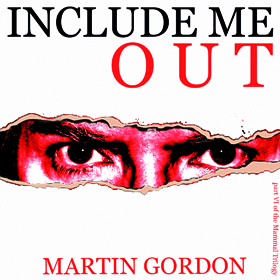 INCLUDE ME OUT And so, for the last time, here comes another installment of the Mammal Trilogy. Since the release of his 'Time Gentlemen Please' album in 2009, Gordon has lain low, observing proceedings with a jaundiced eye. Finally spurred into action by a combination of penury, misanthropy and an increasing hatred of ant-eaters (we do not include the entire species of the suborder Vermilingua, but specifically the genus Vermilingua peronatus singularis), he was driven to create 'Include Me Out' as the sixth part of the Mammal Trilogy. (Shop)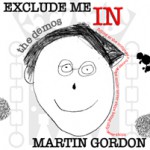 EXCLUDE ME IN The demos, plus a bonus track, to the sixth part of the Mammal Trilogy. Unadorned, naked – this is how it all began. No orchestras here, matey. And dead butch, and full of camposity, naturally. Plus an extra tune which was taken out and unceremoniously shot in the back of the neck before the release of IMO. (Shop)

TIME GENTLEMEN PLEASE The penultimate part of the Mammal Trilogy. Thrashing guitars, thrumming ukelele, raucous brass, double bass and bar-room piano provide the sonic back-drop. The sterling vocals of Swede Pelle Almgren are once again to the fore, and his glorious trademark harmonies are a career-best, especially on the über-ballad '21st Century Blues'. Live performance is key, and studio trickery is either reduced to a minimum or is transparent. In correspondence with the bigger picture, each song has an ending, with not a fade to be heard. From faux big-band swing ('If Boys Could Talk and Girls Could Think') to breakneck amphetamine-pop ('Interesting Times'), from dramatic big-hair ballads sung in Latin about the perils of celebrity ('Incognito Ergo Sum') to pub-piano sing-alongs bemoaning cheap flights ('I'm Budgie (Don't Fly Me)'), from crunching pop decrying the actions of the Almighty ('Come Out Come Out Whoever You Are') to the quasi-Floydian epic 'You Can't See Me' which closes the set, Gordon spans the gamut. (Shop)

TIME GENTLEMEN PLEASE – DEMOS Behind-the-scenes eaves-dropping as Martin Gordon prepares his latest masterpiece. Demo versions of all tunes from the later album, and one which didn't make it, thanks to the lady downstairs banging on the ceiling with a broomstick. (Shop)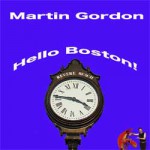 HELLO BOSTON! Martin Gordon's live debut in 2007 in Boston. The temperature was high, the band wore shorts. But not Martin. Perish the thought! 'The Captain of the Pinafore' broke down, but the band was congratulated for their 'choreographed simulacrum of chaos'. Now that's what I call a sympathetic audience. (Shop)

THE WORLD IS YOUR LOBSTER The fourth part of the Mammal Trilogy, featuring crustacean favourites for mammal and invertebrate alike. So, it's about that time again. This Nobel Prize-winning former stand-in for Charles Atlas and personal friend of James Bond once again lays it fearlessly on the line. He wrestles with la condition humaine in his accustomed manner, but will never really come to terms with it. His existential angst is merely disguised as joi de vivre, as Brian Trubshaw used to say, and it is upon the iconoclastic work of Mr Trubshaw that this release is firmly based. (Shop)

HOW AM I DOING SO FAR? 'Best of' MG compilation at mid-price. Better than being snorted by Keith Richards. Featured on this compendium of aural delights are songs about Nigerian email scams, technology (he has 'missed the universal serial buss', he rather implausibly claims at one point), relationships with alien lovelies, Heaven run by the Germans, age as a cricketing metaphor, marital problems, xenophobia, instant fame and of course the title track, in which he wonders why despite his plethora of gold chains and mobile phones, nobody takes him seriously. Of course the protagonists are not necessarily the performers, it scarcely needs pointing out. Based pointedly on the groundbreaking hair-politics of Barrington Womble. (Shop)

GOD'S ON HIS LUNCHBREAK Third solo release. A spot of Gilbert and Sullivan (that's 'and' and not 'O'), a McCartney tunes and a bunch more. And God smoking a spliff, for those who are keenly observant and atheist. After making a full recovery from a fatal attack of Chinese bird flu, composer/bassist/producer Martin Gordon continues his adventures in pop wonderland with his third solo offering in as many years (three). Based deceptively loosely on the work of George Best the philosophising footballer. (Shop)

GOD'S ON HIS LUNCHBREAK COMPANION VOLUME What? You can read? Marvelous! Got a companion? Well, you can read it together. Haven't got one? – buy this and you soon will have. Fully illustrated by Chris Townson with the various characters appearing in God's on His Lunchbreak, with the full lyrics to the tunes and the Story Behind the Creation of God. He is driving around with His pals in a Mini Moke, digging the funky toons on His iPod and doling out blessings to the less fortunate and foreigners. Based (tremendously loosely) on the works of Nigel Farage, as he then was not yet. (Shop)

THE JOY OF ORE HOGWASH Second solo. Based (even more loosely) on Alex Comfort's magnificent work of sexual philosophy 'The Joy of Sex', and even more loosely upon his follow-up 'More Joy of Sex', it contains a Beatles tune, a cover of Mel Brook's 'Love Power' from his film The Producers, and some more things to boot. (Shop)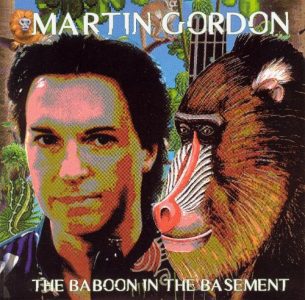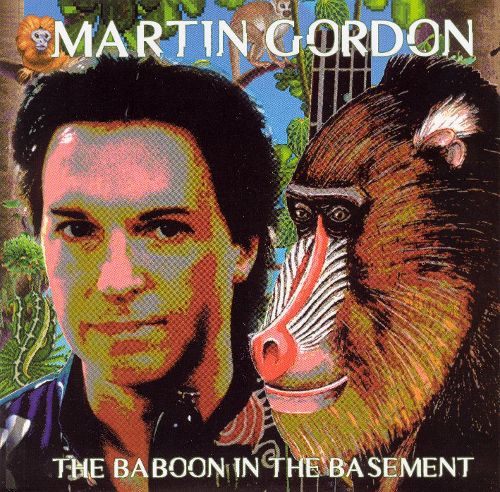 THE BABOON IN THE BASEMENT Base (loosely) on Brian Jung's notion of the collective underpants. We all have underpants in our basements.
Radio Stars: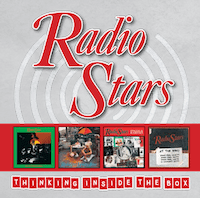 THINKING INSIDE THE BOX 4 CD box set – everything there is about Radio Stars, including a 24 page essay. Check it out here.

SOMETHING FOR THE WEEKEND Radio Stars hurtled around the UK in 1977 and 78 performing their greatest hit and accompanied by the frankly unclad Kelly St John, just as they are on the cover. Some people thought this sexist, but some people would think that, wouldn't they… (Shop)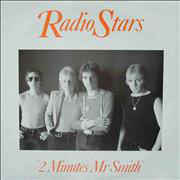 TWO MINUTES MR SMITH A rather strange compilation – first off the starting blocks, so one cannot be too dismissive. Now long out of print.

SOMEWHERE THERE'S A PLACE FOR US A compilation of the band's finest fishing songs, complete with heartwarming tales of fishermen's jumpers, lighthouses, gabardine coats and rubber underwear. Even includes unreleased tunes (four, to be precise), one tune which was 'not released properly' and the elusive 'Accountancy Blues', the lyrics of which appeared inside the Holiday Album but not the track itself. But now it does. You cannot say fairer than that, we believe. Free Wellington boot with every seventh copy purchased – keep the receipts. (Shop)

HOLIDAY ALBUM Second album from the band, now entering their 'Age of Unpleasantness' phase, from which they would not recover. They went on tour, in support of the album, but nobody could find it in the shops. In a vain attempt to ignore reality, they extended the tour, in the hope that one day their album would come. But it didn't. Martin went off to have his wisdom teeth out; other heads equally lacking in wisdom, but not a result of having had their teeth out, decided to go on tour without him. It all went pear-shaped, to be frank. But the album is pretty good, despite the rancour and the wrangling. (Shop)

SONGS FOR SWINGING LOVERS Jet, by any other name. Here's what one perceptive commentator recently noted. This was the first album from the slightly-recast Jet, and jolly damn good it was too. Carefully leaving out their almost hit 'Dirty Pictures', and and equally thoughtfully striking their second almost hit 'No Russians' from the track listing, the band defied the odds. 'We defy you, odds!' they would shout, literally. (Shop)
Radio Stars/Jet /John's Children collective

MUSIC FOR THE HERD OF HERRING Actually it is unclear who the artist is here. Radio Stars? Jet? John's Children? Or all of them simultaneously and also at the same time? It remains a mystery. More. (Shop)
John's Children: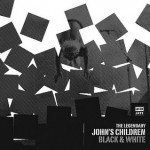 BLACK AND WHITE It is indeed black and white, has a picture of Radio Stars at the Reading Festival in 1978 on the cover, features a Blue Meanies tune and has a very tightly-focussed artistic vision. (Shop)
Jet: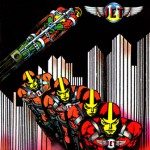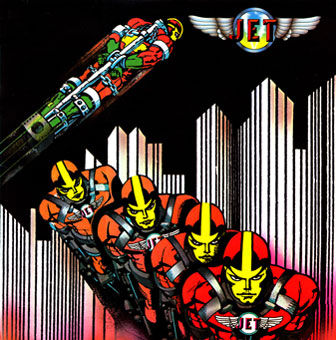 EVEN MORE LIGHT THAN SHADE Compendium of both albums, remastered from original 1/4″ master tapes with added bonus tracks. Withdrawn due to interference.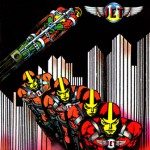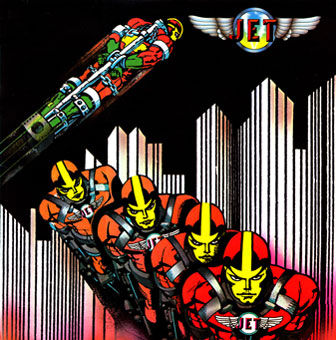 JET Anteaters, idiots and more make-up than you can shake a cheekbone highlighter at. What is there to say about Jet that either wasn't said at the time or hasn't subsequently been said? Apparently quite a lot, such as this biog from Allmusic. Jet were the first supergroup of glam, as any fule kno, it says so. If you don't know anything about Jet, or are under the impression they were Australian, that's the place to start, courtesy of Dave Thompson. (Shop)

MORE LIGHT THAN SHADE The same, but more so. Before being withdrawn from the market due to legal anteaters, this collection contained the band's demos for the second , but never realised, Jet album. (Shop)
Blue Meanies:

POP SENSIBILITY They had no integrity, they had no ability, their bank was in love with them. Yeahhh! Short-lived but fondly remembered foray into pop music. Did you know that their solitary TV appearance was presented by a man dressed as a parrot? Well, it was. Their enormous recording output was finally released for download in 2006 under the title 'Pop Sensibility', available from iTunes and other e-tailers, or get it in the shop.
Mira:

NEW HOPE FOR THE DEAD Recorded around the world at great expense to wallets and friendships, New Hope for the Dead began life as a stage performance, featuring dancers, a live band, computor graphics, a trapeze artist, a break dancer, a martial artist and an aardvark. In an attempt to capture the ludicrously ambitious scale of the thing, the soundtrack was later recorded, albeit with a bit more peace and quiet about the place, in London. Following the multi-cultural focus of the stage show, we assembled a cast of thousands for the recording including musicians from Pakistan, India, Egypt, the West Indies, Iran, China, Japan and the planet Pluto. (Shop)
Sparks: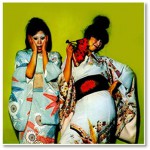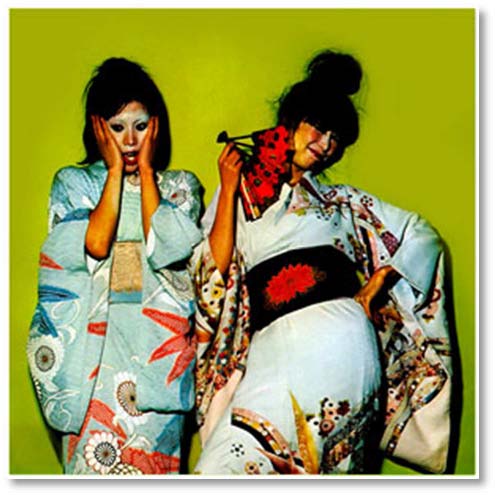 KIMONO MY HOUSE MC Stalin vs. DJ Molotov. May the best cadre win. It is an album by, and about, Moles. You like Moles? Well, you're in the right place. It was recorded in 1973. It's unearthly beauty remains undimmed with the assistance of wigs and other prosthetic devices. Take a bit of butch guitar, add some twee vocals and one-finger cabaret piano, douse liberally in opinionatedness, light the touch-paper and retire (but not literally). When this proves successful, replace non-compliant components in an effort to stem the tidal hit-wave. When this proves of successful, go back down your burrow for 4 decades. Emerge fortified with assiduous essayists and masterful mastering technicians and celebrate the 40th birthday of KMH. Credit the other musicians in the UK, but not in Murica where nobody is listening anyway.