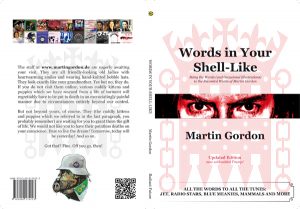 Words In Your Shell-Like contains full lyrics and personal commentary to all Martin Gordon's tunes, now in an updated and expanded paperback edition! It's a book! What's a book, we hear you ask? Read on.
Martin Gordon was described by Goldmine magazine as "a national treasure whose talent for songwriting is one of those gifts that few people are granted, and even fewer know what to do with". Reaching for that elusive archaeological metaphor, Goldmine further declared that Gordon "stands as a megalith on the Salisbury Plain of modern culture". Well, that's as maybe, I'm sure.
A book collecting together all Gordon's lyrics came out in 2013, entitled Words In Your Shell-Like. The first edition having completely sold out, the book then entered a second print run. Due in no small part to enormous demand – the demand was enormous, it was yuuuuge, it was so large that you wouldn't believe it, the largest demand since the beginning of time, it's a fact, everybody says so – the updated edition of Words In Your Shell-Like is now expanded to cover 160 of Gordon's songs.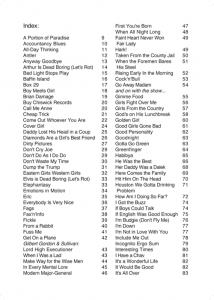 Contents: A5, full-colour cover, illustrated, 174 pages.
The 160 song lyrics are each accompanied by Gordon's specially-written commentary, revealingly historical, alternatively factual and occasionally hysterical. The total number of pages – it's a yuuuuuge number, it's a phenomenal amount, people are gonna love this number, it's just what people are saying – is now 174. That's 2 more than 172, or 1 more than 173, depending upon your calculation skill levels.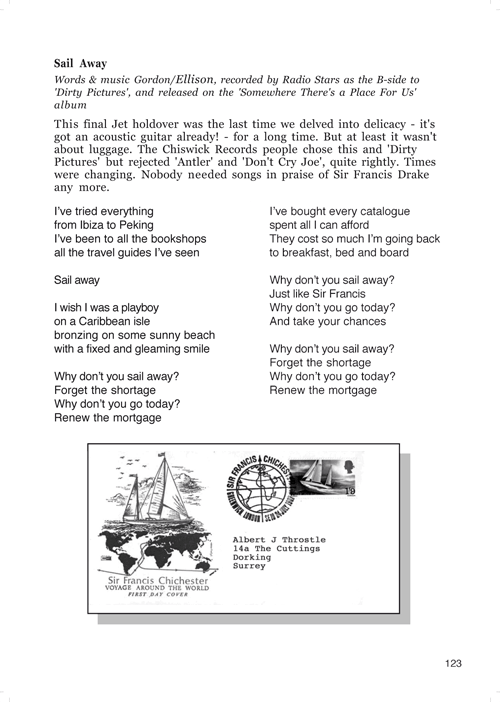 Tiny fingers
Due entirely to popular demand by Russians (Donald and Donaldetta Trumpovich, Washington, USA), we worked our tiny fingers to the bone and created a second edition. This new interactive edition now features semi-gloss pages which respond instantly to manual control; there is updated and ruggedised text, compellingly enriched glossiness and spectacular (but sustainable) additional artwork. It presents enhanced anecdotal evidence directly from the pen of the composer and simultaneously offers a stunning selection of alternative facts that will convince even the most prelapsarian, brain-dead, drug-addled pop fan. From the heady days of sparkly bandwagon-jumping Jet, through the saliva-spattered leather-clad never-ending tours of Radio Stars, to the pompadour hairstyles of the Blue Meanies and the concluding Mammal Trilogy, we leave no turn unstoned in this revised edition.
Thinking Inside the Box
More specifically, the 160 compositions featured in Words In Your Shell-Like encompass all the Jet tunes from both of their albums, the entire Radio Stars catalogue, even including the obscurities released on CD3 of the Radio Stars box set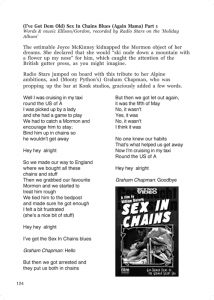 retrospective Thinking Inside the Box; it exhaustively covers the uber-tonsorial Blue Meanies album Pop Sensibility and the entire six-part Mammal Trilogy. And now Words In Your Shell-Like has been brought kicking and screaming into the modern era with the addition of Gordon's most recent Trumpery activity, the sublime words of the recent Gilbert Gordon & Sullivan release and even the final Radio Stars recording ever (namely a reworking of the Beast from 2016).
Words In Your Shell-Like is nothing if not inclusive. Except, that is, for those very few Gordon/A N Other collaborations which are not featured here on grounds of their pungent cheese aroma and their overabundance of bogus barre chords with a flat ninth bass note.
Production notes: decades of Bulgarian farming tradition have gone into the production of the goatskin-substitute cover, using only finest bio-turnip-derived dyes and cave-reared ant-eater toenail clippings to create the uniquely Bulgarian-effect effect sought after by the world's oligarchs, patriarchs, billionaires, millionaires, jet-setters, red setters, wags, chavs, troglodytes and friends of Boris. Significant quantities of nuts may be found within this package. Copies of Words In Your Shell-Like can be signed on request. Please note that this production contains absolutely no bogus signatures of now-dead former colleagues.

Special offer: purchasers will additionally receive a copy of The God's On His Lunchbreak Companion Volume, a book featuring the words to all tunes included on that album, accompanied by full-colour artwork by Chris Townson and detailed introductions to each song.
Short biography: Pulitzer prize-winning personal friend of James Bond, Martin Gordon began his career with immigrant balladeers Sparks. Thrown out of Sparks, rejected by Jet, discarded by Radio Stars, spurned by the Rolling Stones, sneered at by Primal Scream, belittled by Kylie Minogue, ignored by Blur and accused of being a fashion victim by Boy George, his career has been a complete failure.
---
Order now via Paypal: