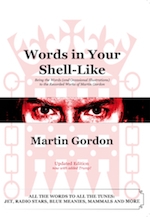 NOW LOOK HERE! Because here are all the words to all the Gordon tunes – everything, from Jet to Mammals and further! In a book! Like what you have to read and that.
Martin Gordon, Chris Gent, Tommy Willis and Ray Weston.
Short-lived but fondly remembered foray into pop music. Did you know that their solitary TV appearance was presented by a man dressed as a parrot? Well, it was. Their enormous recording output was finally released for download in 2006 under the title 'Pop Sensibility', available from iTunes and other e-tailers, or get it in the Radiant Future shop.
Track list:
1. Pop Sensibility (feat. Gary Holton)
2. I'm Not In Love With You
3. I Got the Buzz (re-done by John's Children on 'Black and White' / 2011)
4. Eastern Girls Western Girls
5. Greenfinger (re-done by Martin Gordon on 'Baboon in the Basement ' / 2003)
6. Brontosaurus (Roy Wood)
7. Hit Him On the Head (re-done by Martin Gordon on 'Baboon in the Basement ' / 2003)
8. Mania Express
9. Habibya (re-done by Martin Gordon as 'Why Do I…' on 'Baboon in the Basement ' / 2003)
10. Everything Will Fade Away
11. Mad About the Girl
12. Too Late (Gordon/Gent)
13. Thinking of You (Gordon/Gent)
14. I Don't Know You (Gordon/Gent)
15. Love Won't Leave Me Alone
16. Let's Make Money
17. Somewhere There's a Place for Us ( later recorded by Radio Stars on 'Somewhere There's a Place For Us' compilation )
18. Golden Girl
19. Good Girls Gone Bad (re-done by Martin Gordon on 'Baboon in the Basement ' / 2003)
20. The Boat Just Sank
21. Emotions In Motion (Gordon/Gent)
22. Our Love (What Happened To) (Gordon/Gent)