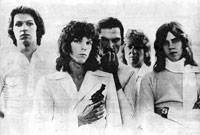 It is 1973. Bronzed Californian showbiz twins troll over to the UK, replace their existing Sparks band members with Brits and make an album. They get some hits and cunningly replace most of the new British band with more accommodating mole-lovers. When it all stops, they go back down the trans-Atlantic burrow. 45-odd years later, it all comes around again.
So there we are. Still want more essential mole-facts?
Richard Digby Smith engineered 'Kimono My House', and came up with those gunshots.
Only 41 years late, a gold disc for 'Kimono My House'
Sparks manager John Hewlett spills the beans
Selected (i.e. one) Sparks discography:
Sparks gig report in Mojo by MG
Sparks' (deceased) guitarist Adrian Fisher was earlier in Toby, with (former Free bassist) Andy Fraser: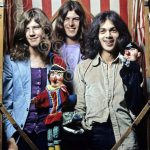 Is that a double-barrelled shotgun in your pocket or are you just pleased to see me?
And finally: