From cavemen smearing the walls with charcoal to aboriginal Australians portraying pissed wallabies and hammered kangaroos, mammals have long inspired the artist. Martin Gordon's Mammal Trilogy has in turn also inspired depictions of the characters who appear in the series.
Chris Townson was the first to put pen to paper. He created Bab El-Hog, the fundamentalist bacon-loving porker and failed restaurateur whose sad tale is told in The Joy of More Hogwash.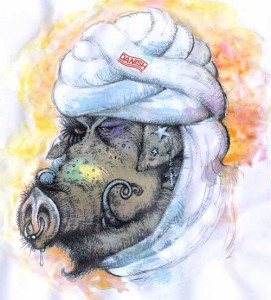 Chris then developed, following prompting, a series of pictures depicting all the characters appearing on the God's on His Lunchbreak album. The illustrations, along with accompanying text and lyrics, were published as the God's on His Lunchbreak Companion Volume. It is a book and has got like words and that in it.
On the second day, He followed up rapidly with a depiction of the brave, but foolhardy, 'Captain of the Pinafore', with crustacean companion: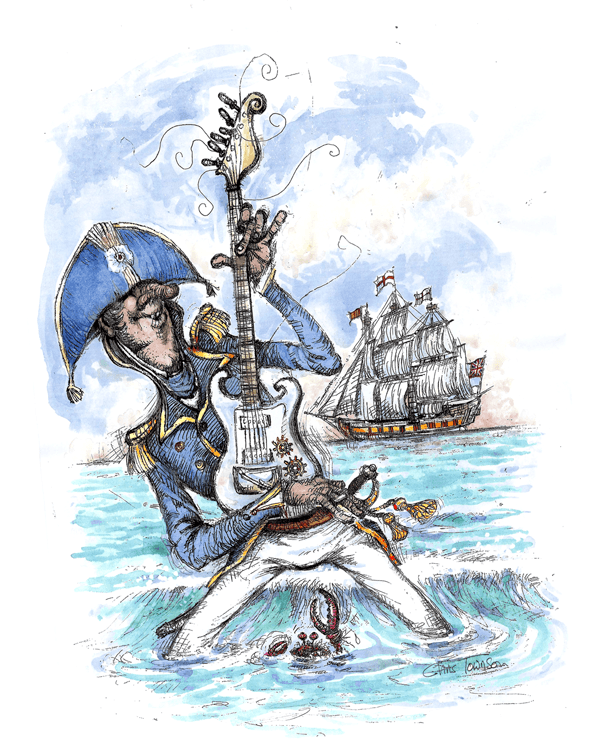 And he followed that even more quickly up with two unpleasantly-smug fags, snuggling smugly close to each other and doing unspeakable things with their hands. Hanging's too good for them, if you ask us. The unpleasant pair appear in the song 'Fags'. Well, they would, wouldn't they… By the way, the tune appears in iTunes as 'F*gs'. Tricky buggers, those vowels.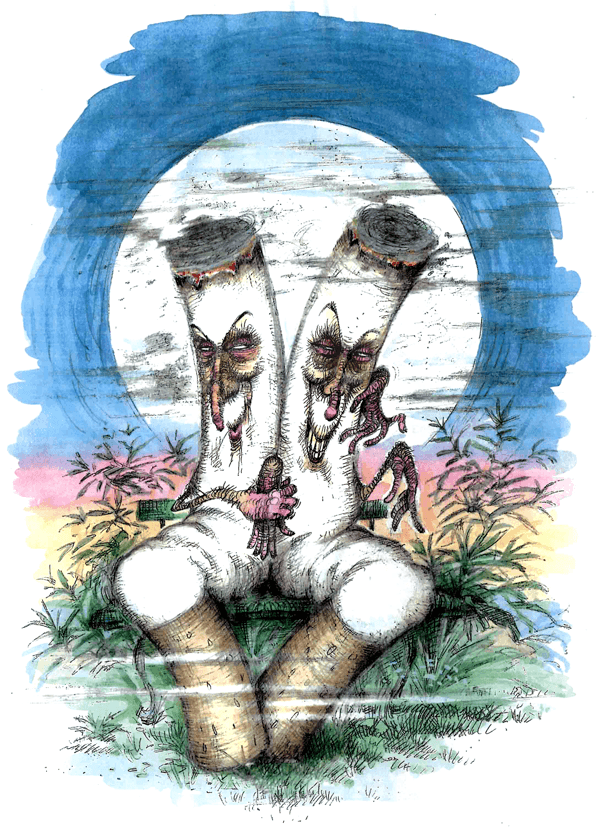 Stung into action,  statuesque Finn Julie Skattebu depicted her vision of Sweetie, the offspring of a Dalek and a frying pan, as described in the song 'Her Daddy Was a Dalek, Her Mummy was a Non-Stick Frying Pan' (The Joy of More Hogwash).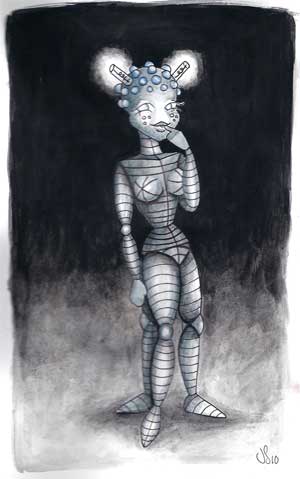 British artist Kate Redfern created a set of pastoral works based upon the Mammal Trilogy. Kate has always been mammal-friendly. Imagine, then, her delight when she discovered an entire Trilogy of material devoted to Mammals in all their variations and splendor. Having contacted the creator (no, not that one, the other one), she embarked in 2013 upon transforming tunes from the Mammal Trilogy into art. Her paintings depict a selection of the characters populating the tunes. Kate Redfern takes us behind the scenes and details her long journey to the Mammal Trilogy here.
And the deeply-mysterious Harriet Jimenez recently captured the spirit of Brian Damage in  a moment of reptilian joy: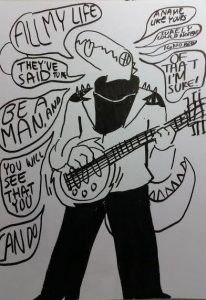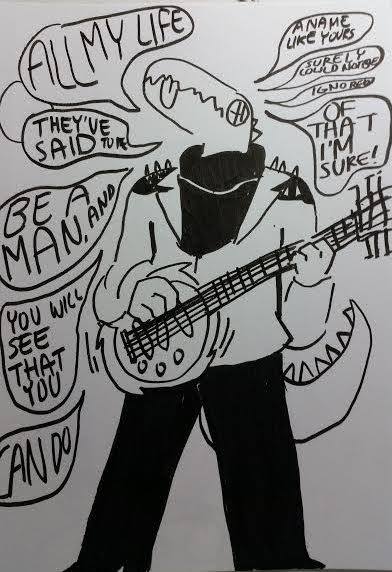 And if there are any more illustrations of the odd characters that populate this story, and we don't mean Californians, let us know about it!