The Rolling who?
It is approximately half past 1979 and I consider my options. Remembering the fine times that were had in Paris during Radio Stars tours, I get in touch with the band's French label Barclay Records. My contact there is one Phillippe Monet who, to his enormous amusement, is referred to as Phillippe No-Monet due to his habit of running out of promo budgets. Phillippe offers me gainful employment as house producer and has an endless stream of French artistes with whom I can work. I move into the attic of the Hotel Cambon and begin.
Rubber bands
First off the top of the pile are a rock band called Ocean. Without wishing to become embroiled in analysis of French rock bands, let us merely say that they are a French rock band. Wonderwheel/Johnny Halliday engineer Andy Scott pilots the desk at Aquarium studios in Ballard. We finish an album without going over budget, without using accordions and with only a few arguments about guitar parts, so this counts as a good result.
Then I meet Angie. Both a group and a person, they are an Anglo-French pop band sponsored, so I understand, by a millionaire rubber band manufacturer and fronted by the eponymous Angie Oget. Thanks to the global demand for rubber bands, their living standards are totally non-commensurate with their skills – they don't know much about art but they know what they like, and how finely chopped it should be. Eventually I end up living in their splendid four-storey house in Anthony, south of the Peripherique, from whence we occasionally venture forth into the studio for a little light overdubbing before the evening's entertainment begins. Recording is peripheral to the finer things in life, which are pursued with full gusto.
Inner circle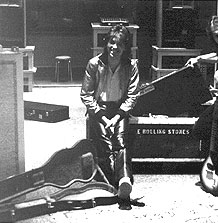 I arrange for my pal Chris Gent (also included in Radio Stars activities and later a Blue Meanie) to come over from England to play sax and partake of the pleasures that are available to Angie (the band), which he successfully does, in more ways than one. Another future Radio Star and one-time ELO cellist Hugh McDowell also becomes part of the Anthony gang, and much fun is had.
One night I end up in Pathe-Marconi Studios, Paris. I am tracking down a contact who works for the Rolling Stones, and have traced him to this studio. Somehow I progress from outer circle to inner sanctum, and then eventually I find myself in the control room with people that I recognise as rock aristocracy. Yes, it's the Rolling Stones, or most of them. There is some bitching about there being no bass player present as apparently Bill Wyman is not expected to attend. I seize the moment and volunteer my bass services.
Trendy punk thrash
My offer is accepted. Mick Jagger sits next to me in a chair and shows me some chords. Having mastered the changes, and after a little refreshment, Jagger, Ron Wood, Charlie Watts and I bound into the studio. Their equipment is set up as if on stage. It is a curious feeling, to look over my shoulder to where until recently I would have found (Radio Stars' vocalist) Andy Ellison, to see the bearded Jagger leering and thrashing a silver guitar. We thrash through a number of up-tempo tunes, and then some even faster ones. After one such, Ronnie Wood complements me on the bass: "Sounds great, man!" he says. Recalling his sterling bass work on the Jeff Beck Group's debut album 'Truth', I am encouraged.
Hunched
During the recordings, a retainer sits hunched over a table in the corner, working away with an American Express card. He frequently walks up and down the line of musicians with a long silver tray, encouraging anyone to indulge who feels so inclined. He wears big holes in the soles of his shoes during the course of the session. Charlie Watts eyes Jerry Hall. 'Get yer own Texan model!', shouts Jagger. Charlie refuses the silver tray, content instead to chug on a JD bottle next to his kit. I realise the session is over when, during the last-chord-thrash ending beloved of r'n'b groups, Watts slides slowly off his drum stool onto the floor. He keeps the groove going until his final flail.
Vague
I am invited back the following day, and Ronnie Wood is recording guitar solos. Wood stands to my left in the control room, doing an overdub in his inimitable style. 'What d'yer think?' says Jagger, standing on my other side. I remember questions like this getting me into a lot of trouble once upon a time, and I unhesitatingly say 'Great!'
Thanks to the retainer and his tray, things deteriorate somewhat. Deciding to get out before my sinuses implode, I ask engineer Chris Kimsey if I can have a cassette of the previous night's work. He looks doubtful and goes off to enquire. When he comes back, he runs me off a cassette of one of the tunes. With it safely in my pocket, I thank him and say goodbye. 'Hold on', he says. 'Mick wants to talk to you before you go'. Mick, I think? Oh yes, I know the one. But I become sidetracked with other issues, and time passes.
Eventually I go into the vast studio to look for Jagger. Surrounded by retainers, he is reclining in a corner. 'Um….. the engineer says you wanted to have a word with me', I say diffidently. He looks vague – has he ever seen me before? "Oh yeah, thanks man…it was……… great", he says distractedly. I leave, knowing that I will muse for the next twenty years over what it was that he actually wanted to say to me.
Well, is it?
Finishing the Angie album, I return to the UK. Journalists somehow get hold of the Rolling Stones affair and I am greeted with a front page picture of me in the Daily Star with the unassuming headline of 'Is This the New Rolling Stone?':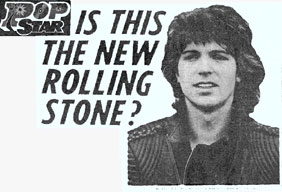 "The Rolling Stones have been rocking along with a new bass player. Former Radio Stars bass man Martin Gordon went to see the Stones at a Paris recording studio and ended up playing with the rock giants. The 23-year-old guitarist is a great Stones fan and could not believe his luck. Martin said, "Basically I went along to snaffle some of their booze and we got friendly." But then things turned lucky for Martin. "Bill Wyman didn't turn up one night when I was there', Martin said. "Jagger had this new song he wanted to record and he asked me to play with them."
There have been rumours about friction between Wyman and the Stones for some time. People close to the band say that Wyman, in his forties, no longer feels at ease with the Stones demanding lifestyle. Wyman was the first Stone, part for newcomer Ron Wood, to record a solo album. When that happened – in 1974 – Keith Richards was furious and accused Wyman of trying to wreck the group's solidarity. Wyman said at the time: "I needed to get away from being a Rolling Stone. The Stones is not my whole life. Recently Wyman was quoted as saying "At one point I couldn't see myself standing it any longer. But I didn't leave because I didn't want to be the person who caused the band to spit up."
Martin wasn't saying much about the band's backstage troubles. "I've heard rumours about Bill and the Stones not getting along but I can't go any deeper into it," he said. So far Martin has not had any firm offers of getting back together with the band. He said: "They were pleased with the way I played bass. Mick and Woody actually said how incredible it sounded. If the offer came up, I'd cut off my right hand to play with them."
Elsewhere on the (bread) line in alternative realities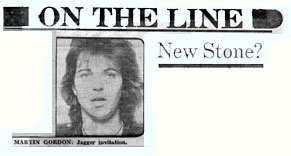 The Evening Standard, par contre, suffice themselves on Jan 29 1980 with:
"During a summer sojourn in Paris, former Radio Stars bass player Martin Gordon dropped in on a Rolling Stones session primarily on the look-out for a good time. A few nights later he was taken aback to be asked to join Jagger and company on one of the tracks they might be including on their next album. The event might seem minor [cheeky git] but has lately gained new significance since regular bass-player Bill Wyman announced that he would like to leave the Stones soon. Does this mean Martin Gordon could become the new Rolling Stone? "I wouldn't like to speculate on the future," Gordon says carefully while adding that the group seemed pleased with his efforts. 'I went down to the studio because I thought there would be a vast amount of alcohol to be consumed. We all got along pretty well."
One night they were talking and Jagger asked if Gordon would like to join the group on a song he had just written. Wyman was absent. "I didn't feel it was right to ask where Bill was or about personal matters" says Gordon. "When I saw him the next day I told him I had been playing bass and he just said I hope you didn't break any strings. I must say, some of the things he's been saying lately have been strange. He seems to have lost touch a little with reality". Gordon reports that enough material was recorded to fill six albums. Meanwhile he has returned to work in new group, the Blue Meanies, who play in London next month."
It goes without saying that this entire conversation was invented by the feverish, un-named journalist. I put the answering machine on for a few days.
---
Footnote: the Rolling Stones database records the following entry for 1979:
790621A 10th June – 7th July & late July – 25th August & 12th September – 19th October:
Boulogne-Billancourt (near Paris), France, Pathé Marconi Studios. Producer: The
Glimmer Twins. Sound engineer: Chris Kimsey. Additional musicians: Bobby Keys
(sax)/Sugar Blue (harm)/Martin Gordon (bass; two days in September)

"Time Flies" (MJ/KR) – title unsure, with Martin Gordon on bass