Radio Stars occupy a curious place in musical history. The individual members all hailed from a glam-rock background. Bassist Martin Gordon had played on Sparks flawless mid '70s albums Kimono My House and Propaganda, while vocalist Andy Ellison had previously sung in '60s pop-art Mod band John's Children, alongside an embryonic pre-T.Rex Marc Bolan.
All of those bands I adore, and they occupy much shelf space in my personal collection. Yet, I can't help feeling, despite their unquestionable musical prowess, Radio Stars arrived fully formed but slightly over-qualified and out of step for 1977, slap bang in the middle of punk. For sure they had musical chops in abundance, but their individual talents strike me as slightly at odds with regard to the back-to-basics three- chord urgency of the punk movement. Their songs, by and large, are highly polished quirky pop-punk which lyrically possesses a very English cheeky and smutty vibe.
I'm sure they must have rehearsed 8 hours a day. There is an air of orchestrated showmanship that caused them to be viewed with suspicion by the punk crowd. After a couple of energetic singles, "Dirty Pictures" and "Nervous Wreck," that saw some minor chart success in the UK, the band released the more power-pop orientated debut full length Songs for Swinging Lovers. The LP was critically well received, and the bands live performances were a good draw and always good value. Yet the Radio Stars never managed to convert their acclaim into any solid traction up the pop charts. A second LP The Holiday Album followed the following year (1978), featuring possibly their best-known single, the extremely catchy "No Russians in Russia."
This box-set highlights the fact the Radio Stars strength was that they were a great singles band. This is proven with disc 3, Singles and Rarities, which to my ears represents the greatest hit to miss ratio of all the discs. The 4th disc, At The BBC, compiles three John Peel sessions from 1977 and '78, and recording wise are more sonically satisfying recordings than the single and album versions of the same songs spread over the previous discs. Overall, this collection presents a wonderful time capsule of a band caught in a transitional period of music.
---
Power pop is one of those pesky sub-genres that eludes easy definition and often gets overlooked and misplaced. In reality, the genre has a pretty vast range of styles and unlike more clear-cut genres like metal or synth pop, its attributes can differ. But one aspect that is pretty set in stone is its history. Early power pop harnessed the overt melodicism of The Beatles, the bright harmonies of the Beach Boys and the crunchy guitar blasts of The Who, and filtered it all through a more contemporary perspective and louder gear.
Some early power pop examples would now be seen as classic rock, with the likes of Badfinger and The Raspberries, who both heavily leveraged '60s influences. There was also Big Star, whose jangly, introspective style would influence hordes of future alternative bands like R.E.M., and Cheap Trick, who brought power pop to the masses. The punk contingent played a pretty dominant role in the UK, with a faster and snottier take on the blueprint. The LA scene of the late '70s and early '80s incorporated various facets of the above, with many of its players donning skinny ties and suits in homage of the original '60s movement.
All of this may seem pretty dissimilar on the surface, but there are some common threads that serve to tie it together. A lot of it comes down to lyrics and overall tone. Power pop thrives on healthy shots of alienation, apprehension and melancholy; its uniting factor being its underdog appeal, which is often exemplified in its bittersweet refrains and melodic guitar licks. Recently, the power pop gods have spoken and we've seen a flurry of new releases celebrating bands of yore. Read on for a few standouts.
After being canned by the band Sparks in the mid '70s, bassist Martin Gordon went about forming the short-lived glam super group, Jet that would eventually morph into power pop heroes, Radio Stars in 1977. Hitting the UK scene during the first wave of punk, the band's sarcastic brand of raunchy pop would prove to be a good fit.
The band featured vocalist Andy Ellison who'd previously done time in Jet and was a core member of '60s garage pioneers John's Children (featuring future T.Rex star Marc Bolan at one point), along with Ian MacLeod on guitar and Chris Townson on drums. Gordon's trashy, upbeat songs the perfect platform for Ellison's unhinged delivery. Numbers like the sardonically catchy "Nervous Wreck," the chugging "The Beast of Barnsley" and the more traditionally punk "Dirty Pictures" showcase the band's range and personality, while its strong stage presence also served to set it apart. But alas, the Radio Stars' brand of punk-infused power pop was both a bit too off-kilter for the mainstream, and too quirky for punk purists. Per that, it quietly disappeared.
Radio Stars' two studio albums, Songs for Swinging Lovers (1977) and Holiday Album (1978) have been reissued through Cherry Red Records as part of the new Thinking Inside the Box set. The cool little clam-shell box also contains the comps Singles & Rarities and At the BBC!, along with a booklet. For those who enjoy their power pop with a slice of wry, this band is for you. Kaz
---
The Radio Stars – the most unlikely new wavers – somehow managed to capture the essence of the late '70s with an always-functioning naughty sense of humour and a keen eye trained on the changing times. Seemingly contrary to the punk ethos to kick out all the boring old farts, the Radio Stars were oldsters who saw the sense in adapting to the fresh attitude of new wave and went with it, not against it. Their full-on approach gained them a measure of respect and from there they went on in their own dotty, lovable way.
---
Formed by former members of Jet, John's Children and Sparks, Radio stars came together in the wake of punk and got swept up in the net of new wave despite playing little more than speeded-up glam rock. This box is a pretty definitive excavation of their two studios albums Songs For Swinging Lovers and Holiday Album, released on Chiswick in 1977 and 1978 respectively. There's also a disc of singles and outtakes (including a song from 2016) and another of Peel sessions and a BBC  concert.
On both LPs, the band demonstrated a sharp sense of melody tied to a very mid-70s sense of mischief (songs about dead Elvis, foreign food and boredom) but, while the debut is tied to a power-pop format, the follow-up is a little more ambitious, including a spoken word contribution from (Monty Python's) Graham Chapman, a Beatles cover ('Norwegian Wood') and a song about depression ('I'm Down'). Highlights from Disc Three include the wonderful singles 'Dirty Pictures' , 'No Russians in Russia' and 'Johnny Mekon', plus assorted follow-ups, while the Peel sessions and radio concert bring out a good sense of the band's live toughness.
8/10 Extras: 7/10 – singles, live tracks ad Peel sessions. Pete Watts
---
Rarely comes a band that's up my musical alley — 70's punk rock — that has enough material to warrant an entire box set, that I've NEVER, ever heard of. Such is the case with Radio Stars. Blink twice at the packaging for their new anthology, Thinking Inside The Box, and you'd think it was a K-Tel Records type collection of 50's and 60's hits plucked from a discount bin at Woolworths.
But crack open the clamshell and you're treated to dozens of crackling pop punk classics that made a bigger minor ripple in the UK than it did here in the States. The band emerged from the ashes of Jet (no, not defunct, Pitchfork-loathing Australian band with that really huge single), the UK Jet was a one-and-done glam band that appeared on CBS records in 1975. Other members came from John's Children, a band that once featured Marc Bolan.
The rotating cast of drummers included Steve Parry (no, not that one) and Paul Simon (no, not THAT one, unless you're talking about the one who played with Neo, not to be confused with Nico). The band jumped on the punk bandwagon by speeding up their songs and falling right into the fuck-all attitude of the day. A recording engineer walked out of the session for 'Elvis is Dead (Boring)' because it was too soon after the King left the building; the band changed it to "Arthur" for the album but kept singing "Elvis" in concert. Oh behave!
'Nervous Wreck' was their big single. Throw in some ill-fated tours and a follow-up record and the band was done. In their wake, they left a crate-load of smashing singles. Perfect listening for people who love stoopid punk songs but who are smart enough to know Blink 182, 5 Seconds of Summer and everything in their wake isn't real punk. Keith Creighton
---
Always the bridesmaids…
England's Radio Stars was a semi-supergroup for music geeks. For starters, vocalist Andy Ellison had fronted the '60s band John's Children, best known as the springboard for a young Marc Bolan before he became a hippy-dippy Folk singer in Tyrannosaurus Rex and then the King Of Glam in T. Rex.  And for extra street cred, bassist and main songwriter Martin Gordon had once played beside the Mael Brothers in Sparks. Add in drummer Chris Townson and guitarist Ian MacLeod and you've got the first line-up of the band (the drummer's seat would be revolving during the band's short tenure). Incidentally, Ellison, Gordon and Townson had all been members of Glam 'almost-weres' Jet.  On paper and in the studio, the combination of these talents worked well.  And for a few fleeting moments, it seemed as if Radio Stars were going to be huge.  But then reality kicked in…
The musical landscape is littered with great bands that fell by the wayside and Radio Stars is one of them.  While some have called them Punk, the band was actually a great Rock band with a Punk/New Wave edge. The band's fresh approach to their music really did incorporate the keen Pop sensibilities of the '60s, the Glamtastic stomp of the early '70s, the quirkiness of Sparks and later period Sweet and the electric energy of the late '70s. If any comparisons can be made, Radio Stars were more like a goofier version of The Boys and The Incredible Kidda Band… or perhaps a twisted mash-up of The Vibrators and Sweet with some Chris Spedding thrown in for measure. The fact that they only released two albums and a batch of singles is a shame and a great loss to all of us who have spent our lives searching for bands as unique as Radio Stars. Far from your average gang of rockers, Radio Stars had personality, humor and loads of great tunes – you know, things that used to be important.
Thankfully, Cherry Red has stepped up to the plate and released THINKING OUTSIDE THE BOX, a four CD set that contains both of their albums in mini LP sleeves plus a CD of non-album A and B-sides and rarities from their short but cuddly career. The fourth CD features Peel Sessions and live BBC performances. While music fans have long held the band close to their hearts, they have been under-appreciated by the masses for far too long. With this release and a few dozen peaceful marches across the globe, perhaps we can turn that all around?  Before then, let me give you a briefing on what you'll hear once you get this box (and you WILL be buying it, right?)…
Their 1977 debut album, SONGS FOR SWINGING LOVERS, is a snotty and energetic blast of skewered Pop.  On the surface, it may appear simple but there's nothing simple about Radio Stars.  The catchy vocal melodies are held up by proper guitar licks/riffs and a crazy rhythm section. Perhaps the most overtly 'fun' band of the era, Radio Stars took their craft seriously yet they crafted seriously fun songs.  "Don't Waste My Time," "Good Personality," "Arthur Is Dead Boring (Let's Rot)," and "Is It Really Necessary" are high points. "Nice Girls" could be a lost Cheap Trick song. And there's so much more to love about this delicious platter. Poptastic to the core.
1978's HOLIDAY ALBUM continued with the quirky trend but saw the band expand their musical template by adding keyboards, a slightly harder edge and more musical nods to The Kinks and The Who.  Not far removed from their Glam roots, this platter is just as charming as the debut but definitely a lot more focused. The Pop-errific  "The Real Me" is an absolute gem. Other highlights include "Boy Meets Girl," "Baffin Island," "Sitting In The Rain," "Rock 'n' Roll For The Time Being," "I'm Down" and "No Russians In Russia" (a re-recording of an earlier non-album track). Their take on The Beatles' "Norwegian Wood" is quite clever. While they may be best known for their earlier releases, HOLIDAY ALBUM is actually the better of the two studio albums.
The SINGLES & RARITIES disc is top notch. Filled with non-album tracks that will leave you frothing at the mouth, it reveals even more sides to the band.  Some of the early singles like "Dirty Pictures" show why there was such a buzz about the band in their early years. In fact, even more layers and influences are revealed. "Sail Away" and "Box 29" have a hint of Bowie. "Sorry I'm Tied Up" is quite a tune and definitely a high-point in their catalog. Another Beatles classic, "Dear Prudence," is quirky and worthy of many spins. "Horrible Breath" revisits the pre-T. Rex Marc Bolan rarity. "From A Rabbit" should have been a key album track.  Etc.  If you already own the two albums, then you need this box just for this disc alone.  Fookin' brilliant.
The final disc shows the edgier side of the band with Peel Sessions and live recordings. It is interesting to hear these tracks with a different energy that you only experience in a live setting.  However, they are not quite as appealing to these ears as the studio versions.  That is nothing against Radio Stars – I feel that way about EVERY live recording and Peel Session – great to hear a different take on things but give me the studio versions any day! With that being said, I'm glad these tracks are here because I am a hopeless completist…
A box for the ages.  Or at least a box for Radio Stars fans.  Simply glorious no matter how you look at it. So, have you ordered your copy yet?  Better hurry – they won't be available forever!
Keep on truckin',
Stephen SPAZ Schnee
---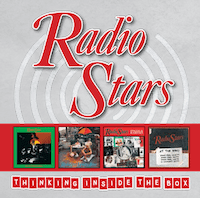 Kool Kat Music April 2017
Radio Stars were formed by Blue Meanies/Sparks exile Martin Gordon (bass, songwriter), ex-John's Children (a band that contained the late Marc Bolan for a time) vocalist Andy Ellison and drummer Chris Townson, and Ian MacLeod (guitar) in 1977, following the end of their underachieving glam supergroup, Jet, the previous year. Former Nice guitarist Davy O'List was the guitarist in Jet.
As a member of John's Children, Ellison rapidly established a reputation for a gymnastic stage act, which was just a part of the group's outrageous performances (they incited several riots at Continental gigs). Radio Stars had one thing in common with punk and new wave and that is that they released records at the same time – theirs was a brand of sort of uptempo quirky rock.
This is the first ever box set devoted to these New Wave Punk loonies! The collection contains 68 tracks of melodic mayhem! Disc 1 is the band's debut album, originally released in 1977 by Chiswick Records. A certified Power Pop Punk classic, it features the UK Top 40 single "Nervous Wreck". The band's second and final album is Disc 2 and features the single "The Real Me" and a re-working of the seminal "No Russians In Russia". The third disc contains a variety of non LP singles, b-sides and studio out-takes, many of the tracks appearing here on CD for the first time. The previously unreleased "Beast Of Ankara" has also been added as a bonus. Disc 4 contains three previously unissued sessions for BBC Radio 1's legendary John Peel show plus an unreleased BBC Radio 1 "In Concert". In depth liner notes by Dave Thompson are a feature of the 24 page booklet which also includes pictures of all the relevant records as well as clippings, adverts, etc. GREAT!!
---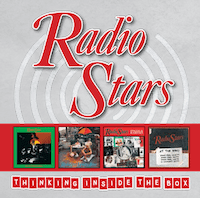 Goldmine: March 2017

Yes, I know it's generally frowned upon to review a box set for which you wrote the liner notes, but seriously.  It's not the few thousand words that buffer the (fabulous!) illustrations in the accompanying booklet that you should be caring about here.  It's the fact that, for the first time ever, the complete and utter history of Radio Stars has been told.  And it only required four CDs to do it.
The bare bones.  Radio Stars grew out of Jet, a latter-day glam band featuring vocalist Andy Ellison (ex-John's Children) and bassist Martin Gordon (ex-Sparks) plus, in their even latter days, guitarist Ian Macleod.  And they remained the core of the band, buffeted by a constantly shifting string of drummers, but resolute, too, in their quest for…
What did Radio Stars want?  Even at the height of punk, songs about obscene photographs, Gerald Ford's misquotes and muddled Greek menus were scarcely the height of topicality; and, in a world framed by such unforgettable chants as "gabba gabba hey," "we're so pretty" and "glad to be gay," a complicated piece of medical imaging equipment was unlikely ever to compete.
Except they were, and it was.  "Dirty Pictures," the band's first single; "No Russians in Russia," their second, and "Macaroni and Mice" (from the first album) remain immortal memories, while "electro-encephalograph" (from "Nervous Wreck") has to be one of the longest words ever to feature in a UK Top Thirty hit single.  And then there was dead Elvis, who became dead Arthur to avoid upsetting the recently-bereaved Presleyphiles, and "The Beast of Barnsley" who remained a beast, even after the real thing's family issued a complaint.  And "From a Rabbit," which was all about body building.  And "Sex in Chains," which was all about Mormon missionaries.   And.. and… and…
…and a live show which was one of the most exciting of the age, particularly when Ellison clambered to the top of the PA and left you wondering… will he jump back down to the stage and land on his knees?  Or will he swing from the lighting rig first?   It's a shame there's no video to go with the live tracks (from a BBC broadcast) that dominates disc four.  But, if you listen carefully, you can hear the crowd wince.
Four discs.  The first two are dedicated to the band's two albums; the third rounds up singles and rarities, not only from the group's original lifespan, but also their brief re-emergence in the early 1980s.  When "The Ghost of Desperate Dan" proved they were as weird (in a good way) as ever.   And the fourth, as you know, is the BBC tapes, three sessions and a live show from summer '77, that wraps up with "Johnny Mekon" – quite possibly the greatest heavy metal punk ode to terminally declining rock stars ever written.
Dave Thompson
---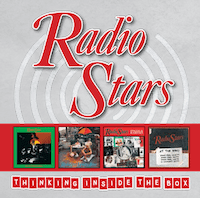 Louder Than War: March 2017
4CD box set comprising the Radio Stars two officially released albums Songs For Swinging Lovers and The Holiday Album along with two discs covering their singles/rarities and BBC session recordings. LTW's Ian Canty looks at the recording career of New Wave's nearly (old) men.
On the face of it, the Radio Stars were possibly the most risible fare dodgers on the New Wave bandwagon. Andy Ellison had been plugging away since the early 1960s in a variety of combos, most famously in Psychedelic destruction unit John's Children (guided by Simon Napier-Bell, who described them as the worst band he had ever seen) and also managed to run his music interests concurrently with acting as a TV stuntman (which would come in handy as we shall see later on). Of the other key members Martin Gordon had a stint with Sparks in their highly successful "Kimono In My House" period, but had been unceremoniously booted out by the Mael brothers soon afterwards. These two had come together in the Glam era to produce also-rans Jet, along with guitarist Ian MacLeod and drummer Chris Townson (also ex-John's Children and had drummed in boot-boy hopefuls the Jook).
Just as Jet were drawing to a close at the start of 1977, a chance encounter whilst armed with a demo tape at Chiswick Records yielded results when Roger Armstrong loved the track Dirty Pictures. Seeing immediately that the subject matter chimed in with the "low-rent" end of the coming New Wave, they rush released it as a single, coming up with the Radio Stars name seemingly on the spot as the Jet moniker seemed passé.
The response to the single was encouraging and the Stars were up and running, playing alongside such other nearly Punk bands as Squeeze and Eddie and the Hot Rods as well as more standard rockers like UFO. By this time Townson was out of the picture and a Spinal Tap revolving door-style drummer policy was in place. The band developed a great reputation as a live act with Ellison's dare-devil antics, including climbing up lighting rigs and jumping off to land on his knees, bringing the house down (sometimes almost literally!).
The two officially released studio albums are presented here in the form they were meant to be released (The Holiday Album has a short edit of Accountancy Blues added as it was meant to be included on the original LP but wasn't), which for my money is the best way. Though both records were a little on the uneven side, they had their fair share of good moments. Songs For Swinging Lovers (the first title for this one apparently being Bowels Stuffed With Spleen according to Martin Gordon in the accompanying booklet) gathers a fair head of steam with Good Personality right up to and including the Radio Stars one hit single Nervous Wreck.
From there on however they did tend to fall back on the kind of flashy but competent rock Jet had laboured away at for last four years to little or no avail. That is until they reach their Elvis Is Dead pre-emptor Arthur Is Dead Boring (Let's Rot) and the curious throwback to John's Children's psychedelic days Eric, which are much more interesting efforts. Finishing with some of their trademark Monty Python new wave in Buy Chiswick Records the album somehow, perhaps through the band's large streak of self-deprecation, managed to worm its way into many a hardened punk's collection.
Though arguably the better of the two records, The Holiday Album probably didn't repeat the trick. The sleeve concept, while an engagingly daft picture of the band freezing in their beach gear at Oxford Circus, may have put the Kings Road bondage trousers crew off a little. But there's some great stuff on this LP, particular what I regard as their best recording No Russians In Russia. Previously gaining release on the Stop It! EP the year before (and being featured on the Marc TV show, with Ellison catching up with his old bandmate Bolan), this is the best example of the Radio Stars maxim of treating a serious subject matter flippantly, being a response to a comment US president Gerald Ford made about communism. It's a nonsense loopy Pseudo-Punk classic, particularly in it's trashier, more exciting single version (which can be found on Disc three here).
The Real Me is huge, Who-like rock, exactly what John's Children always looked like they were capable of but seldom put down on vinyl and the decidedly non-PC Sex In Chain Blues reaching the logical conclusion of their comic rock efforts, Python Graham Chapman chipping in briefly mid-song.
The LP ends strangely with the brief electronica of Goodbye and that was about it for the Radio Stars as they split in 1979 after The Real Me flopped as a single, though the band reconvened in 1982 and still plays the odd gig to this day (they were meant to have played earlier this year but for some reason it didn't happen).
Just to digress a moment here, in the booklet a gig in Southampton in 2010 is mentioned and it says "the less said about that the better". But I was at the said performance and the only thing actually wrong with it was the lack of decent sized audience – though perhaps Ellison shouldn't have trusted a dopey audience member with his set-list which meant the running order got screwed up a little (I had only had a couple of hours sleep the night before – oops what I meant to say was that person probably only had a couple of nights sleep the night before….) and being a small venue he could only climb up a step ladder to amuse himself during their set, but otherwise the band played extremely well.
Because of their refusal to take anything remotely seriously and adeptness with choruses, the Singles and Rarities selection here is perhaps my favourite disc present. They were probably better heard over the course of a 7″ inch single where their snappy dynamics, musician smarts and cheekiness fused magically together. Though missing any different takes of Nervous Wreck (presumably because the single version was on the first LP anyway), there's a wealth of good material like the remainder of the Stop It! extended play which yielded a couple of their most Punk moments in Johnny Mekon and the Knock On Wood quoting Horrible Breath (actually both Jet leftovers). The single versions tend to sound just a little more vital than their long player counterparts.
When the Radio Stars re-emerged in 1982 with the As My Mother Said/Two Minutes Mr Smith single, they had taken on an oddly prog pop sound that was totally at odds with the times, but makes for interesting listening today.
We also get a couple of Holiday Album outtakes in Throwaway and an edit of It's All Over, plus the shuffling electronic new wave of Somewhere There's A Place For Us amongst other diverting entertainments. This selection ends with The Beast Of Ankara, a 2016 re-cut of the 1977 Beast Of Barnsley album track, on which the Radio Stars sound eerily little changed from 40 years previously.
Finally the fourth disc here is made up of BBC recordings – DJ John Peel was an early supporter and got them in for three sessions between 1977 and '78. I'm not sure if their Marc Bolan link played a part in this, surely JP must have run into Ellison at some stage in the '60s, but nevertheless I'm glad it happened and these tracks were recorded for posterity. Apart from the Beatles cover Dear Prudence (beating the Banshees to it by five years), the first session has three of the Stars best tunes presented in the usual BBC well produced, clear and fresh way.
Good Personality from the second session sounds colossal and the band were clearly on hot form on this date, turning out some noisy boogie Punk classics. The third batch finds the Radio Stars edging towards a more pop direction, but still contain some thrills, with Boy Meets Girl being best heard here, throwing in a little of the Kinks All Day And All Of The Night along the way. The final piece is the In Concert recording from August 1977, a spirited run through of the pick of the first LP and singles in the live environment where they clearly were most comfortable.
Complete with a booklet featuring highly droll observations from Martin Gordon (you're never entirely sure whether he's taking the proverbial Michael, but we will give him the benefit of the doubt), this thorough compilation is a boon for hard-core fans and '70s pop punk fiends alike.
The Radio Stars – the most unlikely new wavers – somehow managed to capture the essence of the late '70s with an always functioning naughty sense of humour and a keen eye trained on the changing times. Seemingly contrary to the punk ethos to kick out all the boring old farts, the Radio Stars were oldsters who saw the sense in adapting to the fresh attitude of new wave and went with it, not against it. Their full-on approach gained them a measure of respect and from there they went on in their own dotty, lovable way. Somewhere there was a place for them.
Ian Canty
---
We Are Cult: Andy Ellison's punks still sound great and the results are here to enjoy.
The punk explosion of 1977 resulted in many bands being accused of bandwagon-jumping. Who could blame them, though? It was an exciting time and many people were inspired by the whole scene, and not just the teenagers. In this instance, a band featuring former members of Sparks, Jet and John's Children cut their hair and punked up their image, and the results are all here to enjoy.
The path to punk (or at least new-wave powerpop) from such unlikely origins may seem tenuous, but the core members of Radio Stars had already had a spell in underachieving but underrated glam rock group Jet from 1974-76, which actually wasn't too far removed from what came later on. The majors sniffed around Radio Stars, but ultimately mid-level label Chiswick Records (Motorhead/Johnny Moped/The Damned) were able to secure their services.
"The standard of songwriting and performance throughout is impressive. These guys were seasoned veterans of the harsh and cruel music biz."
What we have here is a fully comprehensive release of everything the band ever did. Both albums, all the singles and B-sides, and various rarities, Peel sessions, and even some live recordings. You couldn't really ask for more than this, and there's undoubtedly some great material here. Their sole UK Top 40 chart hit Nervous Wreck is probably the song their best known song, but the likes of Good Personality, No Russians in Russia, and Dirty Pictures are all top notch too. Never a massively prolific band recording-wise, the quality of the work here is surprisingly strong. This is the lighter, more commercial face of punk, but it still sounds great some 40 years on.
The standard of songwriting and performance throughout is impressive. These guys were seasoned veterans of the harsh and cruel music biz, and perhaps that counted against them to some extent. But so what if they were a good ten years older than their peers? So were certain members of The Vibrators, The U.K Subs, and many other bands of this era. The songs are catchy and fun. There's nothing groundbreaking on display here, but it's also not pedestrian.
The live tracks are of a particularly high quality and give an indication of how great this band would have been live. I was fortunate enough to see them live during brief reunions in 2008 and 2010, and I was lucky enough to witness Andy Ellison, wearing kneepads and elbow pads, climbing up a pillar into the balcony at Kentish Town Forum mid-gig. No mean feat! If he could do this in his sixties, I can only imagine what levels of showmanship he was capable of in his thirties.
"Disc two features Graham Chapman, as well as Paul Jones on harmonica, so they clearly had no trouble persuading guests to join in with the fun. And that's what this band was all about – fun."
Would I recommend this release to someone not familiar with Radio Stars? Well, probably not. It's certainly not an entry level release. A Best Of album as a taster would be more appropriate. However, if you're a fan of the band then this is a lovely thing to own. A nice box with four individual discs each in its own cardboard sleeve, along with a booklet telling you everything you need to know about the band, and lots of interesting facts and anecdotes. There are different versions of the same tracks on the album, so completists will appreciate this, even if the more casual fans might not.
For those Python-lovers among you, disc two's (I've Got Dem Old) Sex in Chains Blues (Again Mama) Part 1 features Graham Chapman in a neat little spoken-word cameo, as well as Paul Jones on harmonica, so they clearly had no trouble persuading guests to join in with the fun. And that's what this band was all about – fun.
This year was meant to see the band playing their final ever gig at the 100 Club in London, but this has now been cancelled due to reasons unknown, and that's a shame, because Radio Stars were a great band with great songs who can entertain a crowd. That's not always a given when you hand over your cash these days.
Brad Shepherd
---
This one excited me. The first ever box set dedicated to UK new wave punk band Radio Stars. I was a fan back in the day. On 17th October 1978, I was a press photographer on a AAA pass shooting this band at Leicester University for a national music 'paper. Andy Ellison, the energetic lead singer used to leap off the PA stack onto a trampoline during the set sometimes. On this night four decades ago, he misjudged the jump and after literally flying through the air, landed with a "bang" on the stage, and injured himself. I re-discovered the black and white photos a few years ago within my archive; boxes and bags of prints, negatives, transparencies, contact sheets and all sorts. Shots taken since 1978 to today. My pension!
There is a bare-chested Andy, tight black jeans and I think white boots, mid-air, captured on half a dozen black and white prints, taken by me on a Mamiya camera and a Vivitar telephoto lens, stood side stage a few feet from him. I did not get any shots of him after the ill-fated landing, as I recall going to his aid with members of the stage crew.  I vaguely recall he hurt his arm, but he really was so bloody lucky not to have bust his neck or his back. He went so high and then "ouch!"
The Radio Stars official website ran the shots on their website with my permission not long after I dug them up again. Martin Gordon the band's bass player and ex-Sparks member, sent me a message at the time to say how great the photos were. I am not sure if I heard from Andy. Maybe.  Mr Ellison being the former singer with John's Children, alongside a pre-T. Rex Mark Bolan.
So today we get "68 tracks of melodic mayhem" from this under-rated and quirky UK band, across four discs. Disc one is the band's debut album, "Songs For Swinging Lovers" originally released in 1977 by Chiswick Records. A certified power pop punk classic, it features the UK Top 40 single "Nervous Wreck". Also on this album is one of my favourites, "The Beast Of Barnsley", which is actually a song about a recent serial rapist at the time!  The band never did win an award for good taste. Other stand-outs are "Is It really Necessary" and "Talking 'Bout You".
The band's second and final studio album, "The Holiday Album", is here on disc two, and features the single "The Real Me" and a re-working of the seminal "No Russians In Russia".
There are 14 cuts on this album and a dozen on the first album. Paul Jones guested on harmonica on the album. Standouts on "The Holiday Album", include the opener, "Radio Stars", "Norwegian Wood",  "I'm Down" and the bonkers "(I've Got Dem Old) Sex Chains Blues (Again Mama) Part 1". The third disc "Singles And Rarities", contains 22 tracks – a variety of non-LP singles, B-sides and studio out-takes, many of the tracks appearing on CD for the first time. Opening with "Dirty Pictures" and closing with the previously unreleased "Beast Of Ankara".
The fourth disc "At The BBC", gives us three previously unissued sessions for BBC Radio 1's legendary John Peel show, plus eight songs from an unreleased "In Concert" for the same radio station. The Peel Sessions are dated 20.05.1977, 18.11.1977 and 04.10.78 and deliver four tracks from the first two sessions and five from the third.
In depth liner notes by Dave Thompson are a feature of the 24 page booklet which also includes pictures of all the relevant records as well as clippings, adverts, etc.  Each CD is housed in its own individual cardboard wallet and then packed into a hard-back clam shell box.
They dropped just the two studio albums and a live album, "Something For The Weekend" in 2008. They broke up in summer 1979, reformed briefly in 1982 for two performances, and were back in 2008 to perform a 32nd (!) anniversary gig at the Metro Club in London. The  again in 2010, for a 34th !) anniversary gig at 100 Club in London with Eddie and the Hot Rods.
If you know Radio Stars from back in the day, I am pretty sure you may already have this little gem on pre-order. If they are new to you, but you dig bands with lots of power, attitude and energy, a bucket full of cheek; talented musicians who never took themselves too seriously, this is for you. It is most definitely for me. Oh yes!
Simon Redley 5/5
---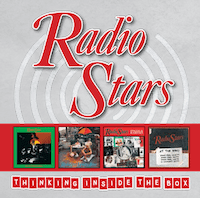 Team Rock: Old broadcasts from punk bandwagon humpers
With roots in ultra-violent flower power mods John's Children, peroxide singer Andy Ellison led Jet, grasping the fading coat-tails of glam, before finding himself in the thick of punk rock when the band signed to Chiswick and morphed into Radio Stars.
Accelerating tempos and shortening song lengths to power-pop punk, the band scored an independent hit with self-satisfied wank anthem Dirty Pictures. As punk ignited, Radio Stars seemed like an enthusiastic showbiz throwback, unashamedly nicking stagecraft from UFO, parading Page Three models and playing London's streets from the back of a lorry, Ellison even getting himself arrested after leaping astride a police van.
Radio Stars performed No Russians In Russia on Marc Bolan's TV show (Bolan was Ellison's old John's Children mucker), and looked like grabbing the Eddie and the Hot Rods market when their debut album, Songs for Swinging Lovers, appeared that November. It brandished insensitive howl-alongs such as The Beast Of Barnsley and Arthur Is Dead Boring (Let's Rot), their sensation-seeking ode to the recently departed Elvis.
Despite its cover version of The Beatles' Norwegian Wood, September 1978's The Holiday Album was touted as a sophisticated progression, but internal frictions were sending Radio Stars to an early grave. According to Dave Thompson's band-assisted liner notes, there have since been reunions, while the ever-opportunistic Ellison now leads a Finnish line-up of John's Children.
Clad in a nice box, this nostalgically quaint four-disc set presents Radio Stars' two albums, plus singles, rarities (including 2016's unreleased The Beast Of Ankara), their three Peel sessions and an In Concert appearance.
Kris Needs
The composer writes in response: "Now this is quite a weird one, and I do wonder about Mr Needs' sobriety at the time of writing. Various quarters have accused various bands (including mine, I will readily confess) of 'bandwagon-jumping' but none, so far as I know, have ever been accused of 'bandwagon-humping'.
Is that an exhaust pipe in your pocket or are you just pleased to see me?"