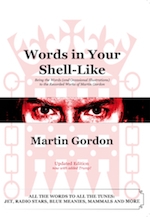 NOW LOOK HERE! Because here are all the words to all the Gordon tunes – everything, from Jet to Mammals and further! In a book! Like what you have to read and that.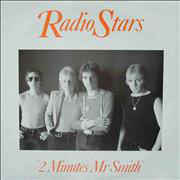 Two Minutes Mr Smith
"The first release on cult psychedelicist Paul Roland's Moonlight label was a straightforward compilation of Radio Stars' greatest hits and bits, a dozen tracks that rounded up the best of the band's singles, but disappointed in what was otherwise a fairly pedestrian selection of songs. So much of Radio Stars canon, after all, deserved investigation, particularly as the early '80s drew a veil over all that they had accomplished a mere five years earlier. To find their legacy confined to the expected "Dirty Pictures," "No Russians in Russia," and "Nervous Wreck" axis was disappointing to anybody nursing a yen for rarities, obscurities, and so forth. Nevertheless, with a title borrowed from one of the reformed band's own latest songs (which was lifted, in turn, from the Bonzo Dog Doo Dah Band), and a sharp eye for the humor that permeated the best of the band's output, Two Minutes Mr. Smith certainly served as a handy introduction to the band — one that would not be truly surpassed until 1992 brought the anthology Somewhere There's a Place for Us."
Dave Thompson: All Music Guide
Songfacts deliberate the title track (which actually isn't on the album).