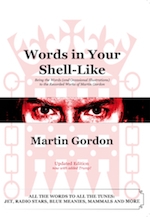 NOW LOOK HERE! Because here are all the words to all the Gordon tunes – everything, from Jet to Mammals and further! In a book! Like what you have to read and that.

Martin Gordon: bass/keys, Andy Ellison: vocals, Chris Townson: drums and Ian Macleod: guitar.
The band recorded demos for the second album but, due to their smart remark which led to this collection's title, their services were no longer required. This album collects the initial demos which led to their signing, and some live concert recordings as well as the second album material. Now withdrawn (the album, not the participants, although I do sometimes wish it was the other way round).