24 July 1947 – 10 February 2008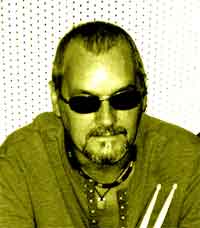 Februrary 2008:
So… It has come to this. 'Bomber' Townson has made his last sortie. For he and I, there will be no more debriefings in Berlin bars following successful recording sessions, no more frantic last-minute discussions of intricate drum parts in the kitchen of my Berlin apartment, no more trips to long-defunct British airfields and graveyards to soak up the ambiance and to detail the strategy. If Chris explained carpet-bombing and 'creepback' to me once, he explained it a thousand times and I still haven't quite got it.
We have been friends for over 30 years. We were locked up in jail together (see below), our most infamous album was recorded as a bass and drums duet, our mutual fascination with aviation marked us as 'other' in the eyes of our fellow musicians, our fascination with history – OK, with Nazi horror – ensured our interminable exploration of Berlin when we were actually supposed to be recording. Our shared sense of the ridiculous caused, most recently, loud cries from neighbouring German apartments requesting that 'English, please be quiet!!' as we revoiced a German-dubbed John Wayne movie at 03.00 am.
Oh, well, it could be worse. We could all be condemned to live life without ever meeting people of comparable and compatible philosophies, with whom you can begin to throw a little light upon the murky thing that we call existence. And that would be worse. Much worse. So, for that, and for all the other stuff, I am grateful.
Chris illustrated a book that we created together. When it came out, I asked him to sign a few copies. He got a bit bored after the first thousand and began to improvise his dedications. In December 2007, I was filling out another order and picked a book from the top of the pile. Chris' inscription was, to say the least, relevant. When we spoke on the phone later that day, I mentioned that, given his condition, he would either would or would not be very amused by the dedication, and that I didn't know whether to tell him. He wanted to know, of course. He laughed and laughed, and so did I, when I read him the inscription he had composed: 'Chris Townson – RIP'.
---
CT Snapshots from 1974 – 2008:
1975 The Embankment, London (indicates CT's love of flowers)

Chris and I were rendered unemployed at the same time, with half of his band Jook going off to replace me in my former band Sparks. He called up one day and suggested we start a drum'n'bass duo. Unfortunately we were 22 years ahead of our time, so we added various other musicians and approached it more conventionally. Extracurricular activities were always good fun, and in particular we used to go to a boat moored on the Thames Embankment which had a bar on board. One night, after Chris had broken his leg playing football, we met up as usual on the boat, and got conventionally pissed. Weaving unsteadily down the gangplank later on, I spotted a municipal flower-bed, the contents of which would look rather nice in my flat, I thought, so we uprooted the lot and stuffed all the tulips into my plastic carrier bag. Who should come along but Mr Plod, who berated us. We berated him back, and Chris began flailing out with his crutch (the thing that was helping him to walk, I mean, not his cod-piece). Mr Plod took a dim view and grabbed hold of Chris. 'Attack a cripple, would you!?!?' shouted Chris, from somewhere underneath the policeman's armpit.
We ended up back in the cells, of course, and began the tapping-on-the-pipes-in-code routine as popularised by Papillon and Dustin Hoffman. To cut a long story short, after a nice breakfast, we both appeared in Bow Street in the morning and were bound over to keep the peace, for five pounds each. It seemed a bargain at the time.
---
1976 Jet rehearsals anywhere at all (demonstrates CT's independence of thought)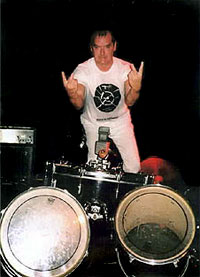 Chris was extremely touchy about anyone interfering with his equipment, and rightly so. As he would always turn up late for rehearsals, I felt it was my job to try and get things moving on a bit by setting up his kit before he arrived. He would appear in the doorway and look silently at the disturbing scene. Breathing heavily, he would approach the set-up drums without saying a word and, very deliberately, disassemble the entire kit. Then he would have a bit of a break, perhaps go outside for a cup of tea and a sandwich, to return after a suitable length of time and slowly reconstruct the kit according to his liking. Astonishingly it took me some time before the penny dropped and I learned to control my impatience. But when it did drop, I never did it again. I even felt rather nervous in 2003, when we began recording again, about having the drums already set-up in the studio in Berlin before he arrived. Would he throw a wobbler again, even after all this time? But we were older and wiser.
---
1999 John's Children in San Diego (celebrates CT's love of teeth)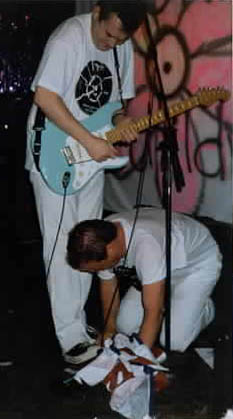 The crowd go bonkers as John's Children crash through their first Stateside performance. Chris Townson quits his drum kit, clutches the knees of guitarist Boz Boorer as Boz assails his guitar with a mike stand. Chris makes a frenzied assault upon the foot pedals, picking them each up in turn, and throwing them into the air. Then he examines them closely, and then he examines the stage. Perhaps it's a psychedelic happening, maybe he thinks he's an orange, or that he can fly. He crawls around the stage, apparently trying to snort the carpet. Finally he makes his way back to the drums and lies down, hidden from view. Time passes. Suddenly he reappears, and launches straight back into whichever tune we are kicking to death.
Afterwards, I asked Chris about this rock'n'roll moment. Was it transcendental? Evidently not. As he'd had hugged the guitarist's knees, the guitar caught him in the mouth, knocking out Chris's dental plate and his false tooth. It fell somewhere around the front of the stage. Chris had to sacrifice either his credibility or the eighty quid it cost him to get his false tooth made. He told me that he considered both options carefully and then thought 'Sod it, I want my tooth back', and began the dental hunt. Finally he spotted the errant tooth underneath a foot pedal, stuffed it down his trousers and crawled back behind the kit. Rather than replace the tooth in full view of the audience, he hid behind the bass drum and wrestled with it, out of sight. It took a few moments but he emerged with dignity intact and of course eighty quid better off.
---
2006 Berlin (shows CT's love of history)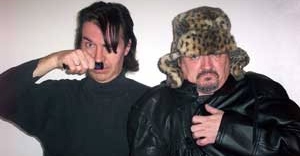 We began recording together again in 2003. The only thing that Chris didn't like abut playing music was having to learn the songs and perform them in the studio. He was always better just thrashing away as the spirit took him. As he always said, 'the more rehearsal, the less spontaneity', and he was completely right. I recall the Jet album from 1974 – all the recordings began life with bass and drums only, and it was hard work, and getting harder. As we slogged through yet another backing track, trying to guess where we were in the song without any musical clues whatsoever, the sardonic voice of engineer Gary Lyons came over the headphones. 'That's it, guys, faster, faster!'. Clearly we were speeding up. Chris threw down the sticks and ran headlong for the control room. He had not yet developed the insight and understanding of his later years and, for a moment, it was touch and go.
So when technology allowed us to record the whole thing digitally, and then do another take, and then do a few tricky bits that weren't quite right and stick it all together later, both he and I were relieved. We could do sixteen songs in two days and then spend the time wandering around the sites of Nazi horror that my adopted city of Berlin is so full of. The Reichstag, the Brandenburg Gate, the concentration camp at Sachsenhausen, the former headquarters of the Gestapo today known as the Topography of Terror or, as Chris once referred to it after a few large German beers, the Topography of Trevor. Anyway, we were recording yet another in my interminable series of solo records, and the whole crew had got to know each other pretty well by this time.
Chris and German engineer Martin Seelig began discussing the Battle of Jutland. 'Of course, it was a walkover for the British Navy', said Chris, 'that was clear'. 'What do you mean, walkover?!' said Herr Seelig, getting annoyed. 'it was a victory for the German navy!'. 'Don't give me 'victory'', said Chris, equally irritated. I was only paying the bill for studio time, so I kept quiet. Eventually they decided that it was a draw after all, so we all went to the pub to belatedly celebrate the sporting nature of British and German sailors.
When I last saw Chris in December 2007, he told me that he actually had a small piece of a battleship sunk at Jutland which he wanted me to present to Martin Seelig as a memento, and perhaps as a warning from beyond the grave.
---
July 2008: From beyond the grave…

Chris Townson has been reincarnated as a park bench, just in time for his birthday. He can accomodate up to five people simultaneously, or three fat people. He is situated at Hindhead Common – the exact location is here. Pay him a visit, and enjoy one of his favourite views of the British South Downs.