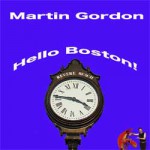 Feat. Pelle Almgren/vocals, Ernie Kim & Brian Church/guitars and Stephen Budney/drums
Martin Gordon and Pelle Almgren pitched up in Boston to play a gig with the musical support of Tristan Da Cunha. It was Gordon's professional debut as a solo artist, despite having done this for over thirty years. Leave them wanting more was always his considered motto. This is a live soundboard recording from the evening.
The CD version is only available with the Radio Stars album 'Something For the Weekend'. It has been, as ever, painstakingly mastered and fiddled with and also includes a bonus track from the radio broadcast that our brave sailors made on or around that date. in one of the loudest ever radio recordings experienced by Gordon, the foreign members of the quintet had to wear earplugs INSIDE their headphones in the studio, such was the extreme volume.
'Hello Boston!' can also be downloaded from iTunes, Amazon and the usual sources. We can probably find a few of the original double CD sets if you ask us. Get it in the Radiant Future shop.
Video excerpts from the evening, especially the collapse and recovery of 'The Captain of the Pinafore', can be found on YouTube and below. Following the gig, people congratulated us upon the well-rehearsed fake falling-to-bits of 'Pinafore'. It took a very long time to make it look that spontaneous, we told them…  The bonus track referred to above is in fact 'Pinafore', just to show that it was possible to perform it without it collapsing in the middle.
[embedyt] http://www.youtube.com/watch?v=t40MULtOHoY[/embedyt]
Find this CD in the Radiant Future store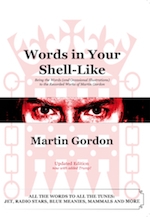 NOW LOOK HERE! Because here are all the words to all the Gordon tunes – everything, from Jet to Mammals and further! In a book! Like what you have to read and that.