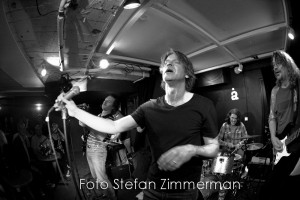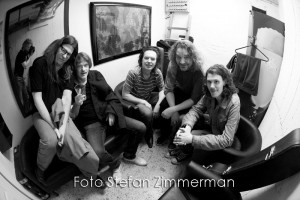 Martin Gordon, Pelle Almgren and the Sviidish Mammals performed at Skal in Stockholm, Sweden, on June 1st 2009, in front of an enthusiastically-mustachioed audience. Mats Grundstrom played guitar, Max Lorentz played keyboards and sang, Chris Montgomery played drums. Their vowels mostly have funny little signs and diacritical marks on top of them but, to avoid web-bafflement, they are rendered here in their unaccented form.
Great playing and vocal contributions from the Sviidish Mammals, and an evening to thrill even the most unsuspecting of passing Hungarians. A look backwards and sideways at the various Mammalian Musikalisch Action of the past and present, hence the inclusion of Sparks, Jet and Radio Stars tunes along with large helpings of Mammalian Trilogy. It was a pleasure to play with such skilled musicians, and it was a special treat to have properly dextrous keyboard playing again after all this while. It was the first time that Martin Gordon has ever performed a Sparks tune on stage. It was all Pelle Almgren's idea. Due to the availability of a nice Rickenbacker 4001 (and here thanks are due to Anders Lundquist), we seized the opportunity to include some Jet tunes as well.
Here's what the boys (that's the sort of rock'n'roll term of reference you are required to use these days, you see, independent of actual age) performed, once they had parked their Zimmer-frames in the pre-assigned spot:
Elephantasy
A Portion of Paradise
It Would Be Good (Jet)
Tittle-Tattle (Jet)
Terrible Mess
Nervous Wreck (Radio Stars)
Only One Dream Per Person
Hit Him On the Head
Love Power
The Introduction of the Rickenbacker and the Donning of Moustaches
Falling in Love With Myself Again (Sparks)
Dirty Pictures (Radio Stars)
No Russians in Russia (Radio Stars)
Anyway Goodbye
Our hovercraft, it can be said with absolute certainty, was not full of eels.
---
PIX: You can find pix of the event (albeit a little murky, except for Stefan Zimmerman's marvellous b&w ones) right here.
VIDEO: All sorts of video is on YouTube on Hugo Portion's channel – he very kindly offered to stop eating rotten herrings (albeit with one hand only) in order to film the proceedings. Check it here.
---
You can find the guys here on Facebook: Mats Grundstrom, Max Lorentz, Chris Montgomery.