Featuring Martin Gordon, Andy Ellison, Jamie Crompton (& Chris Gent, Paul Jones, Graham Chapman)
Second album from the band, now entering their 'Age of Unpleasantness' phase, from which they would not recover. They went on tour, in support of the album, but nobody could find it in the shops. In a vain attempt to ignore reality, they extended the tour, in the hope that one day their album would come. But it didn't. Martin went off to have his wisdom teeth out. Other heads equally lacking in wisdom, but not a result of having had their teeth out, decided to go on tour without him. It all went pear-shaped, to be frank. But the album is pretty good, despite the rancour and the wrangling.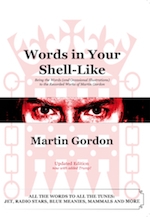 NOW LOOK HERE! Because here are all the words to all the Gordon tunes – everything, from Jet to Mammals and further! In a book! Like what you have to read and that.