Martin Gordon / Radiant Future RFVP008CD
feat. Pelle Almgren vocals, Chris Townson drums, Enrico Antico & Andy Reimer guitars
Featured on this compendium of aural delights are songs about Nigerian email scams, technology (he has 'missed the universal serial buss', he rather implausibly claims at one point), relationships with alien lovelies, Heaven run by the Germans, age as a cricketing metaphor, marital problems, xenophobia, instant fame and of course the title track, in which he wonders why despite his plethora of gold chains and mobile phones, nobody takes him seriously. Of course the protagonists are not necessarily the performers, it scarcely needs pointing out.
Or perhaps it does, in which case you should investigate his book, The Illustrated and Annotated Companion Volume to God's on His Lunchbreak, which depicts the characters appearing in those tunes. Believing that a well-chosen cover says a lot about a man, he includes material from other writers on each outing, and covers here include 'The Captain of the Pinafore' (Gilbert & Sullivan's naval romp), 'Every Little Thing' by the Beatles and, of course, the immortal 'Love Power' from Mel Brooks' film the Producers. As noted, the release also includes previously unavailable material – tunes recorded at the time of Baboon and Hogwash, a remix and an original demo.
Supported, but not literally, by a small cast of superbly-equipped musicians, bass player Gordon enlists Pelle Almgren on vocals and Chris Townson on drums. Townson was formerly a member of original teen outrage band John's Children and once stood in for an unavailable Keith Moon on a Who tour. Almgren is a Swedish rock star who tuned his back on fame and fortune in the mid-90s to become an estate agent. Guitar duties are shared between Andy Reimer (German, sausages) and Enrico Antico (Italy, omerta, stilettos).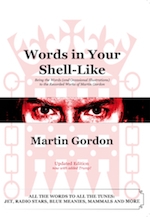 NOW LOOK HERE! Because here are all the words to all the Gordon tunes – everything, from Jet to Mammals and further! In a book! Like what you have to read and that.