Something for the weekend… interview with Eddie Smit/2008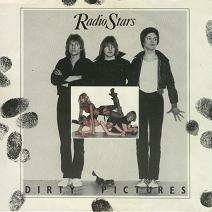 When Radio Stars released its first two albums, just about every new act was labelled "punk". And although their clothing played in on that and a couple of songs did fit the moniker, I've always had a problem with that label. Me, I always saw them as one of the main ingredients of power pop. Together with the Pezband's 'Laughing in the Dark', I consider 'Songs for Swinging Lovers' a cornerstone of the genre.
Unfortunately Radio Stars didn't quite get what it was aiming for. Trying to get rid of Martin Gordon was possibly not the best decision, leaving the band in a bit of a limbo situation. In spite of a few semi-reunion activities, Martin doesn't look at it as a kind of on/off thing:
"I don't think it was. From my perspective it was on, until I 'left' and then it was off. Others may disagree. But not me." 
But now, 30 years on, the band is back in the spotlight, possibly more than ever! Last year both original Radio Stars albums were issued on CD worldwide. Now, we're being treated to "Something for the Weekend". Subtitled "The Last Will And Testament Of Radio Stars" the CD is a gathering of live performances from 1977-1978 with a few bonus tracks thrown in for good measure.
Making a cd especially for the weekend is an intriguing idea, but do people really need instructions when to play this goody?
"In fact, this is a special sort of CD which can be played at a time of your chosing, the title is in this sense misleading. It's a Brit-reference – in the old days, barbers also sold condoms. When you were finished with your haircut, they would discreetly clear their throats and ask 'Something for the weekend, sir?' and offer the offending condoms in a brown paper bag. So the phrase is a revealing one about British attitudes, at least at a particular time. " 
OK…that makes more sense…
"Plus I also realise, in retrospect, that where I lost the plot with Radio Stars was that the title of the second album DIDN'T begin with the letter 'S'. If only I had realised this at the time, it may have all turned out differently. So this is a belated attempt to rectify the matter and to support conceptual continuity. I made a similar realisation with my solo series, in that the third album didn't begin with the word 'The'. I deeply regret this, and will not make the same mistake again."

So not bound by any time restrictions, I immediately let 'Box 29' set the mood. Thirteen tracks later it is easy to see why Radio Stars was and still is such a huge favourite of mine. This is all intense, high energy power pop with the emphasis on 'power'.
Martin remembers: "Intensely loud, yes, and full of intense jumping up and down, followed by intense drinking and intense jumping out of hotel windows when intensely irate parents turned up to reclaim their intensely errant daughters. But I like to think people went away happy. Or at least deaf. " 
Yes, OK…but I was talking about the music itself really… So, would this CD be an accurate representation of a Radio Stars show of the day ?
"Well, the sets changed from night to night, actually, and of course they tended to reflect the most recent recordings, so I doubt that we ever played Box 29 (from the Stop It EP) and From a Rabbit in the same set. But it sounds like we did. This set spans the whole period of Radio Stars activity, from the beginning of '77 to the end of '78. I do make this point in the booklet (along with the great liner notes from the legendary Dave Thompson), that this is not a single concert, but I think it works well as a continuous 'virtual' event." 
Not only that. I'd say that some of these performances give the original versions a firm run for their money ! Anybody who might consider the studio version of No Russians a little lightweight, will have to reconsider for track 6 on this set. Dirty Pictures, Nervous Wreck, Johnny Mekon…just a few of the standout tracks here. In particular Shakin' All Over was a pleasant surprise !
"We began doing this tune in Jet, actually. I believe this recording came from the Rainbow Theatre, so that would have been on our first UK tour, just after we stole all the best bits from UFO (hence Box 29). We always used to steal the good bits from whoever we were playing with, actually. I was told off in no uncertain terms by Ian Hunter about nicking the Hunter-Ronson intro routine from Once Bitten Twice Shy and reproducing it on the Jet tour. Similar things happened with UFO, but I think they were so out of it that they didn't notice. Or maybe they stole their bits back, under the impression that they were ours and we knew what we were doing.I removed about 24 bars of mindless repetition from Shakin' All Over, after the first chorus, where Andy is being carried around the hall by the bouncer. It probably looked good live but after hearing the fortieth rendition of the diddle-dee-dee-dee-dee-dee-dee-dee, I started to lose the will to live. Fortunately, you can rewrite history with a spot of deft editing, so I did." 
Anybody listening to this cd will no doubt ask himself why this (or similar) hasn't been released at the time ?
"Well, we had a planned series of albums to record and release, under our contract, and a  live release wasn't part of the idea. History will tell. In fact, history has already told. I only really listened to these recordings recently, when I received lots of audio from Steve Wright, who has collected Radio Stars and Jet stuff for a long time. It began to sound good, so I made a rough compilation to see how it worked, and decided that it was worth putting out. Originally I planned to release it via a Japanese label but then decided that it was part of the Radiant Future after all."

So…is nagging gonna work to see more of this sorta stuff released ?
"No, I believe the barrel has now been thoroughly scraped clean. There's still a lot of live stuff in the archive but it's mostly audience recordings that aren't up to much quality-wise. Studio-wise, I was always happy with Two Minutes Mr Smith, and as it wasn't on the album of the same name, it's good to finally make it available. I was going through my Daryl Hall phase…"
Funny you should name that one ! Daryl Hall or not, it's an amazing song and although well over a decade late, prime British psych !
But this cd isn't all that is bringing Radio Stars back into the spotlight ! London's Blow Up Club will be the place where on March 1 the music of Martin Gordon will be celebrated with concerts by Martin solo and Radio Stars. Who's supporting who here ?
"Well, I'm on first, and then comes me. Perhaps I will blow myself off, so to speak. Alternatively, maybe I will make myself look like a beginner. This is a win-win scenario, no matter which way you look at it." 
It sure is ! Like Christmas in the middle of July ! And a long way from the days when you were 'just' the guy who used to be in Sparks. Renewed interest in both Radio Stars and Jet…it seems to me like your solo profile has lifted your past to a higher level !
"When I played in Boston recently, not a single person made references to Moles, they were much more Lobster-oriented. Whether this reflects a general Mole-malaise or not is hard to say, and harder to care about. Certainly much of my audience wasn't born when the Moles and their portable cabaret combo were clattered their tinny way around the UK, so it's no skin off my snout either way. What was interesting (well, to me) was that the 'older' members of the audience all knew the recent stuff, the Mammal series, and the younger members were all into Jet and Radio Stars. It was actually the reverse of what I expected." 
The opportunity presented itself to do a few things in the States. How was all that ?
"We conquered Massachusetts, or part of it. Pelle and I did two rehearsals and then played half the set live on the radio. It was very good, in fact in parts it was better than the gig two nights later, following more rehearsals. But it went down well, people enjoyed it, all manner of songs were requested and ignored, cookies were eaten and then we went and lay on a beach in the heat-wave. So it all worked out very nicely again". 
We've seen some of that footage on YouTube and members of the Martin Gordon Forum have been able to get an earful of some of that live music. But now it's here for a select 1000 to enjoy, as the complete Boston performance is released as a bonus disc (Hello Boston!) with the first 1000 copies of the Radio Stars "Something for the weekend" CD. – There's been some video on YouTube, but now there's also the live CD that comes as a bonus with the first 1000 copies of the Radio Stars live CD… Needless to say, this is one to get ! Not only for its value as a collector's item, but simply because it presents Martin Gordon as a force to be reckoned with in today's music. Why the combination, Martin ?
"I felt that the symbolic nature of live Radio Stars from 1977 combined with live Mammals from 2007, a mere 30 years later, was too good to miss. And of course 'No Russians' appears on both CDs. In fact, I did once consider recording a version of 'No Russians' on every release that I made. It was on three Radio Stars releases, but then I became less rigorous. And the live show will follow the same concept."

So what can people expect on March 1 ? What's the setlist gonna look like and is it gonna be performed by the same people you did your US dates with ?
"There's a change of guitarist, for geographical reasons. We will be using Rich Davenport from the British band See Red (you can find him here at www.myspace.com/seeredmetal). In fact, he was once in an Elephantine-version of Radio Stars, so I understand, so it keeps it in the family. And the set list will be almost entirely different, reflecting this change – Brian and Ernie were great harmony singers, so that meant that we could go a bit in that direction. This time we'll go down the Rockin' Mammal Combo route, at least that's the initial intention. But who knows, maybe we'll end up doing country and western all night. There's talk of an outing in Stockholm in the near future as well, and for that we would do a different selection again, I think, including a pile of Radio Stars tunes by request. 
With the last CD (The World is Your Lobster) taking a firm turn towards musical / music hall, anything in particular you'd like to do ?
"I'd like to do arrangements of Gilbert and Sullivan tunes, with a big vocal chorus. Just the band, Pelle and thirty policemen. It could work! Some of the older Mammal pieces would work well – Round and Round We Go, Stop the World. But without Chris, it would be a different thing, of course. Equally, I'd like to do a 'silly' set, with just vocals and ukelele. In fact this was almost the plan for the London gig with Radio Stars, but events conspired against we, and we went down the heavy route instead." 
Would that be the scenic route or the less travelled one? Would you take a camera or just make sure you get out of that mess as soon as possible. Will Pelle find his botox clinic and will Martin find someone to fix his hair in times of need ? All of this and more when we get back.
In the meantime visit Amazon (soon) or Voiceprint now (or www.martingordon.de) for your copy of the Radio Stars/Martin Gordon cd and info on the March 1 event ! Please make sure to specify which route you're gonna take !