Chris Townson and Andy Ellison talked to Phil King in 2002, about Jook, Jet, life and other less-important but related) topics
Extracted from from the forthcoming book 'Wired Up! Glam, Post-Punk & Bubblegum European Picture Sleeves 1970-1976'. Part I: From Jook to Jet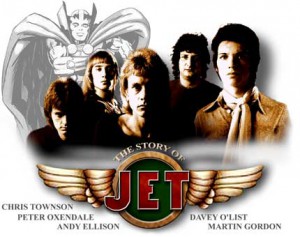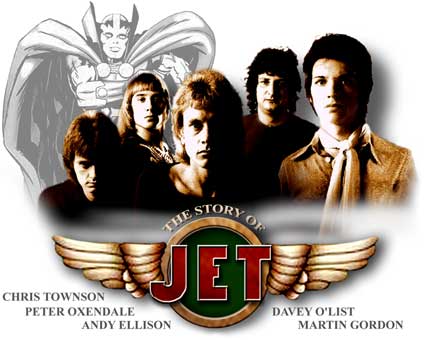 Q: Weren't Jook meant to do a Sweet tour?
Chris Townson: We were, but that got cancelled. It also coincided with when Sparks had a shake-up and Ian and Trevor got offered a job by them. I think they both went off feeling that we felt betrayed and angry. It wasn't the case at all. The thing I was angry about was the poor management. It's about managing people as well as managing pound notes. It was all very underhand. Disrespectful I think, basically. The decision itself, anyone in their right mind could understand that decision. I would have done the same. I had kids. Trevor had kids. You're getting offered lots of money, of course you're going to do it.
Q: Did you go and see Sparks play?
CT: No, because there was a bit of argy bargy going on. I took a swipe at Russell over a table. He said something that I thought was quite disparaging. I used to be quite aggressive when I was a young man. I just caught his nose. They were really quite arrogant. I really didn't like them a lot. I went out for a meal with them once – Ron and Russ – and it was really one of the most unpleasant meals I ever had. There was no conversation. I didn't find them very deep at all. They certainly made no effort to get beyond preconceived ideas.
Q: Did they come and see Jook play?
CT: They came to see Jook play and said "Yes, they sound like a rock band." There was no further discussion.
Q: The Jook Watch Your Step RG Jones sessions didn't come out till 1978. How did you feel when punk came along? You must have thought, "We were doing this years ago!"
CT: Do you know that's exactly my words! That's one of the reasons I didn't go on to Radio Stars after Jet. It's been written down that I emptied my pockets and I couldn't afford a pint. Fair enough, there was an element of that, but I also thought I'd done all that with John's Children and to a certain extent with Jook – and didn't want to do it all over again.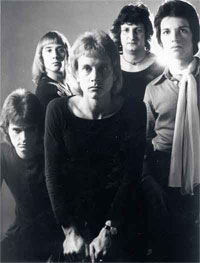 Q: So how did Jet come about?
Andy Ellison: I got a call from Chris saying "Hey, do you fancy having a bash with another guy, who's just been sacked from Sparks? We'll hire a studio".
CT: I'd been given Martin Gordon's phone number as he was at a bit of a loose end. So I phoned him and he understandably was quite distressed and distraught at that time and very angry.
Q: Because he had just been sacked from Spark's after their first appearance on Top Of The Pops.
CT: This was the next day that I spoke to him. He was still seething. One minute he was on Top Of The Pops and the next minute he was out on his ear. Because he wouldn't say to Ron and Russell Mael, "I will do anything you say." The guitarist Adrian Fisher went in the same clearout.
Q: Even though you'd the same management as Sparks, had you never met Martin before?
CT: Not really, no. I did do some of the early auditions for Sparks when they were looking for musicians.
Q: You didn't think about joining them then?
CT: I wasn't offered. I just went down as a drummer to keep a beat while bass players and guitarists did their thing. I don't think I would have lasted long to be honest. (After the split) Martin and I found someone who gave us some money to rehearse, so we put together some songs. We then started to look around for people to join the band. My first instinct was to phone Andy. Martin went off looking for guitarists.
AE: We did one rehearsal, which was good fun and it was nice to meet Martin. When we were going to do a rehearsal the next day unfortunately over night the drum kit had disappeared.
CT: I was really angry. I had an old snare – and a hi-hat, which for some reason they had left. So we went and rehearsed in Kings Cross. Davey O'List turned up and we did 'My River'.
AE: We'd heard Bryan Ferry's 'The In Crowd' on the radio and went, "Wow!" We rang him just on the off chance and he went, "Yeah, I'm not doing anything." We couldn't believe it. CT: And Peter Oxendale, the keyboard player, who used to play offstage for Sparks, used to tap into Martin's answer machine and suddenly he turned up too. We stuck a microphone down the back of an old piano and started playing 'My River' and it sounded fucking great!
Q: Jet's first single.
AE: That thing. (He quotes).
Q: Who managed you?
AE: First of all we had a guy called Jamie Turner. He took the demo we did of 'Desdemona', 'My River' and 'Start Here,' which we did down in Clapham, to Mike Leander's RAM management. CBS liked Jet, the concept. Martin from Sparks, Andy and I from John's Children, Davey O'List from The Nice & Roxy Music. They bought into it, which allowed Rock Artist Management to get involved with CBS. I'm not sure they were ever really behind Jet because they had Gary Glitter and The Glitter Band.
Q: You must have got a pretty big deal?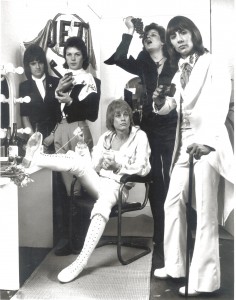 CT: We got a huge deal. From October to April what I'd been billed for was for £32,000. This is in 1974. Everybody probably got one. Jet was fantastic, because we actually lived like we were a huge, huge rock band. I used to have limousines picking me up to go to rehearsals. We used to go down to the Kings Road to have our hair cut every three days.
AE: In some basement where we were supplied with champagne…
CT: And the occasional other stuff.
Q: I guess Martin had a publishing deal?
CT: I'm not sure. We weren't allowed to look at the contracts. They got us absolutely pissed and we just signed the bit that was turned over. Maurice Oberstein, who was the head of CBS, didn't have a clue who we were. We were given a free copy of The Wombles album at the signing.
Q: The producer Roy Thomas Baker can't have been cheap either?
CT: He must have been hugely expensive .We went in and did a couple of demos which cost £7,000. Mike Leander tore us off a strip. It was like going to the headmaster's study. "He will see you now. Come in." We all stood in front of his big desk. He had the tape between his fingers and threw it on the desk and said, "This – has cost me £7,000." And that's how it went on.
CT: We used to ring up Maurice Placquet to hire equipment. One day we decided we wanted a Hammond organ for a section of one song. We got it delivered about 3.30am in the morning, heaving and struggling it down into the studio. Two hours setting it up and miking it, played the track and everyone sat there and went, "Nah!" We replaced it with a fork, which we stuck in the console and when it got to the break went, "BLONG!!!" We used to send out for crabs and champagne. We had handmade shoes. Big white handmade leather boots.
Q: What about the practical jokes you used to play on Davey O'List?
CT: We rehearsed at what is now the Electric Ballroom in Camden. There was a little greasy spoon next door where we used to go and have lunch. Poor old Davey was a bit out of it most of the time. We used to put his dinner on the edge of the table and his knife and fork would go into it and it would end up in his lap. His favourite saying was, "I knew that was going to happen." Another time I was lying on the floor of the studio out of sight with a Telecaster plugged in and Davey was in the control room with Roy Thomas Baker, who had told him he had a fantastic new guitar effect from America, which he really should try. Davey plugged into the box and played this fantastic thing. Roy said now listen what we can do with that and that was my cue to make all these horrible noises. KRUUUUUUGH!!! Davey was amazed. "Wow, this is fantastic. Where can I get one of these? I want one."
Q: Andy, didn't you meet Davey again years later?
AE: I did. I was walking down Kilburn High Road. This must have been about 10 years ago. I went up to him and said hello and he just looked at me blankly and walked on. I followed him and said, "Davey, it's me, Andy!" He turned and just walked off into the distance – and that's the last I saw of him. Very strange.
CT: The last time I saw him he was in his apartment watching the test card on TV. I said, "Davey, we've got to go to rehearsals." I asked him why he was watching the test card. He said, "Well, there might be some cricket on in a minute."