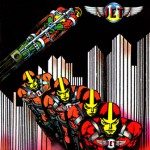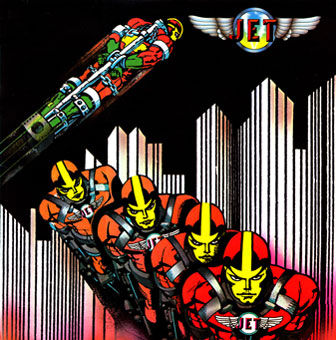 'Jet'
Mojo
Quirky glam pop from 1975, it might as well be new wave. With ex-members of Sparks, John's Children, Jook and the Nice/Roxy Music (guitarist Davy O'List was in both), Jet were swell. Their sole album sank without a trace in 1975, a shame as it links glam with new wave. Although Queen producer Roy Thomas Baker was at the controls, there's little here that's slick. Helium vocals, virtually no slow songs, irresistible melodies and driving rhythm guitar should have ensured pop success. Many of singer Andy Ellison's line zoom up and down the register like a Gilbert & Sullivan operetta – he could just as well be singing 'I am the very model of a modern major general.' After Jet imploded, their core became the Radio Stars in 1977. Bolstered by Torah-length liner notes and a second disc of unheard-at-the-time material, this is the last word on a great lost band whose sound now echoes in MGMT.
Kieron Tyler 3/5 April 2011
__________________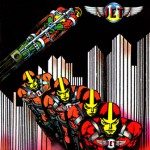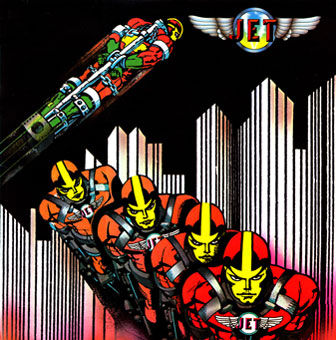 Classic Rock:
Victims of an internal coup by the Mael brothers within a newly successful Sparks back in 1974, bassist Martin Gordon and drummer Chris Townson vowed revenge, recruiting former John's Children vocalist Andy Ellison to front their peroxide-heavy vision. With clothes supplied by Elton John's tailor, management by Gary Glitter's people and with Queen producer Roy Thomas Baker twiddling the knobs, their self-titled debut (it's included here in it's entirety) lacks only one thing: great songs.
If stack-heeled stomps like Tittle-tattle and Brian Damage ('A name like yours/could not be ignored') are a signpost to Ellison's future in the splendidly cheeky Radio Stars, too often their Mott-esque rock riffs fail to reach the necessary velocity for a full chart take-off. If a second CD of 21 extra tracks – including live versions from a European tour in 2000 – will delight fans of junkshop glam, it's their obstreperous streak which remains Jet's most enduring feature. The collection takes its name from a make-or-break label showcase where the band showed their appreciation for the requested light and shade by switching a table lamp on and off.
Paul Moody 6/10 Jan 2011
__________________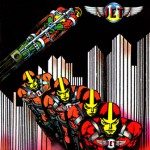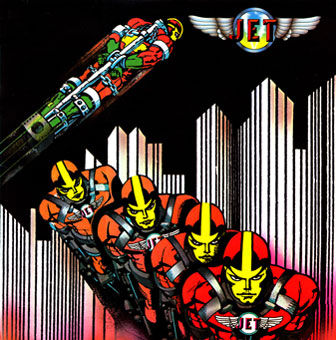 All Music
The collected works of Jet are a time capsule from a particularly quirky era in British rock — the mid-'70s period when glam reigned supreme. By the standards of that time, it must have seemed like Jet had it all. The members' collective CV included work with Roxy Music, Sparks, Jook, and Marc Bolan's pre-T. Rex band John's Children. Their producer was Roy Thomas Baker of Queen fame, they were looked after by Gary Glitter's manager, and they were outfitted by Elton John's clothing designer.Still, Jet only managed to release one album, but this two-disc package reissues that record along with the collection Even More Light Than Shade, which contains live cuts, demos, and unreleased studio tracks. It's the first time these rarities have ever been paired with the band's proper album, thus making for the ultimate Jet offering. Looking back on what might have been, it's tantalizing to imagine Jet taking the world by storm and continuing their career. Their debut is a charmingly eccentric piece of work that could only have come from this place and time, but stands shoulder to shoulder with the recordings of Jet's better-known peers. As befits their Roxy/Sparks connections, Jet were definitively camped on the brainier side of glam; instead of thudding, clap-along beats and simple guitar hooks, they created sophisticated little art rock gems, with Davy O'List's guitar lines sometimes evoking Queen axeman Brian May's orchestral approach to the six-string. Singer Andy Ellison's delivery was arch and mannered, as befits the milieu — imagine David Bowie imitating Sparks' Russell Mael, with wry lyrics to match.
The second disc mostly contains different versions of the album tracks — live, demo, etc. — and while these aren't revelatory, they provide some well-warranted context for this ballyhooed band's slim output. The most interesting tracks on the rarities compendium are those recorded by a revamped version of Jet for an intended second album. The sophomore release was not to be, as the band soon morphed into Radio Stars, just in time for the arrival of punk, and released two late-'70s albums skirting the line between glam and early new wave.
James Allen 2011
__________________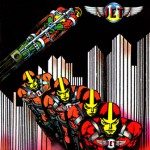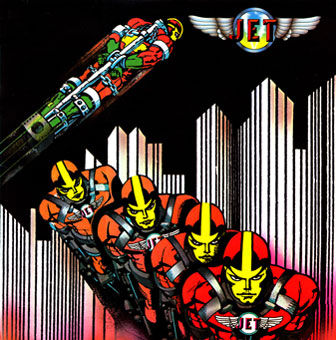 Vapeur Mauve
Tout d'abord, j'ai eu l'honneur d'interviewer Martin Gordon, ancien bassiste de Sparks qui, par la suite, créa le groupe Jet, devenu Radio Stars, avant de poursuivre aujourd'hui avec brio une carrière solo à son image, totalement déjantée. Eh bien figurez-vous que depuis notre entrevue, l'unique disque de Jet paru en 1975 chez CBS vient d'être pour la première fois réédité officiellement dans une version deux CD, proposant l'album original remasterisé ainsi qu'une galette de bonus d'inédits, de démos, de versions live de la période Hunter/Ronson et d'autres enregistrées plus récemment lors des diverses reformations du groupe. Ça se nomme Jet / Even More Light Than Shade, et c'est chez RPM Records.Yenyen (There is nothing wrong with your set. We are all in Europe now).
__________________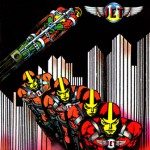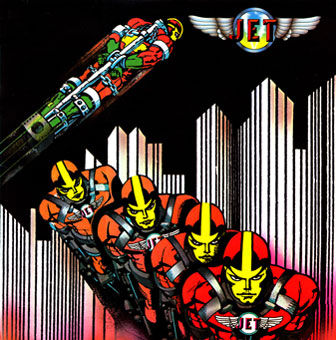 Leicester Bangs
Before Jet, Martin Gordon had been bass player in Sparks, but for obvious reasons his songwriting skills were not encouraged. In Jet he became the main songwriter and 1975's Even More Light Than Shade, produced by Roy Thomas Baker (Queen, Cheap Trick, Stranglers, Bowie, etc.), is a larger-than-life rock 'n' roll record, founded on Gordon's clever lyricism.
There's a definite Sparks influence at play here. "Diamonds Are A Girl's Best Friend" bears all the hallmarks of classic Mael songwriting and "Cover Girl", I'm reliably informed, carries an authentic Sparks' heritage, insofar as the band almost recorded it. Packaged with a second disc of outtakes, demos and live malarkeys, this reissue may have been a long time coming, but both longtime fans and mealy-mouthed newcomers can rejoice; it won't get better than this.
Rob F. 2011
__________________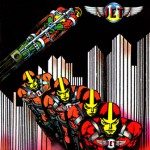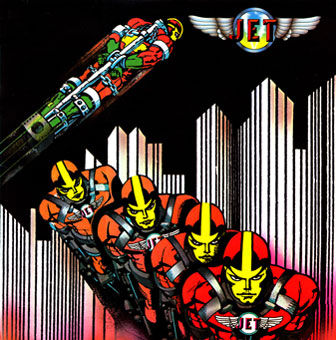 Vive Le Rock
The missing link between Sparks and Radio Stars
In the pre-punk, mid-70s world, there were two diametrically opposed camps: in-you-face glam rock and the more 'art house' David Bowie. One man ended up riding roughshod through the lot. It didn't start that way for bassist Martin Gordon, unceremoniously booted out of Sparks just days after their first Top of the Pops appearance. Jet was set to be his rock'n'roll revenge with drummer chris Townson, who'd also been given his marching orders by the Mael brothers. Jet were proclaimed 'the first glam supergroup' but were actually producing very catchy proto-punk without the gobbing. This is a great collection by a band that never became a household name but later became new wave pioneers Radio Stars. Standout tracks include frenetic opener 'Start Here' and debut single 'My River'.
Neil Anderson 8/10 March 2011
__________________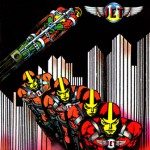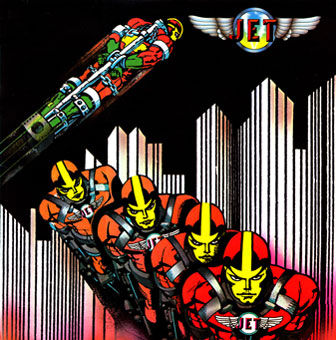 Biannual Haircut
If combining members from Sparks, Roxy Music, Jook, and John's Children and pairing them with Gary Glitter's TAILOR isn't enough to constitute a super group, well then what hope does Chicken Foot have? Funny thing is despite how totally stacked Jet was yet they folded, completely unsuccessful, less than two years after forming. Wham Bam Thank You Ma'am indeed. They played a really ambitious spaced-out glam style that was a pretty great mix between Sparks and Roxy Music. If you can imagine what it would sound like if Sparks had written Virginia Plain, it would probably sound something like Jet.Having said that, this album really rules and the fact it was a total flop is a pretty tough one to figure out. These songs are undeniably catchy and pretty – epic little pop songs that get stretched out and turned around for a few minutes before finally ending and the next one comes barrelling at you. Maybe British music fans just couldn't take yet another band after Sparks, Roxy Music, Bowie etc. that wanted to be ambitious and fabulously Glam. That's a pretty crappy theory but it is true that their peers were truly receiving big accolades while everyone just made fun of Jet's album cover. The cover by my own admission sucks pretty bad, but god damn the tunes still rule! Don't make the same mistake our ancestors made, check out Jet!
Anne Onymous 2011
__________________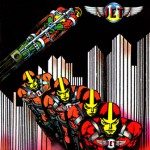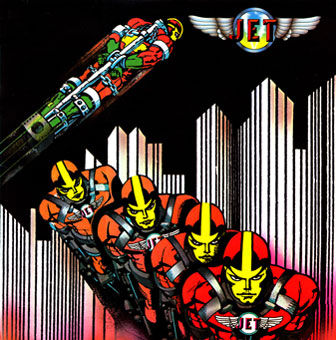 Rockotaku
Thirty two years ago, Jet's self-titled debut album was released on CBS (not to be confused with the modern day band of the same name). Produced by Roy Thomas Baker (Queen, Foreigner, the Cars, Cheap Trick), the record has become an underground classic among 70s rock and glam connoisseurs. Now, RPM Records, an offshoot of Cherry Red Records, has assembled a handsome two disc reissue of this sought-after collector's item. Included are extensive linear notes by Dave Thompson that eloquently bring you up to speed on the band's history.
The Jet line-up consisted of Andy Ellison on vocals, Davey O'List on guitar, Peter Oxendale on keyboards, Martin Gordon on bass/songwriting and Chris Townson on drums, and is best remembered as an early incarnation of what became Radio Stars. The RPM reissue features the original album in all it's analogue glory and a bonus disc collecting all the band's recordings from before and after the album, and which includes previously unreleased material. The sound quality is not the best, but the songwriting shines through, and fans of T. Rex, Flamin' Groovies, and even some Cheap Trick are going to be happier than pigs in slop. I would also recommend Jet to fans of Butch Walker's more recent records, which have been heavily influenced by T. Rex.
Standout tracks to sample include "Start Here", "Brian Damage", "It Would Be Good", and "Cover Girl". Disc 2 is strictly for collectors, with uneven sound quality between the various hodgepodge of demo material and live cuts. The never-before-heard tracks are sure to please longtime fans who no doubt will praise RPM for bringing this material to their ears at long last.
They don't make music like this anymore, so the best way to get your fix is to dig into the crates of LPs at dusty record shops. Deep in a dark musty corner, you will find some records that never made it big but should have by all accounts. Jet is one of those bands, and to have their record more accessible to the masses by being reissued on CD is a real treat.
2011
__________________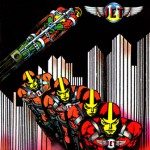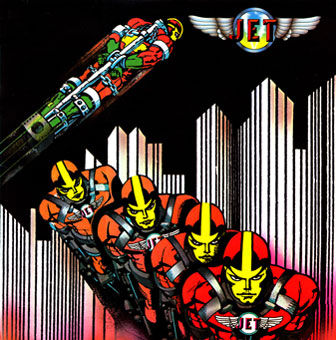 All Music
Best remembered as an early incarnation of what became Radio Stars, Jet's self-titled debut album does not disappoint anybody looking for an extra taste of that group's wired, often wacky charms. Although the production by Queen overseer Roy Thomas Baker is vastly overblown in comparison with Radio Stars' stripped-down punky punch, the heart of the band — Andy Ellison's so-distinctive vocals and bassist Martin Gordon's idiosyncratic, pun-loving songwriting — is still instantly identifiable. Indeed, the grandiosity of the surroundings often works to the songs' advantage.Minor classics "Start Here," with its wildly panning harmonies, the Spector-esque snippet of "Song for Hymn," and the maddeningly catchy doggerel of "Nothing to Do with Us" are sweeping epics in the making, with celestial strings and mellifluous guitars (from former Nice man Davy O'List) radiating a near-symphonic air that is impossible to resist. The album's keys, however, arrive as Jet flies toward its conclusion. "Diamonds Are a Girl's Best Friend," the sad tale of a romantic misunderstanding, is tight, concise pop driven by a quirky keyboard line and a vocal that is almost imploring in its frustration; "Whangdepootenawah" is a childish nonsense rhyme that, although never explaining precisely what a "whangdepootenawah" is, nevertheless leaves you wanting one; and "Cover Girl" dates from Gordon's stint with Sparks, and would have sat very comfortably on that band's Kimono My House, albeit with added guitar attack. With the addition of the period B-side "Quandary,"
'Jet' has since been reissued as part of a double pack, featuring a second disc of outtakes, demos, live tracks, and radio sessions; a single-disc version on Radiant Future appends the B-side and includes a lengthy glimpse into the overdub sessions for "Nothing to Do with Us." As bonuses go, it's hardly essential, but is remarkably entertaining. [This version of the album includes bonus material.
Dave Thompson 2003
__________________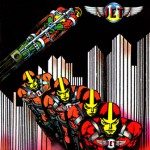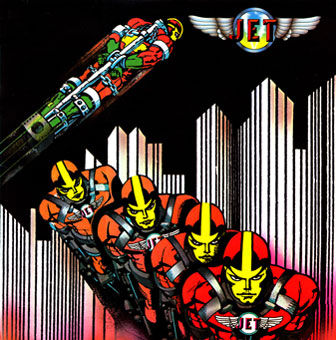 Expose
The travels of guitarist David O'List (from the Nice to Roxy Music) eventually found somewhat of a home in Jet, a splinter group from the remains of John's Children and Radio Stars. O'List fit in well into this quintet built around vocalist Andy Ellison and keyboardist Peter Oxendale. The group falls squarely into Queen and Aladdin Sane era Bowie with their imaginative rock and roll arrangements and studio trickery. The Queen linkage is evident due in part from producer Roy Thomas Baker as one of the first acts under his tutelage that never achieved the heights of his other production efforts. What's also of note is that bassist Martin Gordon is the prime songwriter in ten of twelve tracks and co-wrote one of the others. Tracks such as "Brian Damage" occupy much of the musical terrain as 'Virginia Plain" or "Out of the Blue". The guitarist's only song, "My River" sounds like The Sweet or Head East with it's opening power chords and trendy synth backing. "Whangdepootenawah" is a tongue twister that spoofs pop rock and was probably considered a single contender for its campy approach and choppy keyboard playing. Closing out the disc is a series of studio banter that shows the chaos in the control room during backing track playback for all its blazing glory. Overall, Jet was no better or worse than contemporaries and deserved more than a small footnote in British 70's rock.Jeff Melton 2003
__________________
And from the archives…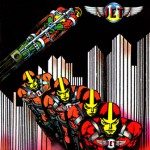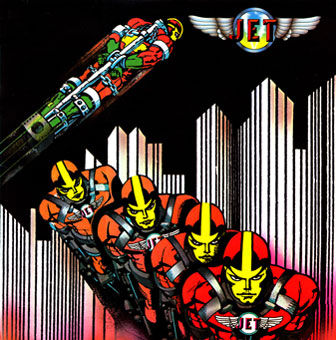 Sounds
If you like Sparks, if you can remember John's Children and still have a soft spot for Bolan's once strangely-acccented voice the chances are that you could grow very fond of Jet. Two members (Andy Ellison, Chris Townson) used to be with the Children – it's a fact often forgotten that 'Andy, not Marc Bolan, was the main vocalist and guitarist with the group', we are informed, and another couple (Sir Peter Oxendale and Martin Gordon) played with Sparks as sessionists or otherwise for a time. Influences of both these bands are marked here, notably in the Bolan-sounding vocals and in the Sparks-like frantic compositions. But nevertheless Jet's debut doesn't lack in creativeness: most chorus lines are memorable enough to be indicative of possible hit records, there's some humour which reassures you that the band perhaps don't take themselves too seriously, coupled with a certain craziness. At times the album threatens to get rather overpowering and a little monotonous, but various clever touches like the engaged telephone signal at the end of 'Diamonds Are A Girl's Best Friend' or the Phil Spector tribute 'Song For Hymn' serve to pace and vary it all. Any band that can write songs with titles like 'Brain Damage' (almost as good as the original) and 'Whangdepootenawah' deserves due attention anyway. Potentially very successful.
Geoff Barton 19/4/1975
__________________
Melody Maker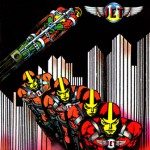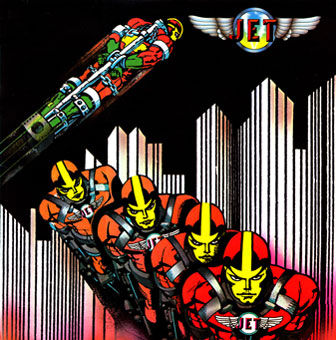 This is real chicken and the egg stuff. The derogation that will be hurled at Jet with great frequency in the near future is "sound uncomfortably like Sparks / Roxy / Bowie," but what we have to understand, right at the outset, is that here we are dealing with two generations of calculated English feyness, One of Sparks's primary influences, and come to that Bowie's (via Bolan), was the short lived mid-sixties band John's Children who, along with their contemporaries Tomorrow, contrived to synthesize psychedelics and teen-appeal. They scored chartwise with "Desdemona", a surrealist pop song composed by Marc Bolan, then the band's guitarist, and sung by Andy Ellison, one of the first vocalists to avoid American diction.
Ellison, together with old John's Children drummer Chris Townson, surfaces once more in Jet, where his colleagues, surprise, surprise, include two former Sparks' members – bassist / composer Martin Gordon and pianist "Sir" Peter Oxendale (B Mus LRAM, ARCM). The line-up is completed by ex-Nice guitarist David O'List who, for a few weeks, played in an early incarnation of Roxy Music. This information, I suppose, certifies their "glam" credibility, if, indeed credibility counts for anything at the image-conscious extremes of pure pop. For that's really the sphere of operations to which Jet are committed. Despite rave appreciations of O List's guitaring by such supposed luminaries as Bryan Ferry, I always figured he was a passenger in the Nice, and there's precious little evidence here to indicate otherwise Similarly, Chris Townson used to do a passable impression of Keith Moon on live gigs (right down to kicking his drum kit over) and in fact was once used as a Moon substitute, when the Who's drummer was ailing. In this department nothing's changed. Seven years on he still sounds so much like Keith that I'd have difficulty telling them apart.
Instrumental capabilities, then, aren't the stuff of the album. Rather, it's Martin Gordon's songs which, while revealing only the barest hint of originality, are almost irritatingly catchy. At least of two of them, "Start Here" and "Nothing To Do With Us", sound like hit singles. Then again, they'd have sounded a lot more like hit singles around the time of such innocent pop gems as "Strawberry Fields Forever," Tomorrow's "My White Bicycle" and the Floyd's "Arnold Layne" and "See Emily Play". The problem is that the innocence is long lost. We know precisely where Jet are coming from because we've seen dozens of minor variations parading past in the lost years since Flower Power ruled. But for all that Andy Ellison's determined Anglicism remains attractive. Less self-important, if not less self conscious than a Bowie or an Ian Hunter, Jet have at least remembered that pop used to be about fun. For that, I guess, we should be grateful.
Steve Lake 26/4/1975
Which prompted the following, remarkably articulate letter to the editor, from Mr Irate of Sweden:
O'LISTEN HERE!
"Fresh from his attempts at re-evaluating the merits of innovators like Procol Harum and Jeff Beck, both of which showed MM's Steve Lake in piteous lack of knowledge of the artists concerned, we're now informed in his review of Jet's album that guitarist David O'List was merely "a passenger in the Nice" and "there's precious little evidence here to indicate otherwise". Admittedly David wasn't allowed to indulge in any ten minute solos in the Nice, but who'd be able to with Keith Emerson on the same stage? What he did do however was to provide the high voltage frame for their music with his razor-sharp rhythm playIng, as well as contributing his composing talents To imply that his guitar playing was/is therefore limited, is plain ridiculous. When ignoring O'List's plectrum wizardry on the Jet album, whether it's the feedback snarling on "Fax 'n' Info," the thoughtfully constructed solo on "Diamonds Are A Girl's Best Friend" or the incredible flurry of notes he produced on "Cover Girl", Steve Lake is either equipped with a faulty pressing of the album, or a badly unplugged pair of ears".
Pontus Von Tell, Fjardhundra, Sweden
__________________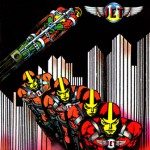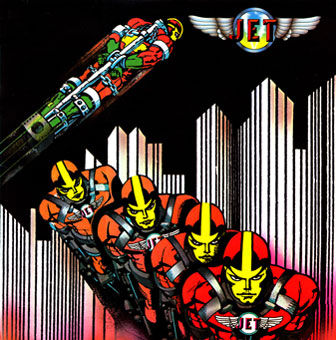 Disc
The debut album shows them leaping into the territory of Roxy Music and Sparks, employing many of the musical characteristics associated with the two bands. With Sparks, Jet share staccato keyboard-dominated rhythm patterns and high register vocals, and Davey O'List's guitar work (generally mixed down) has the soaring, wobbling qualities common to Phil Manzanera. These similarities aren't surprising as O'List was guitarist with the formative Roxy and Jet's keyboard man Sir Peter Oxendale and bassist Martin Gordon (who is also responsible for most of the band's songs) came from Sparks. The net result of these three influences plus Andy Ellison's vocals is that the band come up sounding very strongly of Sparks, which is sad because I think everyone's become a little bored with the bros Mael. There are some witty lyrics quite effectively woven into the music – Diamonds Are A Girl's Best Friend by way of example. But perhaps more variety next time, no?
David Fudger 26/4/1975
__________________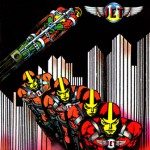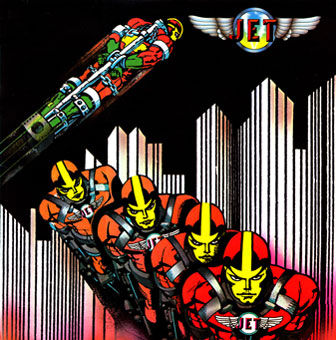 NME
At last the 1972 show! Jet are a motley crew made up of ex-members of Sparks and John's Children, plus David O'List, guitar-meister for the Nice and the trade preview-only edition of Roxy Music. Due principally to the efforts of singer Andy Ellison and bassist Martin Gordon (composer of most of the songs), Jet come on like a Nesquik composite ot various stylistic devices popularised two or three years ago by Roxy, D Bowie, T Rex and, oh, latterday pretenders such as Queen and Sparks. The news that they're managed by Mike Leander comes as no real surprise; they're little more than a kind of upmarket Glitterband. Martin Gordon writes songs that give a surface impression of being witty and sophisticated; examine them and they prove to be next door to totally vacant. Probably the best of the bunch is "Nothing To Do With Us", a kind of disinherited second cousin of "Something For The Girl With Everything", which is catchy enough to make a passable single. Jet will probably prove a godsend to kids who, in the temporary absence of the real Sparks and Roxy Music, will go and see something vaguely similar, and also to those who were too young to go to concerts in 1972. Sleeve designer Roslav Szabo gains ten points for using Jack Kirby's "Mr Miracle on the cover, and loses fifteen for copying the two figures directly from the cover and page 6 of "Mr Miracle".
Charles Shaar Murray 26/4/1975
(Upmarket Glitter band? Oooh, bitch!! Did you ever SEE this man's hair? Nesquik composite yourself!!! Ed.)
__________________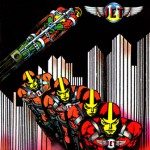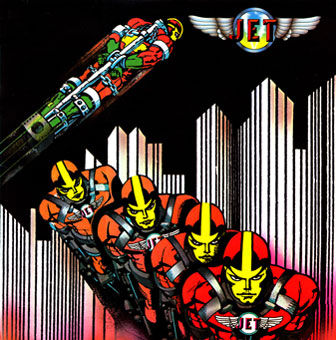 Melody Maker
Jet – 'My River
So this is what happened to David Bowie. Jet is the new band incorporating, among other notables, former Nice and Roxy guitarist Davey O'List, who wrote this unusual song that shoots along with undue haste. All sorts of strange things occur en route, like a Winifred Atwell-type piano break, party voices and tingling "Virginia Plain" background, quite apart from the Bowie vocals. An interesting record that suggests the band could be big, although the destiny of this single isn't too promising.
19/4/1975
__________________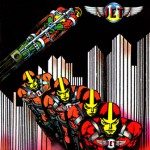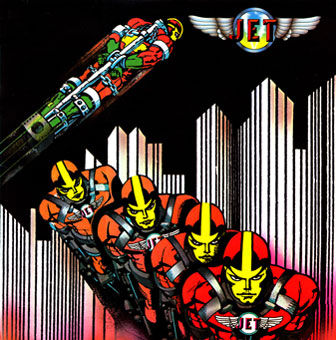 NME
Jet – 'Nothing To Do With Us'
And the reason they will purchase is the chorus – not so much rousing as difficult to get rid of. Declaimed in Bowie vowel distortions, with a wealth of meaninglessness, "Nothing to do with us, my dear" is practically the whole substance of the lyrics. And you'll find yourself humming it at every bus stop in town. There are a couple of Ziggyish verses, but they don't seem to be about anything in particular and are no distraction. Sub-Bowie, sub-Queen – trash but tarted up.
12/7/1975