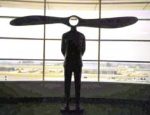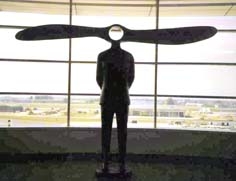 I considered what I should record and trawled through my back catalogue to see if there were forgotten gems. I found an old Blue Meanies song of mine called 'Habibya' which I re-wrote as 'Why Do I', and two others from a bit later, but still with Chris Gent vocals, which I fiddled with arrangement-wise – these were Good Girls and Let's Make Money, which date from the collapse of the dotcom money-for-old-rope debacle. The latter has a (in fact my first-ever) bass solo, which I am also rather pleased with. With the exception of 'Greenfinger', which we performed once with the Radio Stars Mark II, the rest I composed on the spot.
'Anyway Goodbye' was written after hearing the Elli-song of the same name. The title was a John's Children catch phrase, developed in the pub as was usual, and the subject matter should have been clear, as should the style. In fact, Chris Townson played me this rather tweeeeeeeee ballad and, spurred on by his lack of grasp, I returned to Berlin and knocked out my one in about two hours, complete with words and all. Pelle sang it in January and I believe it's one of the best things that I've done.
'Terrible Mess' was completed before my first trip to Stockholm in 2002, and naturally refers to the less-than effective style of our friend the Carry On Bombing would-be terrorist who hadn't thought things through. 'Only One Dream Per Person' was a kind of German beer-drinking song wondering what heaven would be like if it was run by Germans. It would quite take the fun out of things, I think. And possibly bring about the end of organised religion as we know it.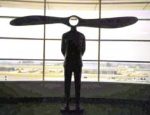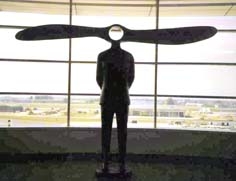 'It's Like It's Like..' began life as a kind of Kylie Minogue tune, much against my will, but I couldn't stop it. I was going to throw it out but I managed to de-Aussie it and it became one of my personal favourites. 'That Girl', as noted, was written by Pelle, his mate Pelle and myself on our first attempt at working together. This is the definitive loud version, but there is an alternative girly version which is much less rock'n'roll, although I haven't heard it yet. Maybe we can find a Swedish pop tart to record it, or indeed any other kind. The Baboon in the Basement reflects some of my current fixations – odd time signatures and wacky guitars, real instruments mixed with programming… I play a one-note piano solo and Pelle does an impersonation of a Swedish Vivian Stanshall.
My intentions were to make a pop album, not to attempt to please anybody else at all. Lord knows most record company people are in their early teens anyway, or so it seems, so the notion of creating something for the record-buying public at large, or to go via a major corporation, seemed rather unlikely. My view right or wrong, was my motto. And it generally has been, not that I spend enormous amounts of time analysing it…. If the Baboon represents anything at all, it's my take on what I like about modern pop music. This is also partly why I chose some covers – not because I was running out of tunes (in fact I put six on the 'hold till later' pile), but because I like to play other people tunes as well as mine, and I love particularly to make arrangements of them.
I included three covers because I take great delight in arrangements and finding hidden things. 'We Love You' Pelle (and Pelle) and I recorded for a Swedish Stones tribute album, as a bit of fun, and I thought it worked very well so I asked if I could use it, seeing as it was exactly the sort of thing we were doing on the rest of Baboon… We also have a fairly radical version of 'Warlord of the Royal Crocodiles', a Marc Bolan song from my favourite Tyrannosaurus Rex period and an old Move song 'Tonight'. I've always loved Roy Wood's way with a tune, and that stuff about endless tea, well – how could I NOT record it? I love all these people as writers, and these songs in particular.
Next time round there will be a few more from other people – we did a great version of Todd Rundgren's 'Tiny Demons' with Mira, and this particular arrangement will be on the short list. If there is a next time, the emphasis will shift a little,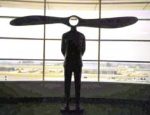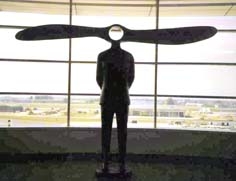 Following the short-sighted demise of Radio Stars, I spent the beginning of the eighties having a great time spending whatever money I made in Radio Stars. I lived in Paris and found gainful employment with Barclay Records – I became a kind of house producer, doing whatever came along. The Stones were recording in Paris, and I got invited to play bass when Wyman didn't show up, which was a bit of a blast. Later I returned to the UK and I put together a six piece line-up for two gigs in London….. the line-up included a new pal from Paris with whom I'd been working, Hugh McDowell (ELO) frantically bowing his cello. I can't. at this juncture remember why I did this but, when it became clear that what the world didn't need was another version of Radio Stars, I began to work with other people as keyboard player, programmer, recording engineer, whatever presented itself really. This led me, in a way to Bombay with Boy George and a plate of blancmange, and then that in turn led me back to the world of performance music, as my own musical world had become dominated by technology.
Andy Ellison and Chris Townson asked me in 1997 if I fancied hooking up with them for random JC appearances, and it quickly became an on-going retirement scenario with last-ever gigs regularly scheduled. My own personal blueprint is realised by the people with whom I am currently working – Pelle, Chris and Andy Reimer.
I wandered off into the world music ether in the mid-nineties with a project by Mira, which came out on JVC. It was in some ways a spin off from the Bombay experience – musicians from around the world playing pop songs. It was fairly successful musically, totally unsuccessful commercially and rather unsuccessful in terms of friendships, two of which it completely destroyed. I put together one line-up of Mira which played at the Montreux Jazz festival in 1997 and then went camping round the Alps to try and forget it. It was a nightmare (doing the gig with the band, I mean, the camping was very civilised). Then there was JC, as noted, and then the Dutchmen appeared and insisted that Jet reform for a quick European tour. I recorded it and it was released by Captain Trip Records of Japan as 'Music For The Herd of Herring'. The UK-based label Radiant Future, owned by Morton Snackarima, a mysterious Taiwanese/American reputedly the heir to a handbag fortune, released it in 2000, then the same label picked up on the Jet CD – it's companion piece, 'More Light Than Shade' mysteriously escaped from solitary confinement also in 2001.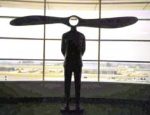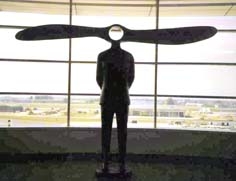 Various other Japanese people suggested a solo project and thus here we are again. There have been some nice productions en route, in particular 'Bad Blood & Blasphemy' by the Tiger Lillies, which was recorded in my apartment in Berlin, and the latest Sezen Aksu CD 'Sarki Soylemek Lazim'. She belatedly came to the attention of the great British public in 2002 when Aussie sexpot Holly Valence had a hit with an English language version of Sezen's 'Kiss Kiss'. But I'm always keen to work with interesting people with something to say, regardless of the musical field. Unless they're country singers, of course. But people with a unique musical vision are few and far between – frankly one of the reasons for making this CD was that, as I now have access to some fabulous players, I now have something to listen to at night.
I lived, and still do, quite happily in the techno world, but lately began to feel the need for short loud Anglo pop-things. I did in fact, to all intents and purposes, discover the Baboon in my own Basement. The advent of Pelle Almgren compounded it and has, unfortunately, sparked off my revived interest in playing on stage again…. although to be honest, I've never completely stopped.