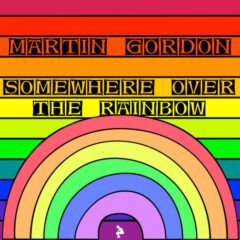 'Somewhere Over the Rainbow' – new single released on November 8th 2021
As the great and the good, the besuited and the bedraggled, the lobbyists and the lobbied collect in Glasgow to perform the by-now traditional COP26 knees-up, here comes 'Somewhere Over the Rainbow'. As the planet prepares to expel its inhabitants, why not mark the occasion with this rendering of Dorothy's favourite showstopper in Eb, well known to be the second-saddest of all keys? This instrumental version has a Rickenbacker bass as a main voice – what's not to like? After all, Xmas dinner will be served in a tin, with lashings of delicious Spam for afters, and there'll be live bombing of France on the telly after the Queen's speech.
Arlen and Yarburg's melancholy tune has been reworked, rearranged and made available to all, whether demented conspiracy theorist, hysterical populist or regular ol' human being, although there are less of these than earlier thought. Of course, the fact that we are actually living in a Hollywood rom-com is what makes it all bearable. In the final reel, the hero will prevail and we will emerge refreshed into the real world. What a relief, it was only a dream.
In November, Martin was invited by BBC Humberside to discuss Rickenbackers, rainbows, Rolling Stones and other objects beginning with R. And so he did.