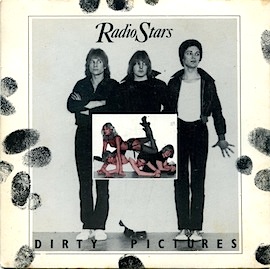 NME AUGUST 13, 1977 THE MARQUEE, LONDON
Not that many will remember, but Andy Ellison once sang lead on a record called "Not The Sort Of Girl You'd Like To Take To Bed". That was in the late '60s with a group called John's Children – you would think he's learned his lesson by now, but he hasn't. Radio Stars have in their opening song a natty chorus: "Need your lovin 'like a hole in the head". As a stab at romantic pop ephemera, it's misguided, to say the least. Radio Stars are Martin Gordon (bass), Ian Macleod (guitar) and Andy Ellison (vocals), plus whatever friend or lackey they can find to play drums for them. They were together in '75 in a band called Jet (who recorded an album for CBS before quietly disbanding) and eventually had their privately recorded single "Dirty Pictures" released by Chiswick Records. So far their only live gigs have been as support band on the recent Rods tour, and the Marquee gig was the first on the strength of their own name. Surprisingly the place was almost packed. After an absurd pre-recorded tape to introduce the band (and I won't spoil the surprise) they bounded onto the stage.
They looked clean-cut, cute but tough, and after a few spreads in Pink or Supersonic (or whatever sets the pace these days) they should be set to plunder adolescent hearts. Andy Ellison has the archetypal goodboy goodlooks, and a good-natured delinquent demeanor of the sort that saw Noddy Holder alright until Slade's audience outgrew them, his voice, though it lacks a certain amount of distinction, is practiced and competent enough, and his character thoroughly makes up for any shortcomings. So far so good, but what will the teenies make of "need your lovin' like a hole in the head"? Or "No Russians In Russia", a very catchy three minutes-worth expounding the notion that there aren't any indigenous people anywhere.
Their future would probably be assured were it not for the offbeat nature of their songs. Live – without the studio tinkering and polish evident on "Dirty Pictures', their music is yobbish, simple (but not brainless) HM rock, complicated by a strange lyrical content and twisted pop sensibilities. The only precursors would be Sparks (Martin Gordon played bass on Sparks' first album and he also writes most of Radio Stars' songs, which leads to certain conclusions) and maybe The Move. One song especially ("Box 29") sounded a lot like the Brum Bovver boys. Add to that elements of the Heavy Metal Kids and Mott that crept in at various points and it becomes obvious that Radio Stars are part of a neglected British tradition but with some not-so-obvious twists. They encored with the admirably frank "We Love Noise", which led into a version of ]ohn's Children's psychedelic nugget "Desdemona" and Andy and the crowd had a great time showering each other with beer".
Paul Ramballi