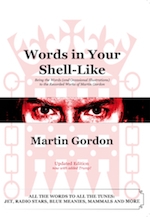 NOW LOOK HERE! Because here are all the words to all the Gordon tunes – everything, from Jet to Mammals and further! In a book! Like what you have to read and that.
feat. Martin Gordon (bass/keys), Pelle Almgren (vox), Ralf Leeman (gtr) & Chris Townson (drums)
Spookily coinciding with a performance of 'Kimono My House' as part of the Morrissey-curated Meltdown festival at London's Royal festival Hall (June 12th), the bassist who contributed to that legendary recording releases his second solo CD. The Joy of More Hogwash is the second release in 12 months from former Sparks, Jet and Radio Stars bassist Martin Gordon. The first (The Baboon in the Basement) was declared 'the release of the year' and 'an absolute triumph', its creator acclaimed a 'pop genius' and 'one of the top ten producers in the world'. Using the same line-up as Baboon, Martin Gordon continues to peruse the pop-cultural world (and the other, bigger one) and all it's foibles.
Included on The Joy of More Hogwash (Gordon's proposed title for a series of real-life-TV talent-free casting shows), are 13 new compositions from the pen of the 'smart-pop meister' (Tangents) which deal with such topics as misogyny, idiots, Nigerian banking fraud,! falling in love with aliens, falling in love with sheep, science versus art, being beaten with twigs, casting TV shows and other contemporary detritus. The Joy of More Hogwash is pop music for grown-up people, not a contradiction in terms in Gordon's view, even though pop currently seems to cater exclusively for emotionally-retarded pre-teens with reading disorders and attention spans in the range of 1-10 nano-seconds.
As well as 12 originals, there's also a Beatles tune and the ultimate version of 'Love Power' from the Mel Brooks film The Producers, karmically recorded in the very studio in Berlin from which Josef Goebbels made his nasty little propaganda broadcasts. 
Gordon is unfortunately not able to appear at the Royal Festival Hall with Sparks due to a long-standing subsequent engagement with his hairdresser on that very evening.