Time Gentlemen Please / Martin Gordon / Radiant Future RFVP013CD
w/ Pelle Almgren, Ralf Leeman and Steve Budney.
Finally, after almost two years, the fifth part of the Mammal Trilogy. Featuring Martin Gordon's apocalyptic Weltanschauung set to the delightful accompaniment of ukulele, brass and electric guitars, this is the fifth outpouring of bile and spite in the so-called 'Mammal Trilogy'. He is once again joined by his amanuensis Pelle Almgren on vocals, with old hand Ralf Leeman on guitar and ukulele. Contributions were also made by guitarist Enrico Antico, the Polkaholix brass section and Johannes Theurer on flute. New boy Steve Budney from Boston via Radio Stars sat in on drums. The CD is now out of print – downloads at at Amazon, iTunes or just about anywhere.
There is also a special, limited edition CD of the demos for this album, complete with extravagant extras – details here.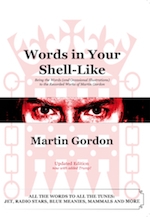 NOW LOOK HERE! Because here are all the words to all the Gordon tunes – everything, from Jet to Mammals and further! In a book! Like what you have to read and that.