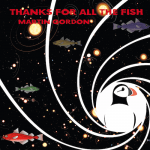 Live at the Brauhaus Sudstern.
Martin Gordon began his career by playing bass on the legendary Kimono My House album by Sparks. Since those far-off days, he has played with world-famous stars ranging from the Rolling Stones to Kylie Minogue, as well as forming his own band Radio Stars and, eventually, moving to Berlin and beginning a solo career.
On March 24th, he presents his new solo album Thanks For All the Fish, dealing with human stupidity, Donald Trump (possibly the same thing), Brexit (see the earlier comment) and chickens.
Venue: Brauhaus Sudstern, Berlin
Date: 24/03/2018
Line-up: Ralf Leeman (gtr), Melli Plauth (gtr), Werner Molkentin (dr) and that (bs) player.
Back to fish! Buy more fish!