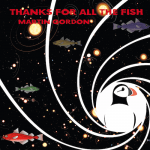 Live at the Brauhaus Sudstern.
They say: "Martin Gordon began his career by playing bass on the legendary Kimono My House album by Sparks. Since those far-off days, he has played with world-famous stars ranging from the Rolling Stones to Kylie Minogue, as well as forming his own band Radio Stars and, eventually, moving to Berlin and beginning a solo career.
On March 24th, he presents his new solo album Thanks For All the Fish, dealing with human stupidity, Donald Trump (possibly the same thing), Brexit (see the earlier comment) and chickens".
Do you like German? Here's some:
Martin Gordon begann seine Karriere als Bassist auf dem legendären Plattenalbum 'Kimono My House' der Sparks. Seitdem spielte er mit den unterschiedlichsten Weltklassekünstlern. Die Spanne reicht z.B. von den Rolling Stones bis hin zu Kylie Minogue. Er gründete damals auch seine eigene Band Radio Stars. Trotz guter Erfolge mit den Radio Stars in England, zog es ihn weiter nach Berlin, wo er kreativ an seiner Solokarriere arbeitet.
Am 24. März präsentiert er seine neue Solo CD 'Thanks For All The Fish'. Aus dem englischen Pressetext: Danke für den Fisch, wie man der Menschen Dummheit begegnet, Donald Trump (wahrscheinlich das gleiche), Brexit (siehe vorherigen Kommentar) und Hühnern. Darüber hinaus wird auch Material von der Ost-Polka Band The Polkaholix gespielt, für die Martin Gordon auch gelegentlich Stücke schreibt.
Im Brauhaus Südstern wird Martin Gordon (Bass/Gesang) musikalisch begleitet von: Ralf Leeman (Git), Melli Plauth (Git) und Werner Molkentin (Schlagzeug).
Venue: Brauhaus Sudstern, Berlin
Date: 24/03/2018
Line-up: Ralf Leeman (gtr), Melli Plauth (gtr), Werner Molkentin (dr) and that (bs) player.
Back to fish! Buy more fish!