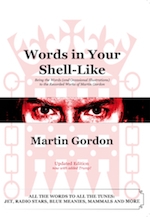 NOW LOOK HERE! Because here are all the words to all the Gordon tunes – everything, from Jet to Mammals and further! In a book! Like what you have to read and that.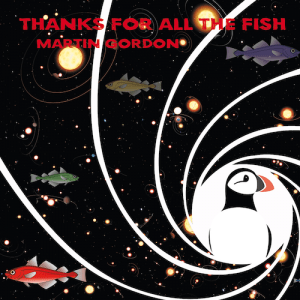 The lights go out, but the beat goes on! In a unique display of artistic savour faire, allied with extraordinary je ne sais quoi, Martin Gordon releases his cri de coeur: Thanks For All the Fish, available as CD with free lyric sheet, as vinyl and as download.

Hear the Fishy video-preview over there on the right.
You want to know what's on the album? Go to the track listing.
You want to know about the desirable lifestyle-enhancing lyric sheet? Go to the free lyric sheet.
A slice of vinyl with that lyric sheet, sir? Hmmm, suits you!
Can't wait to buy immediately Fish in case it goes off? Go to the Fish shop.
Rather nervous  about all this and keen to read what the critics say before committing yourself? Read all about it!
What's Thanks For All the Fish about?
Well, let's see. Neil Postman once said that everything is entertainment, including politics and science. Even reality is entertainment, said he. But blimey, who needs reality, let's see what's on the other channel. What can mankind, and that includes women, do about the creeping omnipotence of amusement? Flee the planet, just like the dolphins in the Hitchhikers Guide? The aliens will no doubt welcome us with open tentacles, especially given that we're so welcoming and friendly and just so damn nice.
Thanks For All the Fish taps into the existence-challenging Trump/Brexit zeitgeist. Follow the central character Percy the perceptive and proudly-poofy puffin as he careens from one human-designed disaster to the next before finally making the Ultimate Choice. The sad tales of Percy are to be found right here, and come as a (free) download with every album.

Here's a full-album preview video, for you to play along in the background while you continue to read. You will miss Percy's exciting adventures, of course, but you cannot win them all, apparently.
[embedyt] https://www.youtube.com/watch?v=7KmENT-0-lk[/embedyt]
Fish Tracks:
Idiots: I like a bit of a curve on a banana. Not too bendy, of course, that would be ridiculous, but I'm certainly not going to let unelected bureaucrats in Stalag Luft VII dictate the curvature of my fruit! The British idiot is the finest idiot in the entire world!
Political Correctness Gone Mad: Things have changed since I was a lad, I don't know what it's all coming to, to be frank. Chuck 'em all out!
Thanks For All the Fish: Me and my puffin pals are off, see you!
Bad Guys (Sad): It's obvious there are no bigly choices to be made. It's either/or, and this is clearly written in black and white. It's as clear as the driven snow, there is no nigger in the woodpile here.
UnPresidented: Unfortunately this one has lost its flavour on the bedpost overnight.
The Beast of Ankara: He crept up from behind on innocent Germans and they didn't hear him coming. This former Radio Stars tune deserved updating.
The Weekend is Wunderbar: And then the trousers come down, the Instamatics come out, the nude bathing is mandatory and the sparkling wine is drunk. How please?
Half a Chicken: Answer this penetrating question and get a music career. The winner of this show wins (a) half a million quid or (b) half a chicken. Send in your SMS to this premium number right away!
Jalapeño: Hot-blooded senoritas are the least of our worries, of course, but you gotta watch those spices. Eye-watering, some of them…
Dump the Trump: Elsewhere he offers to kick down the door while you are taking a dump, but we mean a different kind of dump here.
No Thank You: There are many things that we do not want, and they are listed here.
Tiny Mind: Up with this I cannot put. It's going to drive us all insane. Or me, at any rate.
God's Not Great: Ganesh is the one for me. A blue flute-playing elephant? There's lovely for you.
Grim: The end of life as we know it. Too much sitting, lentils, that sort of thing. Better luck in recall, if there is one.
Coda: Anyway, goodbye.

Lyric Sheet:
Remember lyric sheets? We do, with fondness. Having something to hold and read while you wig out to the music was half the fun of getting a new album. And now, with every copy of Thanks For All the Fish ordered directly from Radiant Future Records, you'll get an old-fashioned lyric sheet. For nothing! Blimey, anyone would think we were all socialists or communists or something. Professionally printed, delicately designed to perfectly partner the album artwork, it is a welcome addition to something beginning with w. It also slips snugly into the back of Words in Your Shell-Like – it's A5, if you speak DIN.
The lyric sheet is your ideal companion for that perfect evening of apocalyptic misogyny and rapacious hoovering up of resources. And of course it will be signed personally by the creator (that's Gordon, not God). The lyric sheet will not be available with regular on-line purchases through Amazon and their ilk, nor their elk. Don't be left out!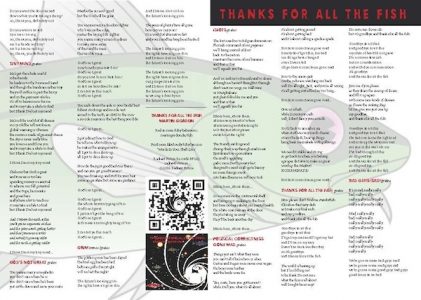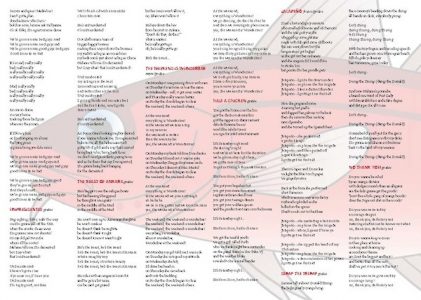 'God's Not Great' was the first single release from Thanks For All the Fish:
[embedyt] https://www.youtube.com/watch?v=rdXl3QNygfU[/embedyt]
and then along came Donald Blimp:
[embedyt] https://www.youtube.com/watch?v=a59UeGt4h-w[/embedyt]
and of course our old friends made an appearance:
[embedyt] https://www.youtube.com/watch?v=4jPrgQ0rVrE[/embedyt]
And your host on this occasion is Percy the Perceptive Puffin. He will extend a wing towards you to steady you as you wander blearily through the Fish soundtrack.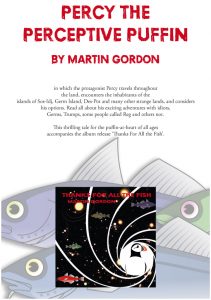 Deja Vu All Over Again
For those who like continuity, not only is Gordon once again playing his trademark Rickenbacker 4003 on this album, Thanks For All the Fish was mastered by the same engineer responsible for the defining Rickenbacker bass sound all those years ago on Kimono My House, namely Richard Digby Smith. Long-time accompanists Ralf Leeman (guitar) and Romain Vicente (drums) naturally make their aural mark. And fishy guests this time around include Adrian Stout from the Tiger Lillies brandishing his electric saw, and members of the Polkaholix and the Berliner Staatskapelle.

Buy Fish!
We have a number of fishy options. There's the CD which, as you know if you have been paying attention, comes complete with a lyric sheet at no extra cost to you, the supporter of this artistic endeavour. We refer to this CD/lyric sheet combo as the CD package. Simkins, stop that!
The CD/Poster package includes the CD/lyric sheet combo but adds a deluxe lifestyle-enhancing accessory Fish poster to the mix. It features both God (according to Chris Townson) and the album artwork and can be dedicated especially to you by the creator. We don't mean God, here. Dennehy, take that pencil out of your nose!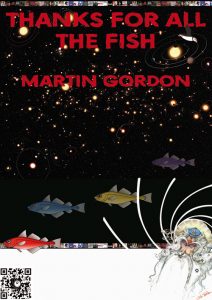 Here's the poster. It's Super A1 (840x594mm) or, if you don't do metric, Very Big. It's got a nice white space at the bottom where it will be signed and dedicated. Check out the poster page for further info.
And finally there is the CD/Poster/Book package for the connoisseur, which includes the previously-mentioned CD/lyric sheet combo and the poster and adds, at an enormous discount, the book of lyrics: Words in Your Shell-Like. The following boys will stay behind after class: Curtis, Swart, Niblett.
Of course, for those who wish to avoid any unpleasantnene (© Mr Moose) and prefer to create their own soundtracks, the completely music-free poster is available as a totally silent stand-alone item.
Thanks For All The Fish - packages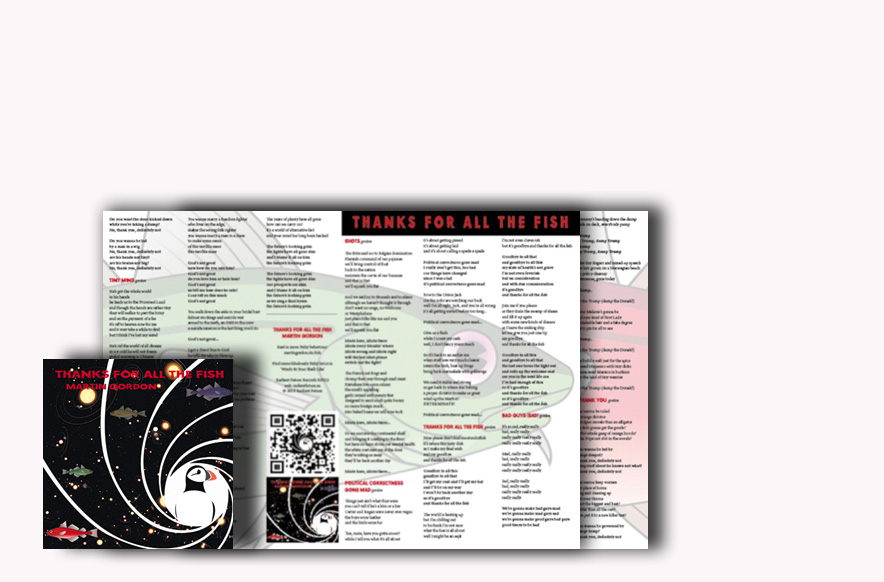 CD package: CD plus lyric sheet/God book and choice of one other solo CD at no extra cost. EUR 12 + p&p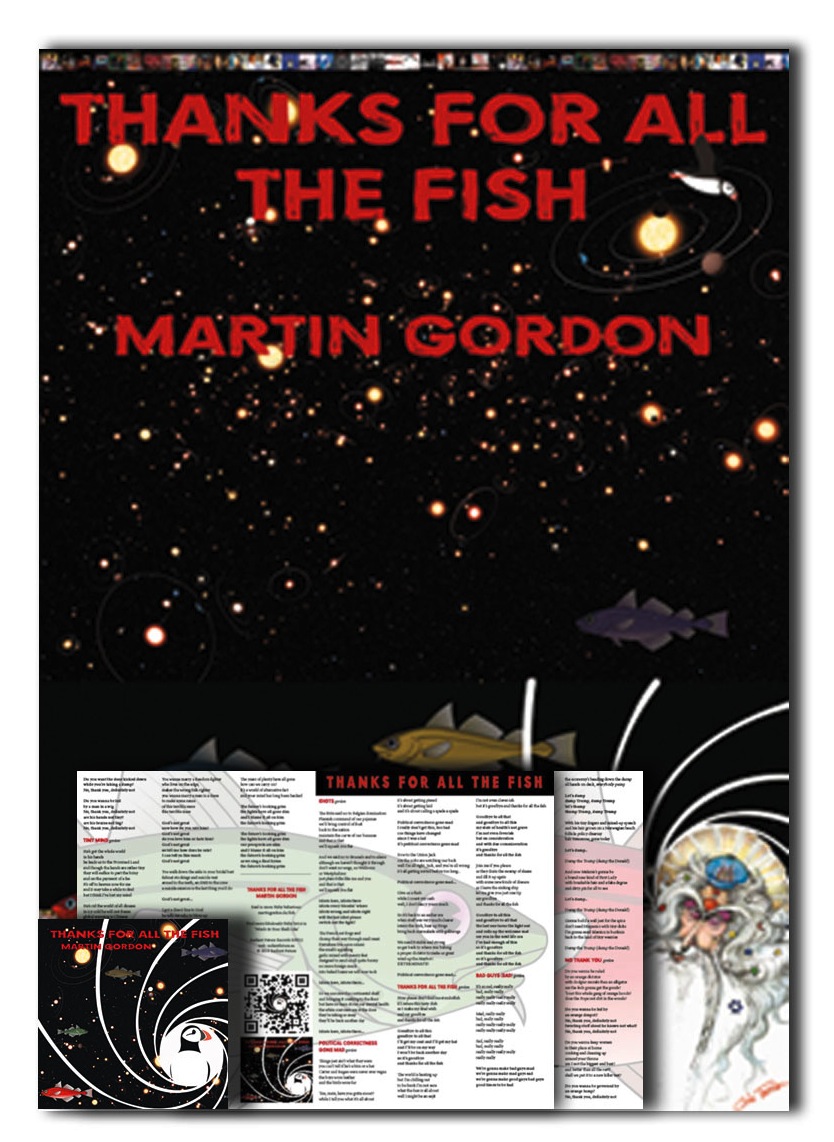 CD/poster package: CD, lyric sheet, God book plus Fishy poster. EUR 28 + p&p.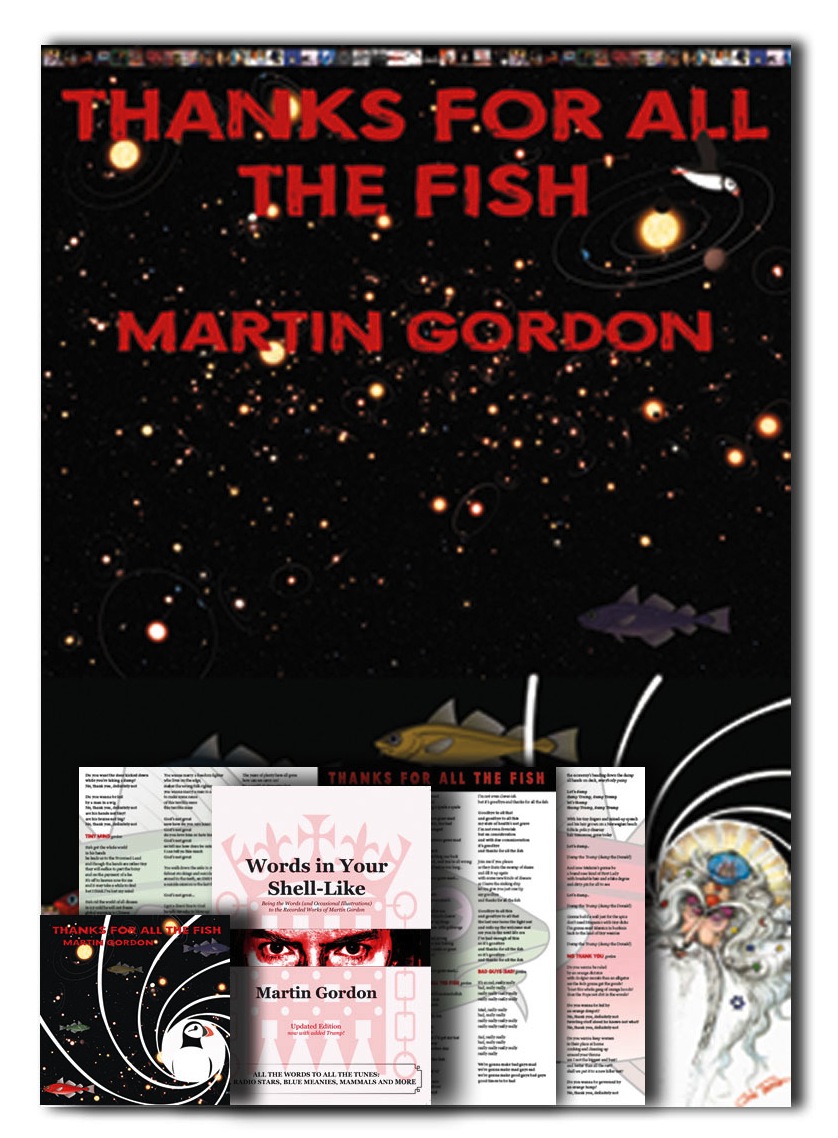 CD/Poster/Book package: CD, lyric sheet, Fishy poster, God book plus, at a huge 50% discount, the lyric book (Words in Your Shell-Like). EUR 40 + p&p.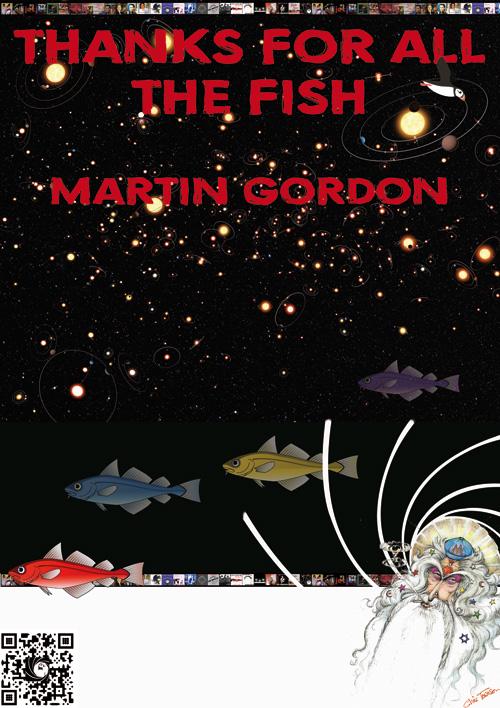 Poster: just the poster, which will will take up 594 mm x 842 mm of your wall or cell - details here. EUR 13 + p&p.

Alternative sources include iTunes.
Deja Vu All Over Again Again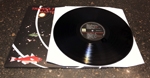 And continuing the headlong return to deja vu, we are pleased – nay, ecstatic! – to announce that the album will shortly (in May) be released on vinyl! Now if that's not plain groovy, we don't know what is. A strictly-limited edition will contain a lyric insert sheet and will also include a bonus, unreleased Rick-tastic remix which will literally blow your socks off. Some copies will be signed, others not. Well, life's like that, really, isn't it?
Plus there will be various other special vinyl editions, but all falling within the strictly limited 500 copies making up the total pressing. For all those who miss the feel of a solid slab of high-grade polycarbon in their hands, this is the small-fingered opportunity of a lifetime.
Check it out here.

Repent, Sinners!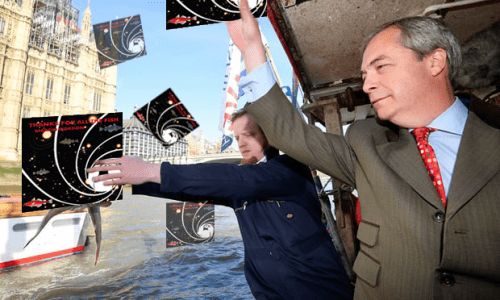 If you insist upon renouncing the analogue era of 3D objects, preferring to embrace the devil and all his pomps, downloads are available from the usual sources including:

USA

UK