Kate Redfern's paintings depict some of the characters populating the tunes: here below, for example, is the scenario for 'Gotta Go Green', from Include Me Out.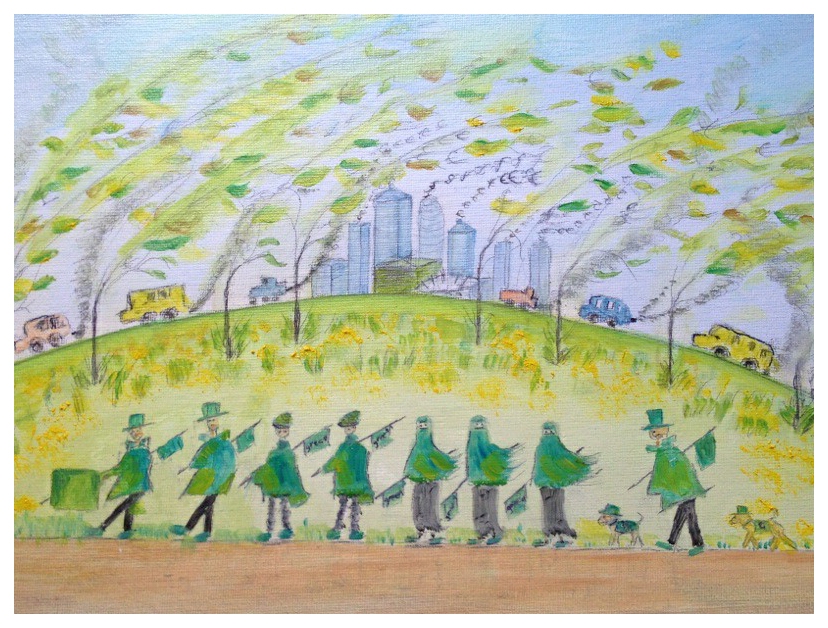 Notice the top hats, turbans and burquas – even the two small doggies are suitably decked out in an environmentally friendly manner. In the background, a variety of autos and industrial plants belch out filth, smoke and various denominations of cash, while in the foreground bankers, industrialists and Islamic courtesans perform a line-dance to alert the public to the pressing issue. Well, you gotta grab attention anyway you can, isn't it. It's not as if it's a popular message, although you could sing along if you were so inclined. Kate talks us through the creative process…

When did you start painting?
"I had the choice of going either to art school, or to the Royal Academy of Dramatic Art (RADA), having done acting the whole of my childhood. I knew much of Shakespeare backwards and I was quite good at it (acting!). So I got a grant and went to RADA in the 60s.
I started airbrushing and retouching photos after my marriage to (photographer) David Redfern (described by legendarily ascerbic, but tiny, jazz drummer Buddy Rich as "probably the greatest jazz photographer in the world today, but too tall"), and went to the London College of Printing.
In the 80s I again went to the College of Printing, which had moved by then to the Elephant & Castle, to do lithography, and so I started on the 'art' trajectory.  I did art classes with David Embry and David Napp in England and France.  I now paint independently except for top-up/corrective sessions with David Embry."
So you survived the swinging 60s……….
"I was living behind Oxford Street in the 60s and, in fact I met David Redfern while queuing outside the Marquee Club. I was waiting to see Johnny Dankworth, with Dudley Moore playing piano with the big orchestra and Cleo Laine singing.  I saw them a number of times – I remember Dudley as a very little man; very lithe and energetic, and a wonderful pianist.
I remember a discussion with David as to whether it was worth photographing The Beatles – were they just another one-night wonder? I remember a ticket tout coming down to the studio in Museum Street at time of the Great Train Robbery, and he was wondering where the robbers had put their haul. "Where could they put it all ?" he queried, taking out a thick roll of cash and stacking it up on the table to demonstrate. His cash came from Beatles concert tickets and sale of the b/w Beatles photos I was churning out for him to sell.
I saw The Beatles fight through the screaming hordes of girls on 'Thank Your Lucky Stars', broadcast from Aston Studios; every time I put my head up above the sight line, the crowd went crazy…!  We later sat in the auditorium with the Beatles; we were all locked in, and the kids locked out!  The trad boom was also in full swing; Chris Barber, Acker Bilk, Terry Lightfoot at the 100 Club in Oxford Street.  It was a larger-than-life time, and they were larger-than-life people…."
What is the connection with music, painting and Mammals?
"I've nearly always painted with music as a background (except when painting outdoors), but on hearing the Mammal music for the first time, I was inspired by the lyrics to paint a narrative/interpretational scene.  The music was a big motivator to get moving/painting.  I was attracted particularly by the barbed humour and the visual imagery portrayed.  It was actually quite different from my usual stuff, which is visually motivated; by something seen rather than heard!  So Mammals were a new departure.
I stumbled across Martin on a family holiday, and across his music via Facebook and Google.  I was curious to find out more – I got quite a shock!  I asked him to send me a CD of 'Time Gentlemen Please' and that was the beginning.
I am often attracted by the eccentric or unusual in my art, so I have found plenty of material in Martin's songs and lyrics.  I am aware I have emphasized the barbed humour, but I am not unaware of the darker, underlying serious commentary on a range of Mammalian emotions and happenings. So maybe I'll do some mirror images next.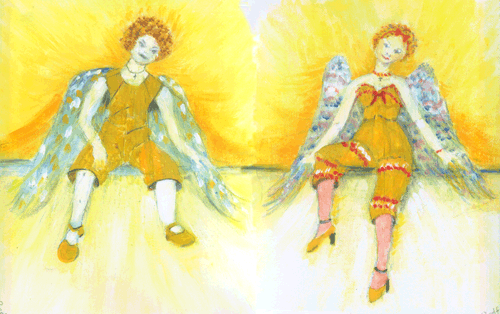 I have very often listened to music while painting, depending upon my mood and the mood of the painting.  But the first connection with Martin's music came via an angel!!!   A friend had a papier-mâché winged St. Michael sitting on top of her bookshelf which had caught my eye. I painted the angel and, as often happens with my work, it got quirky – I then remembered Martin's quirky lyrics from 'If English Was Good Enough for Jesus' and the idea clicked.  I think this was the beginning of the music/art/mammal connection.
So I listened intently to Time Gentlemen Please and Include Me Out (and lost weight dancing to them !) 'Gotta Go Green' presented a very quick and secure visual image.  After an initial oil sketch, I painted it in water colour – in fact I did a second version within one week!
Then Martin did a gamelan concert and took a photo of his bass stranded in the middle of the gamelan instruments, which  presented itself as an amalgam of old and new music  to me, and  I struggled – successfully in the end –  to paint in watercolour a small picture entitled 'Different Hats'."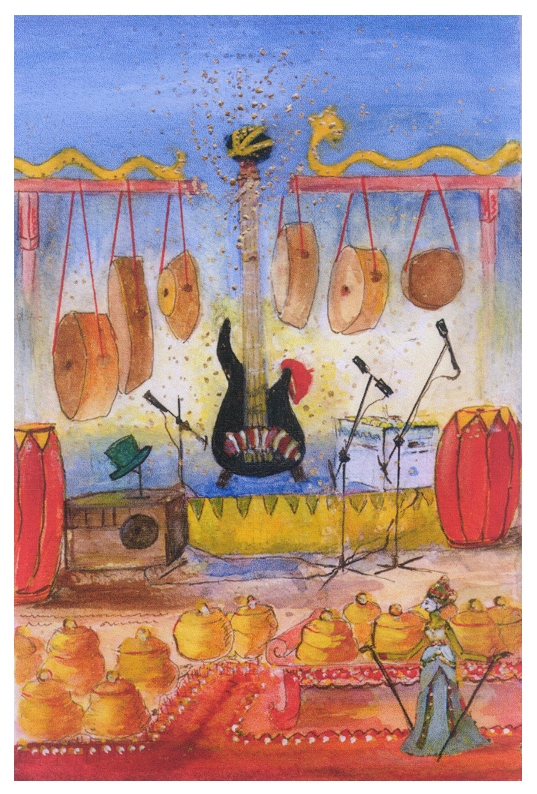 "For the Mammal Triptych, it was less clear. I gathered the visual elements of some songs together into a meaningful composition, and found a theme in the music staves/roads, as the music that is the glue that holds all the songs together".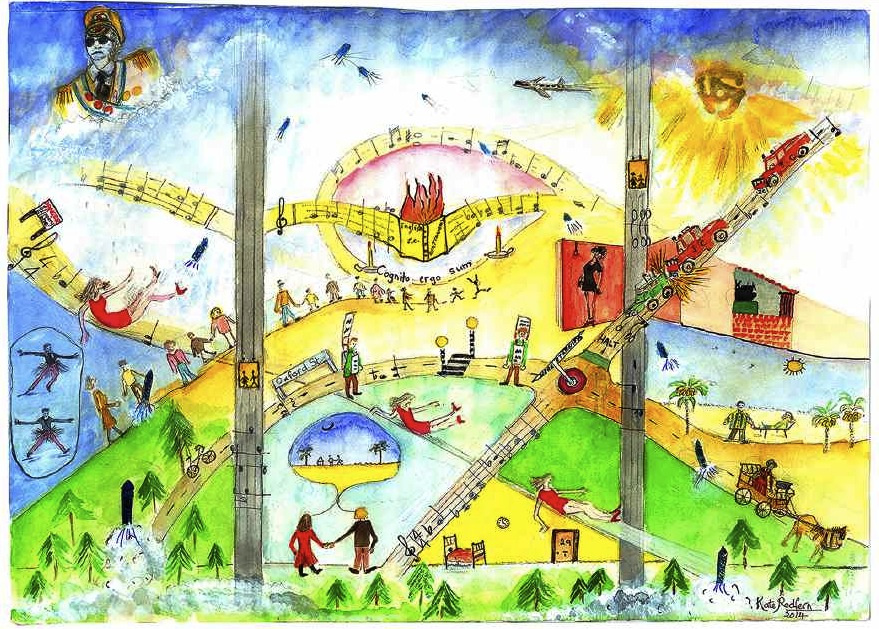 The following songs are in this picture:
No Greater Dictator
Call Me Anne
If Boys Could Talk and Girls Could Think
Here Comes the Family
Nobody Went to the Moon
Passionate About Your Elevator
If English Good Enough for Jesus
Incognito Ergo Sum
Stanley Green
Cover Girl
Panama
Why Wake Up
Box 29
Get On a Plane (or is it I'm Budgie Don't Fly Me?)
What Would Jesus Drive?
Dirty Pictures
Portion of Paradise
Girls From the Country
Radiant Future excitedly (but warily) comments:
If anyone can identify all characters in the triptych and the tunes which they inhabit, they will receive a year's subscription to Mole Trapper magazine, as long as their surnames are divisible by pi and they can provide incontrovertible proof that they have never knowingly, or unknowingly, had social intercourse, or indeed any other kind, with a mole or any other member of the Talpidae family.
Kate Redfern's exhibitions:
2015: South London Womens Collective – April-May 2015
2014: Dulwich Open Studio: private view 9 May, public viewing 10-11 May
2013: WOW (Women of the World) festival, Southbank Centre: exhibition of postcards of paintings
2013: Judy Chicago commemorative exhibition, Tanner Street: 'I'm Inside Ring the Bell' – The Dinner Party
2012: SLWA Bankside Gallery 'Snap' exhibition, Southbank
2011: Dulwich Picture Gallery
2011-2012: James Alleyn's School
2008-2011: Dulwich Festival Open Studios