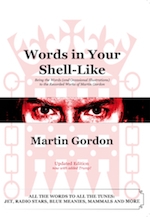 NOW LOOK HERE! Because here are all the words to all the Gordon tunes – everything, from Jet to Mammals and further! In a book! Like what you have to read and that.
w/ Martin Gordon, Peter Culshaw, Enrique Various and his extended family and even including women.
Recorded around the world at great expense to wallets and friendships, New Hope for the Dead began life as a stage performance, featuring dancers, a live band, computer graphics, a trapeze artist, a break dancer, a martial artist and an aardvark. In an attempt to capture the ludicrously ambitious scale of the thing, the soundtrack was later recorded, albeit with a bit more peace and quiet about the place, in London. Following the multi-cultural focus of the stage show, we assembled a cast of thousands for the recording including musicians from Pakistan, India, Egypt, the West Indies, Iran, China, Japan and the planet Pluto.
Some came with higher profiles than others – the Tiger Lillies' Martyn Jacques played accordion and sang on 'TV On Fire', Ravi Shankar's music director Chandrashekar played violin, Spice Girls' (as they then were) guitarist Paul Gendler, a Chinese opera singer – the list is too exhausting to even type. Compositionally, it was a collaboration between Martin Gordon and Peter Culshaw, an English journalist/musician – the pair met in Bombay during Boy George/Asha Bhosle sessions. Jointly composed songs – some pop, others not – were recorded from various perspectives and the result was released by JVC and later by Radiant Future.
The band subsequently went to Switzerland to perform at the 1997 Montreux Jazz Festival, picking up the Spice Girls' percussionist Fergus Grerand, a jazz sax player who also doubled on keys and whistled a bit, the marvelous Indian violinist Chandrashekar and, astonishingly for the rough, tough man's world of rock'n'roll, some girls – Maria Mendonca on keys/vocals and singer Perla den Boer from the Dutch Antilles via Pluto). This experiment was not repeated, although not for gender-related reasons: before finally collapsing under it's own weight, they delivered a stonking version of Todd Rundgren's 'Tiny Demons', to be seen below. And then it was back to the real world…
The download includes bonus tracks – remixes, the live Todd tune and more
Amazon and iTunes, natch
Find this CD in the Radiant Future store