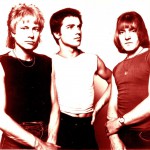 CULT HERO MAKES POP COMEBACK SOUNDS APRIL 1977
'Those bemoaning the absence of quality pop in the current charts could do worse than take a listen to the debut single by new band Radio Stars, on Ted Carroll's Chiswick label and featuring living legend Andy Ellison. Ellison is a genuine cult hero, having been the singer and chief punk in Marc Bolan's first stab at the big time, the almost mythical John's Children. Ellison dropped out of music in the time-honoured Sky Saxon/Syd Barrett tradition, spending a few years bumming around in Europe. Then a couple of years back he formed the ill-starred Jet with Dave O'List (ex-Nice, ex-nervous breakdown, ex-Roxy Music guitar strangler), and they made one album. Jet also featured (as does Radio Stars) songwriter/bassist Martin Gordon from Sparks.
What does Dave O'List do now, I wonder? "I heard that he's a supermarket manager", says Martin. He also tells me of O'List's curiously bent digit which prevented him holding down an F chord, and of his marathon bouts of tuning up. Such is the stuff of which legends are made, Sparks also get the kiss-off. Martin dismisses all those stories of the British Sparks band being found playing old Mael brothers songs in a pub as "absolute crap". The truth is more mundane – the lad was a technical author, writing manuals for oil tankers before Sparks and simply auditioned like all the other members. Nevertheless. the group's single, 'Dirty Pictures/Sail Away' has a definite affinity both lyrically and aurally with the Mael's hit quality pop songs. Unfortunately. in this country. there has been some resistance from radio stations due to the quite innocuous and harmless lyrics of 'Dirty Pictures. I wondered if this hadn't been a hoped-for publicity gimmick, another 'band banned' routine, but I'm assured this is not so. At any rate the group now intend to push 'Sail Away' as the A-side.
It seemed to me that these two guys (along with young guitarist Ian Macleod, they are the nucleus of the group; no permanent drummer as yet) might find it a bit of a comedown from being on labels like Island to the small scale operation of Chiswick, but they say they prefer the professional attention and support which was missing when they were in Jet. Apart from some solo singles and Jet, this is Andy Ellison's first real try at the big-time since John's Children. If they can avoid the Marquee group graveyard syndrome and get out and do 'quality support' like they want, then Radio Stars stand a good chance of being in the vanguard of the return of quality pop to the charts. Kim Fowley should produce 'em, y'know. Doggedly inconsequential, good fun, thoroughly enjoyable. Pop Music Lives'.
Sandy B Robertson