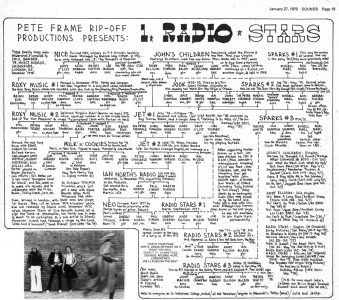 Ever wonder who Radio Stars really were, and why? This family tree (from UK publication Sounds) attempts to unravel the complicated story.
What is the connection between an O'Nion and a turnip? How deep did the Mole-infiltration really go? Did Peter Oxendale's right leg REALLY make a rumpy-pumpy break for freedom when the Gordon/Cheeseboard writing partnership ran onto the rocks? Read on for all these and less revelations… (Thanks to Brian Emrich for digging up the tree…)
It's quite a large file but that should be no hurdle in these days of convergence and all-nite convenience stores. Or else get a 12 year-old to help.