Brexit – it's the will of the people! Speak the the unspeakable: British people are the best! Sod off all the rest! Let's hear it for Brexit, baby!
Martin Gordon releases his anthemic ode to populism. No more foreign muck, says he, as Britain bravely prepares to set sail once more upon the high seas of international finance, money laundering, scurvy, holidays in Bognor and white dog poo. Did you know that British dog poo is the finest dog poo in the entire world? You do now.
Three Brexit versions
The single is released in three versions:
The original version (the 'first' version) contains a naughty word – the word 'Johnson' may cause nausea among miners. To calm the racing pulses of the nanny supervisors of the mainstream media, the so-called 'family-friendly' version (the 'second' version') does not feature the naughty word at all. In order not to alarm old ladies, the word has been totally, completely and totally replaced by the phrase 'cuddly British-made teddy bear', which is a bit of a bugger to rhyme but no matter, art must triumph.
Out now!
Rabid Rickenbacker
And now we also have the rabid Rickenbacker version especially remixed by Rabid Jack Gumby.
Both versions feature Martin Gordon (bass/ukulele/voc) with guests Melli Plauth (guitar), Chesta Gordon (voice of some of the People) and Michael Ellis (piano/steaming organ/conspiracy theories).
And here we are in discussion with Jon Downes/Gonzo in March 2019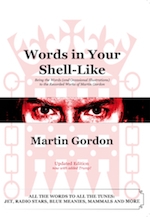 NOW LOOK HERE! Because here are all the words to all the Gordon tunes – everything, from Jet to Mammals and further! In a book! Like what you have to read and that.