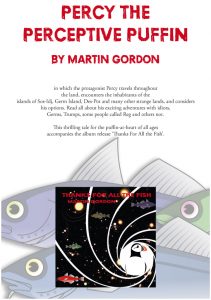 Praise the puffin yute. So Percy the puffin, who is like dead perceptive, goes around and sees like different shit an' shit and then like reflex on what he has done. Who would have thought. Who would have thought!
He travels (what is left of) the world, observing with a keen eye. Frankly he is not impressed. Would you be? Exactly. His travels – some people might say travails, but some people might say that – are documented here. The tale, which is not suitable for miners, is called Percy the Perceptive Puffin.
It is available to the discerning as a free addition to the accompanying soundtrack Thanks For All the Fish. Once you have purchased a Fish, we will send you the gratis download link.
Percy consists of six pages of hand-holding, heart-warming, GDPR-conforming, zeitgeist-compliant critique and contains almost no nuts or nut-based products. Very few puffins were harmed during the creation of this puffin-style object. This object may contain puffins and should not be heated or eaten. When you hear the warning sirens, place the puffin on a table or other rigid object and take shelter beneath it. Do not emerge until you hear the all-clear, or puffin. Or Putin, come to think of it.
Read on… But you need Fish to access it. Once you have Fish, we will send you a download link.